Washington farmworkers push through hazardous smoke to feed America with little choice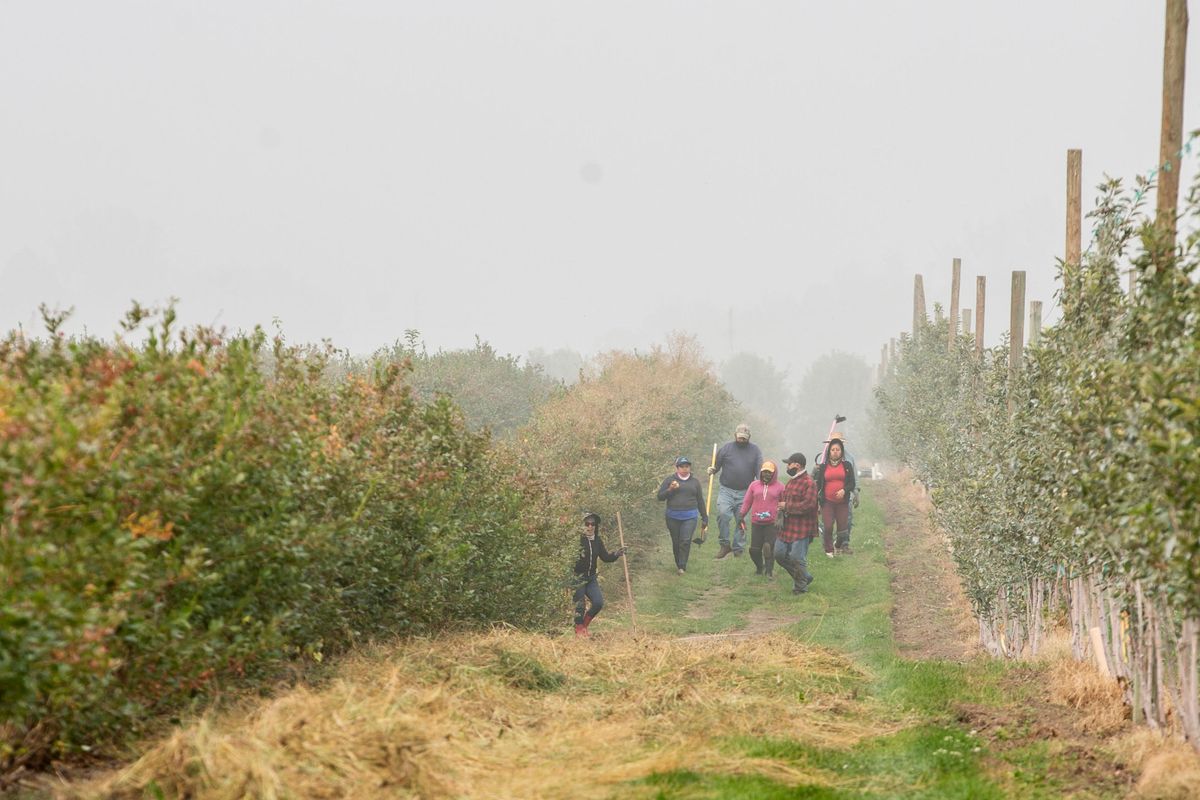 Smoke blankets the state and it's harvest season.
Farmworkers are climbing ladders, picking apples, burdened by pounds of fruit hanging in picking bags slung to their chests – all in fields fogged by hazardous smoke.
There are "really no rules" preventing employers from keeping workers in the orchards 24 hours a day, even as the general public gets the message to be indoors as much as possible, said Edgar Franks, political director at Familias Unidas por La Justicia (FUJ), a farmworker union in Washington.
Washington also does not have specific workplace standards related to wildfire smoke, said Tim Church, director of communications at Washington's Department of Labor and Industries. Employers do have a general legal duty to keep their workers safe from any recognized hazard, though.
"The issue for both farmworkers and their employers is, nobody is telling them exactly what that means," said Andrea Schmitt, a farmworker attorney at Columbia Legal Services in Olympia.
Unlike many other labor forces, farmworkers are not protected by overtime pay that disincentivizes employers from asking laborers for more than 40 hours of work per week. Farmworkers are exempt from federal overtime pay laws, she said.
"Why that exemption exists, the long and short, it's racism," Schmitt said.
In the 1930s, agriculture was one of few jobs available to Black people in the South, Schmitt said. Southern Democrats agreed to vote for worker protections as long as they didn't cover farmworkers.
Schmitt's firm represented farmworkers challenging that exclusion in the Washington State Supreme Court this year. The court heard it in October and, she said, "there's nothing else to do but to wait."
"There are things built into the system that really jeopardize farmworkers," Franks said.
Agriculture has been excluded from many basic protections other industries have, he said. He pointed to frequent exposure to pesticides and denial of overtime as key issues that differentiate farm laborers from other essential workers, like supermarket cashiers.
"We're told all these really nice things, that we're essential," Franks said. "We're beyond that part. One thing is being said, but no real clear action has been done to prove how essential and valuable we really are."
Asked Tuesday what the state was doing about the problem of farmworkers having to work in smoke, Gov. Jay Inslee's quick answer was: "We're trying to stop climate change… We're breathing climate change right now."
During the Tuesday news conference, he said it "isn't rocket science," because when the weather gets hotter, the grass gets drier and the state has more fires. He acknowledged there is no specific rule for agricultural workers, who may be breathing smoky air for perhaps 14 hours a day, adding, "I, frankly, don't know how they do it."
Earlier in its efforts to combat the spread of the virus, the state instituted special regulations for agriculture business and farm workers.
The rules to help protect farm workers from COVID-19 are working, Inslee said, and the state has established a $3.5 million fund to help them with the pandemic.
The state could institute a rule to require agricultural workers be provided with masks if they are working outside, Inslee said. The state has provided about 1.2 million masks for farmworkers, including about 500,000 KN95 masks which provide protection against smoke, and should be sending another 25,000 masks in the near future, he said.
But it hasn't happened quickly, Franks said.
When the state addressed mask shortages among farmworkers, Franks said it took three months between Inslee's March order to distribute masks and agricultural workers actually receiving them en masse.
About 30,000 workers who are part of the H-2A guestworker program, which allows agricultural employers to hire workers from other countries on temporary work permits, are still sleeping communally in poorly ventilated cabins in labor camps, Franks said.
Getting those workers better ventilation was a primary focus before smoke crept across the state, Franks said.
The risk of COVID-19 that farmworkers face could be compounded now as their lungs are irritated by hazardous particles. The Centers for Disease Control and Prevention reported Latinos are hospitalized for coronavirus at over four times the rate of white Americans, and about 70% of all American agricultural workers in 2018 were born in Mexico, according to a National Center for Farmworker Health report.
And some workers are facing the tragedy of wildfires while also clocking in to work in the smoke left behind.
Omar Vega, from Brewster, decided to spend the Labor Day weekend with his sister in Seattle and returned to a smoldering pile of wood that used to be his home. Vega works in shipping at Gebbers Farms, while others work out in the fields.
"There's nothing we can do," Vega said. "It's not easy, but we have to keep going."
Vega's neighbors saved his horses, which sustained minor injuries, and more than half his chickens died in the Okanogan County fires. His neighbors' lot and everything on it, except a burned out pickup truck, was incinerated.
When Vega arrived last Tuesday morning he was surprised to see anything left standing.
"I expected this to be burned clean," Vega said.
Despite compounding tragedies, there's "really no plan in place to really protect the workers that are called essential but are still working in dangerous conditions," Franks said.
"We want to be working and being with family," Franks said. "We don't want to be protesting and doing these public actions. But if that's what it takes to get Inslee's attention, we will."
Spokesman-Review reporters Emma Epperly and Jim Camden contributed to this report.
---