Sports > WSU football
Recap and highlights: Washington State's comeback effort falls short in 24-21 Sun Bowl loss to Central Michigan
Dec. 31, 2021 Updated Fri., Dec. 31, 2021 at 1:09 p.m.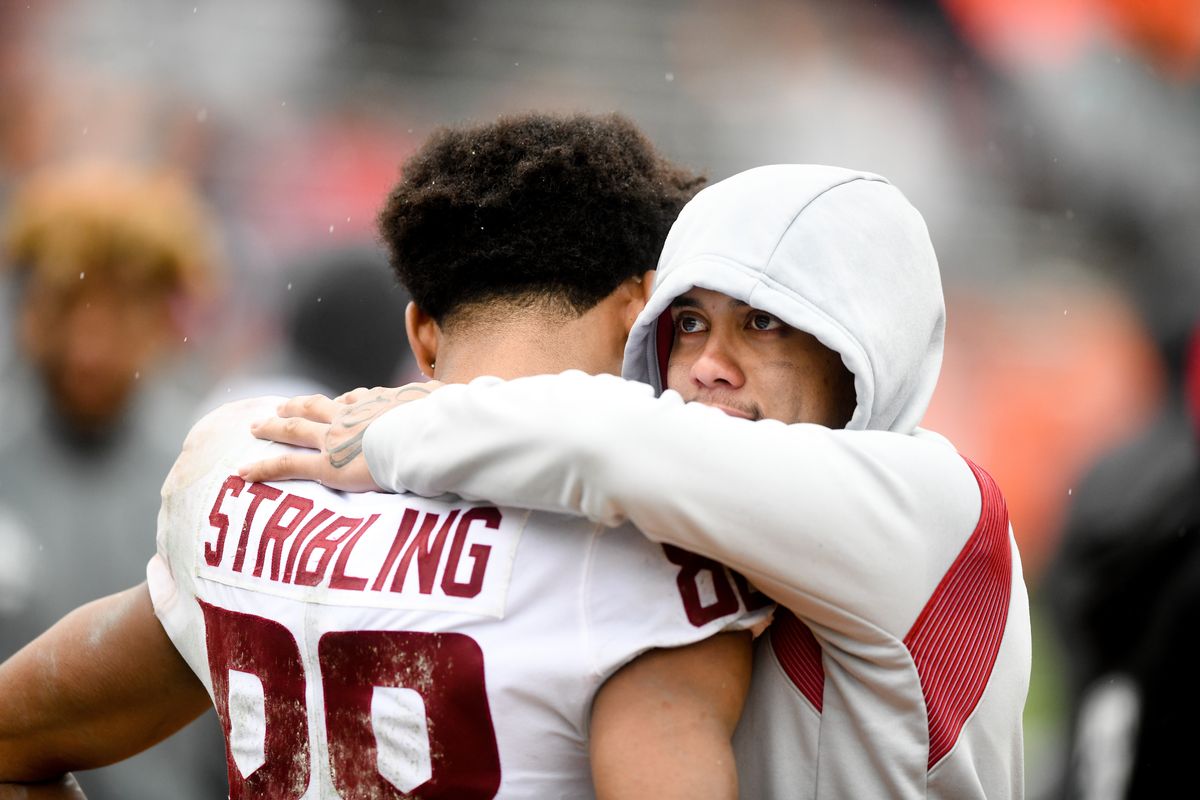 Washington State Cougars quarterback Jayden de Laura (4) wearing sweats after sitting the second half, embraces wide receiver De'Zhaun Stribling (88) as time expires and WSU falls to the Central Michigan Chippewas during the second half of a college football game on Friday, Dec 31, 2021, at the Sun Bowl in El Paso, Texas. The Central Michigan Chippewas won the game 24-21. (Tyler Tjomsland/The Spokesman-Review)
Washington State nearly completed the impossible – coming back from a 21 point halftime deficit with a walk-on quarterback – but came up just short in a 24-21 Sun Bowl loss to Central Michigan in El Paso, Texas, on Friday.
Rain poured throughout the game, which hasn't lived up to its name the past two times the Cougars have played it – through showers today and the snow in 2015.
WSU without its two offensive tackles and two runningbacks struggled mightily in the first half, managing just 48 total yards. Quarterback Jayden de Laura did not return for the final 30 minutes with a lower leg injury, and walk-on Victor Gabalis took his place.
Gabalis converted the Cougs' first third down of the game midway through the third quarter on a 55-yard pass to Lincoln Victor. Travell Harris later carried in the first WSU points on a 5-yard wildcat keeper.
The Cougars then made a quick interception and scored on a touchdown pass from Gabalis to De'Zhaun Stribling. WSU's comeback effort was decided on two crucial fourth downs that were ruled inches short.
The first was with the Cougars trailing 21-14, and Nakia Watson appeared to clearly cross the marker, but was ruled short. WSU scored again late on a Gabalis pass to Victor and got the ball back with just over two minutes remaining.
Gabalis completed a fourth down pass to Joey Hobert who was inches shy of a first down.
CMU ran the clock out for its first bowl win since 2012, and its first over a Power-5 opponent.
First quarter
14:46 - WSU 0, CMU 0: The Chippewas start with three straight incompletions, that included a batted pass, a dropped interception with a clear path to the endzone and an errant screen attempt.
With the leading rusher in the country, it was a peculiar start for CMU, that punted to the WSU 28, where Jayden de Laura and the Cougs will take over.
12:40 - WSU 0, CMU 0: The Cougars also go three-and-out on their opening drive. Calvin Jackson Jr. catches a screen on third down and is rolled over on his ankle, but walked off on his own power. 
9:21 - WSU 0, CMU 0: The Chippewas and Cougars both trade punts and CMU starts again on its 18.
The last WSU drive started with de Laura being drilled by a free rusher off the edge for a sack, but an unsportsmanlike penalty moved the chains. De Laura took a deep shot to Ollie on third and three, but the pass was dropped.
6:51 - CMU 3, WSU 0: Meeder knocks a field goal through from 49-yards out to get the Chippewas on the board first.
Nichols III set up the score and showed why he's the nations leading rusher on a 38-yard run down the left sideline, with a burst of speed and great footwork. 
5:33 - CMU 3, WSU 0: The Cougars go three-and-out and CMU calls for a fair catch at its own 40, which is moved back 10 yards after a holding call.
WSU really feeling the impact of its missing offensive lineman. Three punts and -2 total yards to start the game.
2:19 - CMU 6, WSU 0: Meeder ate his frosted flakes this morning.
The Chippewa kicker is good again, this time from 52-yards, a new career high.
2:12 - CMU 13, WSU 0: The nightmare start for WSU continues, as Harris fumbles the kickoff return, and Nichols powers ahead on back-to-back carries for the touchdown.
Second quarter
14:55 - CMU 13, WSU 0: The Cougars open the second quarter with a handoff on third-and-34, then punt to the WSU 48. The WSU offense has -18 total yards in the game.
11:52 - CMU 13, WSU 0: The Cougar offense has life.
De Laura found the spark they needed with a 32-yard completion down the left sideline to Jackson Jr. Watson follows that play with a 40-yard run to set up WSU with its first redzone opportunity of the game.
10:29 - CMU 13, WSU 0: Just when the Cougars have a chance for points, the snap is mishandled on a field goal attempt, and CMU will take over at its 25.
6:09 - CMU 13, WSU 0: The CMU drive stalls and the Cougars take over on their own 8 after a fair catch.
2:34 - CMU 13, WSU 0: The Cougars can't convert another third and long after de Laura is sacked on second down. Pimpleton explodes on the punt return and takes it inside the WSU 10. 
1:48 - CMU 21, WSU 0: It is all Chippewas.
Richardson completes a 15-yard touchdown to Wilson in traffic, which is followed by a 2-pt conversion pass lofted to a wide open Pimpleton.
Halftime
Central Michigan dominated the first half of the Sun Bowl on all facets.
Lew Nichols III has ran for 77 yards and a touchdown, while Daniel Richardson has added 120 yards and a score through the air. Meanwhile, the Cougars are 0-of-7 on third down conversions and have 48 total yards.
WSU has felt the impact of its missing offensive linemen, as de Laura has been sacked three times and the Chippewas have six tackles for loss. De Laura is 8 of 17 for 39 yards.
Special teams have also made a large impact, with CMU's Marshall Meeder converting two long field goals, WSU's Travell Harris fumbling a kickoff, a Cougar mishandled snap on a field goal attempt and a Kalil Pimpleton punt return inside the WSU 10.
The Cougars will receive to start the second half.
Third quarter
14:30 - CMU 21, WSU 0: Things are getting even worse for the Cougars now as walk-on quarterback Victor Gabalis is in, as de Laura stayed in the locker room. Gabalis is promptly sacked and WSU is forced to punt.
11:01 - CMU 21, WSU 0: The Chippewas drive down inside the 10, but Richardson fumbles the handoff to Nichols and Jahad Wood is there to make the recovery for the Cougars at the WSU 4.
8:56 - CMU 21, WSU 0: Another punt for WSU, which makes it five straight. The Cougars don't look like they're capable of doing much else in this game with a mounting number of players missing and all the momentum on the side of the Chippewas.
7:07 - CMU 21, WSU 0: Meeder can't convert the field goal attempt, this time from 44 yards.
4:02 - CMU 21, WSU 7: Harris takes in a wildcat keeper for a 5-yard touchdown. Gabalis exited with an injury the play before, but earlier in the drive converted the Cougs' first third down attempt of the game on a 55 yard pass to Lincoln Victor.
3:47 - CMU 21, WSU 7: Richardson makes a big mistake trying to loft a short pass that Travion Brown leaps up to intercept. WSU starts with a chance to get back in the game.
2:24 - CMU 21, WSU 14: Gabalis completes a 6-yard touchdown pass to Stribling on fourth down and the Cougars have scored 14 unanswered in the past two minutes of game time.
Fourth quarter
12:40 - CMU 21, WSU 14: Nothing can be normal in this WSU season. Ron Stone Jr. blocks a 25-yard field goal attempt after a crucial redzone stop and the Cougars recover at their own 25. 
10:34 - CMU 21, WSU 14: The Cougars go for it on fourth-and-1 and Watson is ruled short. The play is review and stands, and the announcers in the booth are convinced Watson was short, though it seemed the ball crossed the line to gain in his left arm before he hit the ground.
9:11 - CMU 24, WSU 14: Meeder's 43-yard field goal is good.
3:13 - CMU 24, WSU 21: Gabalis throws a beautiful pass into the endzone to Victor for a 13-yard touchdown. That capped a 4-play 86 yard drive to keep the Cougars alive. WSU still with three timeouts to make a stop and get the ball back.
2:04 - CMU 24, WSU 21: The Cougars' fourth down attempt comes up inches short and the Chippewas will be able to burn up most of the clock on the next set of downs.
Pregame
Washington State and Central Michigan's bowl opponents both stayed home due to issues with COVID-19. Instead of flying home with unresolved seasons, they've found a way to play each other in the Sun Bowl in El Paso, Texas.
The Cougars (7-5) enter the game as 7-point favorites over the Mid-American Conference Chippewas (8-4). Kickoff is scheduled for 9 a.m. on CBS, starting a day of college football that will end with two College Football Playoff semifinals.
Washington State has plenty to play for under new head coach Jake Dickert, while CMU will look for its first win over a Power-5 Conference opponent this season.
The Cougars are playing in their third Sun Bowl, with wins over Purdue (2001) and Miami (2015). WSU is 8-8 all-time in bowl games, while CMU is 3-9 – losing five straight since a 2012 win over Western Kentucky in the Little Caesars Pizza Bowl.
Game preview
More on the Cougs
Local journalism is essential.
Give directly to The Spokesman-Review's Northwest Passages community forums series -- which helps to offset the costs of several reporter and editor positions at the newspaper -- by using the easy options below. Gifts processed in this system are not tax deductible, but are predominately used to help meet the local financial requirements needed to receive national matching-grant funds.
Subscribe to the Cougs newsletter
Get the latest Cougs headlines delivered to your inbox as they happen.
---