News > Spokane
Dorothy Webster, pioneer whose 'work provides a blueprint for all Black women' in Spokane community service, dies at 73
UPDATED: Sat., July 3, 2021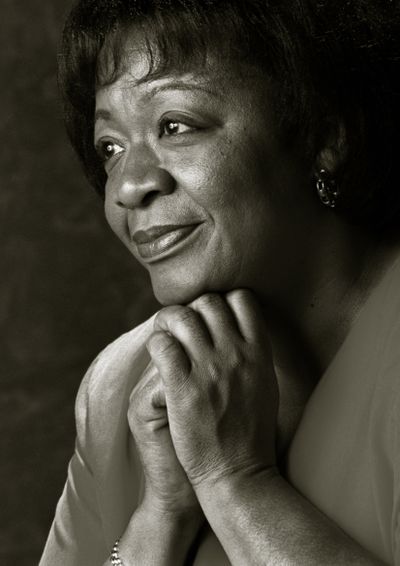 In the fall of 1968, a 21-year-old Dorothy Webster walked into American Literature, ready to teach her very first English class at Pasco High School.
She entered with every desk and chair turned toward the wall, an unwelcoming gesture by her students. She responded in the only way she knew how: She continued.
"I taught with them facing the wall and did everything up front," Webster told The Spokesman-Review in 1990. "After several weeks they decided to turn around and participate in class."
Her resilient nature helped her press on in the face of common African American adversities in Spokane, changing the city's history.
Dorothy Webster, a Spokane giant who played a significant role as the first Black woman in senior management for the city , died of natural causes on June 15. She was 73.
Born on July 7, 1947, in Mobile, Alabama, Webster grew up 42 miles west in the city of Theodore. She was the only girl and fourth of five siblings born to Raymond and Marie Webster, earning her the nickname "Baby Doll."
During her childhood, the Civil Rights Movement ignited Webster's passion for equity. Webster, then 8, and her family lived just 20 minutes outside of Montgomery on the day in 1955 when Rosa Parks refused to give up her seat on a city bus, sparking a massive bus boycott. Alabama's political landscape, combined with her father's passion for educational opportunities, instilled a sense of purpose for Webster.
"As a minister, our father was a leader in the community, which had a profound impact on us but especially Dorothy," said Wallace "Wally" Webster, her older brother. "She got her sense of community, professional development and determination from our dad. Whatever challenges she set out to achieve, he encouraged us to do that."
After graduating from St. Elmo High School as valedictorian in 1965, Webster attended Tuskegee University where she received her bachelor's in English education in 1969. Her brother then helped her get a job teaching English in Pasco. Wallace Webster was acquainted with Pasco school Superintendent George Kontos, whose goal to end segregation aligned with Webster's intended post-graduation profession.
"I went straight to George's office and told them about my sister who just graduated from Tuskegee and is in education," Wallace said. "He said, 'She has a job, tell her to come on.' She got her ticket and came to Pasco and went to work immediately."
The cold, racial welcome wore off quickly as Webster invested into school beyond her classroom. She started hosting free tutoring sessions where students could catch up or relearn lessons. Soon after, teachers in other disciplines hosted extra sessions, raising the performances schoolwide.
"You had 10 or 12 teachers in a room reteaching because Dorothy wanted these kids to be better." Wallace Webster said.
After a decade in the classroom, she received her master's degree in guidance and counseling from Washington State University and worked as the minority affairs specialist at Spokane Falls Community College. A decade later, Webster made history as the first Black woman in senior management at Spokane City Hall, becoming the assistant city manager for affirmative action and human rights in 1989. Her goal was to hire qualified minority workers into job opportunities, building cultural diversity and satisfactory performances from a spread of perspectives.
"I think right now the biggest problem is acceptance of pluralism," Webster told The Spokesman-Review . "I think we have to go through an educational process."
Her work at City Hall emphasized anti-discrimination work environments, easing the atmosphere for Spokane's minority workers. One of her first steps to ensure equality was establishing the Spokane Human Rights Commission in 1992 with more than 40 organizations in support. She served under eight mayors during her 22-year tenure.
Alongside her was Dave Mandyke, who served in several roles in his tenure, including as public works and utility director. On the fifth floor of their close-tight cubicles, Mandyke and Webster worked in earshot of each other, chewing through spicy conversations to ensure city plans supported goals to progress its residents, then having a friendly coffee right after. Webster's work on the naming of Martin Luther King Way is one of Mandyke's memories that reflect her passion and dedication.
"Her theory was getting (the location of a street honoring King) between Washington State and Eastern Washington in University District, since a lot of MLK land sites are in areas that are less desirable," Mandyke said. "She wanted Martin Luther King to be part of a prosperous, ideal place and stood on that strongly. I know she was very happy when she got that through. That was important to her."
Even in her position for the city, Webster held active membership in Spokane Planning Affiliates Network, the Inland Empire Girl Scouts' Board of Directors, NAACP, the American Association of Affirmative Action and the African American Forum, and the National Forum for Black Public Administrators. She also pursued community endeavors as a member of Delta Sigma Theta Sorority, Inc. In these positions, organizations like the Rotary Club of Spokane and the Spokane Area Chamber of Commerce stood in solidarity with Webster. Webster was also a faithful member of the Calvary Baptist Church.
"We were holding big church state conventions, putting on Christmas parties and dinners at ECCC through Dorothy," said former New Hope Baptist Church preacher Percy 'Happy' Watkins, referring to the East Central Community Center. "Anything that had a role in making Spokane a better place, she took part in it."
Investing in underrepresented and young communities, she believed, was critical in enriching Spokane with people to empower and progress the city. Those who knew her say Webster always passed the baton of opportunity with a strong hand and also ensured the receivers had a firm grip on their lives too.
"We often talk about our youths are our future and we very seldom put anything constructive behind it." Webster said in a 1992 article related to Spokane's Project Lead.
When Shirlyn Hillson first arrived in Spokane from Miami in 1998, Webster served as the first vice president of The Links, Inc. organization which specialized in community organization for youth. Webster took up membership responsibilities in her role.
Through Links, Webster became the community matriarch she was always regarded as. She poured in funds for children in need of books and other educational needs, took kids to see "The Lion King" musical and hosted talks that featured Spokane's police officers.
Webster worked wherever she could, such as speaking at local Girl Scout conferences, or raising funds for Project Lead graduates as they enrolled in higher learning opportunities.
"She became a mentor and sister-like at that apartment complex where the kids lived," said Hillson, now president of the Links' Spokane chapter.
"She was just really trying to be the real influential person in these little girls' lives. We had to give those children an idea of what successful Black women look like – something they could respect and emulate. She gave from her heart and the things she believed in. That was Dorothy."
She even hosted "mam parties" where women could be screened for breast cancer. One woman had her first-ever mammogram and was diagnosed with breast cancer shortly after. Webster was credited with saving her life.
"Hosting those mammogram parties was one of her babies," Hillson recalled. "When it came to health, children – Dorothy was the one who said we need to do more. She always felt that we could do more."
While Webster is gone physically, her spirit of community is a power that energizes Spokane just as she did in over her 40 years of work, said Kiantha Duncan, president of Spokane's NAACP chapter.
"It doesn't even feel like someone could carry on her legacy, it was a lot of years," Duncan said. The two met in 2017. "Her work provides a blueprint for all Black women who are working in community service work in the city to live up to."
Even with her community contributions, Webster's heart could be what people miss most. Mandyke remembers Webster paying weekly hospital visits to his secretary Mary Franklin, when she was critically ill. Her niece, Denae, could always count on Webster to call and check in once she lost her uncle.
"She treated me like I was her child," Denae said. "She was the one that called me the most, she made sure I was OK. She was there for other moments too, like when I bought my first home."
Webster is survived by her brother Wallace Webster Jr. in Lynnwood, Washington and two nieces Denae and Demetriah Webster.
Per her arrangements, Webster was buried in Theodore, Alabama at the Serenity Memorial Gardens Cemetery on July 1, six days before what would've been her 74th birthday.
Local memorial services for Webster will be held in the fall. The date is yet to be determined.
Local journalism is essential.
Give directly to The Spokesman-Review's Northwest Passages community forums series -- which helps to offset the costs of several reporter and editor positions at the newspaper -- by using the easy options below. Gifts processed in this system are not tax deductible, but are predominately used to help meet the local financial requirements needed to receive national matching-grant funds.
Subscribe to the Coronavirus newsletter
Get the day's latest Coronavirus news delivered to your inbox by subscribing to our newsletter.
---