News > Business
The Dirt: Construction underway for second phase of Ace Business Park in Spokane Valley
May 23, 2021 Updated Thu., July 1, 2021 at 6:10 p.m.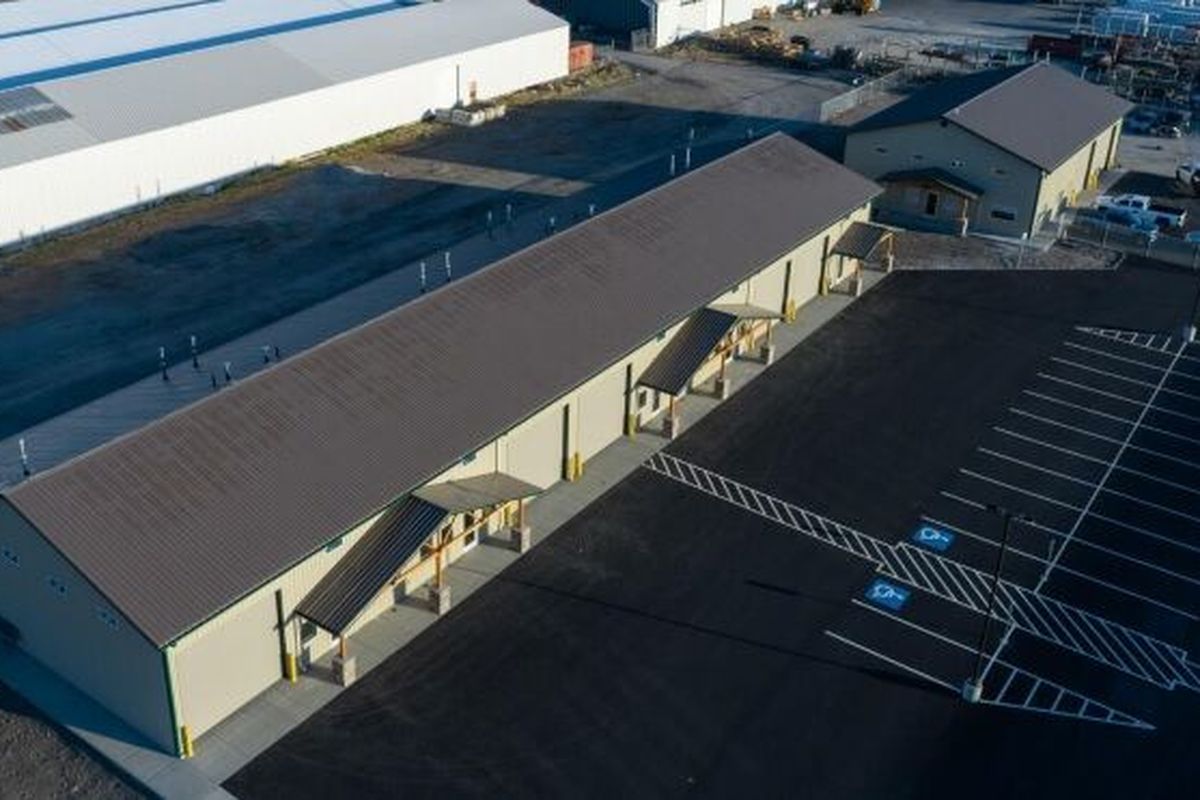 Construction is underway on the second phase of the Ace Business Park in Spokane Valley. When complete, the business park will have more than 25,600 square feet of warehouse and office space. (Photo courtesy of Meridian Construction & Development Inc. )
Construction is underway for the second phase of Ace Business Park that will bring additional commercial and industrial space to Spokane Valley.
Project contractor Meridian Construction & Development Inc., of Spokane, recently completed the first phase of the business park, which consists of a 10,000-square-foot building with multiple tenants and a 5,600-square-foot space occupied by Ace Landscaping at 15215 E. Marietta Ave.
The project's second phase calls for an additional building with 10,000 square feet of warehouse and office space.
Ace Business Park units are 2,000 square feet each with an open floor plan that offers flexibility to build an interior second-story level, according to the project's website.
MTVJ LLC, whose principals are Mark and Tami Dringle, purchased the site for $375,000 in 2019, according to the Spokane County Assessor's Office.
Mark Dringle is the owner of Ace Landscaping.
"Our original shop is not very far from that location, so about three years ago a piece of property was available and we were looking for our shop space at that particular time," Dringle said. "We found it, made a deal and it has turned out fantastic."
Ace Landscaping's former shop was at 17207 E. Dalton Ave. in Spokane Valley. Ace Landscaping relocated to the Ace Business Park in April.
Dringle's decision to build the business park was sparked by a need for office and warehouse space in Spokane Valley.
The business park would be an ideal location for a variety of tenants, ranging from distributors to small businesses looking for office space, Dringle said.
The facility's proximity to Interstate 90 and Trent Avenue also makes it an attractive area to conduct business, Dringle added.
"It 's an appealing location. It's very accessible with a decent amount of parking per unit," Dringle said. "It's going to be landscaped and looking very nice once construction is complete."
Spokane-based Wyatt Architects is designing the project.
Construction on the business park's second phase is expected to be completed by Labor Day weekend, Dringle said.
Vacant Schwab to become retail center
A former Les Schwab Tire Center in downtown Spokane will be converted into a retail center, according to a building permit application filed with the city.
Spokane-based 2450 LLC, whose principal is Sam Sidhu, is planning to redevelop and divide the 7,500-square-foot structure at 101 W. Second Ave. into three retail spaces.
Initial site plans filed with the city indicate the project – Browne Street Market – would accommodate a convenience store with additional retail.
Greenacres-based South Henry Studios is designing the project.
Chris Bell, NAI Black managing broker, is marketing spaces in the building, which range from 3,000 to 7,500 square feet at a lease rate of $24 a square foot per year.
Former market to be redeveloped
A former Broadway Foods market in West Central could be redeveloped into a new grocery store, according to a predevelopment application filed last week with the city.
Property owner Boone Express LLC, whose principal is Jolly Ghebreab, filed the application to demolish the existing Broadway Foods building and build a two-story market with onsite parking at 2229 W. Broadway Ave.
Ghebreab is the owner of Bong's Grocery & Deli in West Central.
Site plans show the new market on Broadway Avenue will have a building footprint of 5,120 square feet. The ground floor will include retail space, with walk-in coolers, storage and an office. The second floor would be used for storage.
The project cost has not been determined.
Ghebreab purchased the Broadway Foods site for $600,000 in 2019, according to the Spokane County Assessor's Office.
Club Pilates set for north Spokane
Club Pilates is continuing its franchise expansion in the region with a new location in North Spokane.
Dallas-based Robert Quintana Architects filed an application with the city to remodel a 1,445-square-foot space into a Club Pilates wellness center at 9502 N. Newport Highway, Suite 2A.
A project contractor has not been determined.
The project valuation is $125,000, according to the application.
Quintana also filed a building permit application last month to change the use of a 1,636-square-foot space from a spa/hair salon to a Club Pilates at 2622 E. 29th Avenue, Suite B, on the South Hill.
Club Pilates was founded in 2007 in San Diego. The franchise, which offers low-impact, full-body workouts through a variety of classes, has more than 600 locations nationwide.
Local journalism is essential.
Give directly to The Spokesman-Review's Northwest Passages community forums series -- which helps to offset the costs of several reporter and editor positions at the newspaper -- by using the easy options below. Gifts processed in this system are not tax deductible, but are predominately used to help meet the local financial requirements needed to receive national matching-grant funds.
Subscribe now to get breaking news alerts in your email inbox
Get breaking news delivered to your inbox as it happens.
---