Spokane sees first snow storm of year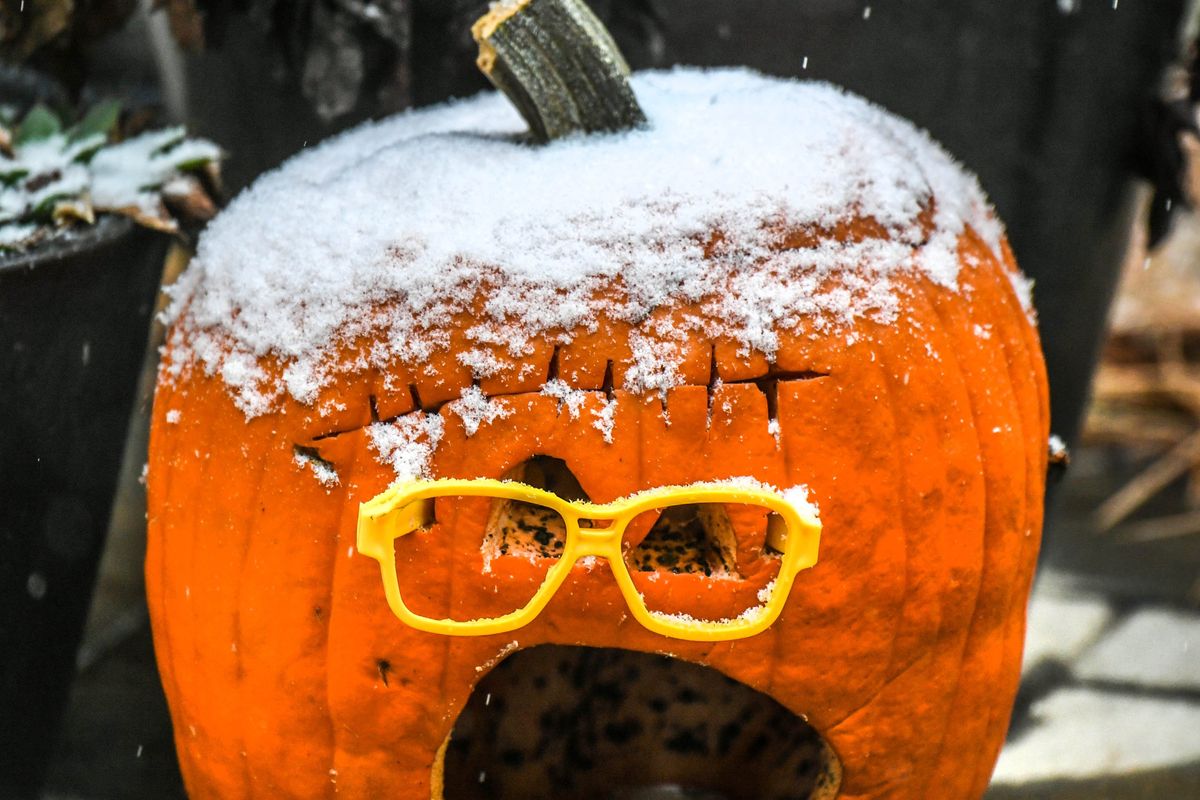 The first snow storm of the year hit Spokane on Thursday afternoon as street crews prepared for slick Friday morning commutes.
The National Weather Service Spokane issued a Winter Weather Advisory Thursday that is in effect through 10 a.m. Friday. Rain and snow is expected to fall, becoming all rain after 1 p.m.
"It's going to be really dependent on where you are in elevation as to how much snow you're going to get," said Laurie Nisbet, meteorologist at the National Weather Service Spokane. "It's a very tricky forecast as to where the rain-snow line is going to be."
The majority of the snow was expected to fall late Thursday night and early Friday morning and could snarl the Friday morning commute.
"Allow a little extra time, slow down," Nisbet said, adding if working from home is an option "just stay home."
"If you're running errands, do them (Friday) afternoon instead of first thing in the morning," Nisbet said.
While snow likely will accumulate Friday morning, it should melt as the day warms with a high in the upper 30s.
Saturday and Sunday are forecast to be warmer and dry with highs in the low-to-mid 40s and light winds.
"It's just time to start putting your mind on, this is winter," Nisbet said. "We've got to prepare and drive for the conditions."
Many people have started to prepare their vehicles as Spokane tire shops have been inundated with snow tire appointments.
"We've been slammed all day," Preston Duncan, Liberty Tire Pros store manager, said Thursday. "We're probably running a day behind."
He said the winter weather is a big reason for the full schedule of appointments, but that October to December is a busy season for tire shops anyway.
John Steele, assistant manager at Tire-Rama, said his store has been busier than normal for this time of year.
He said it has been fairly busy since the second week of October but it's amplified this week with more people asking for snow tires to be installed. He said, recently, about 20 customers have been dropping off their vehicles when the shop opens each morning.
"In my 10 years of being with Tire-Rama, this is the first time I've seen people actually coming in the second week in October putting their snow tires on," Steele said.
Steele attributed the influx of customers to people wanting to travel this year, especially with Thanksgiving next week, after the COVID-19 pandemic threw a wrench in travel plans last year.
It's been a mixed bag at Spokane hardware stores with some seeing customers buying up snow shovels, blowers and ice melt bags and others not so much.
Aidan Honea, an employee at South Hill Ace Hardware, said customers have filed in the last couple days to buy blowers and shovels.
Meanwhile, Mark Schmale, manager at Miller's Hardware, said he sold more saw blades than bags of ice melt Thursday. He said he believed he only sold one bag of ice melt and one snow blower Thursday.
"I think people are just assuming it's going to melt off or not stick," Schmale said.
He added that more people might visit his store Friday when they wake up and see snow on the ground.
Thanksgiving travel considerations
After a dry weekend, more precipitation is possible in the middle of next week, Nisbet said. Western Spokane County will likely be dry but the mountains of the Idaho Panhandle and Cascade Pass will have a chance of precipitation. On Thanksgiving day there's a chance of snow regionwide that could transition into rain the valleys, Nisbet said.
Both Snoqualmie and Stevens passes could see snow accumulation by the holiday, but forecasters are still uncertain of how much this far out, Nisbet said.
Clevenger said Fourth of July Pass might see a total of an inch on Tuesday and Wednesday but warm temperatures could melt it off by Thanksgiving. It's a similar story for Lookout Pass but colder temperatures could leave some accumulation on Thanksgiving, he said.
Travelers headed home the weekend after the holiday can expect persistent snow but it remains unclear how much, Nisbet said.
---