Sports > WSU football
Washington State mailbag: Questions about Cougars' quarterback resurface
Tue., Sept. 21, 2021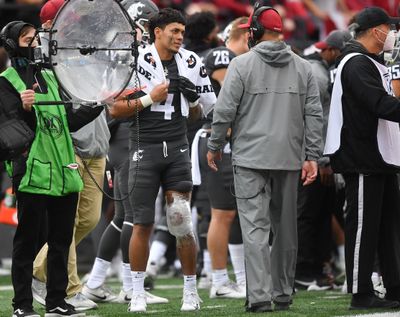 I have to wake up early to catch a 6 a.m. flight to Salt Lake City – where Washington State will meet Utah on Saturday – so let's make this edition of Cougar mailbag quick.
QB depth chart order. If healthy, who is 1, 2, 3, 4?
- @REddieHood24
Jayden de Laura is at the top, for sure. He has a tremendously high ceiling and – even as just a second-year starter – is clearly the Cougs' offensive catalyst.
Jarrett Guarantano comes next. No Cougar quarterback has played as many games as Guarantano, who faced SEC defenses for four seasons at Tennessee.
From what I saw from him at fall camp, Guarantano has a crisp quick release, vet pocket presence and the maneuverability to escape backfield pressure.
An injury derailed his Week 1 start. I'd like to see what he can do with a full game. Could be one of those nice, feel-good stories after his semi-turbulent Volunteers career.
No. 3 has to be junior Cammon Cooper, who I've heard they call the "Lehi (Utah) Lefty." He was hit-and-miss late in camp, but he boasts a strong arm and sneaky quickness.
I'm not certain he could instill energy in the Cougs' offense like de Laura – or even Guarantano – can. Still, it'd be neat to see a program guy like Cooper get his shot.
Coach Nick Rolovich is high on walk-on Victor Gabalis' potential. I'm no coach, but maybe it's a little too early in his career for Gabalis to be forced to shoulder such a load.
You couldn't help but feel sorry for him last weekend, when he entered cold off the bench and got rocked by Southern Cal.
Why did Gabalis get more snaps vs. USC than Cooper? Is Cooper not playing well compared to Gabalis in practice?
- @a_bydalek
Nice segue.
Rolovich seemed to indicate that Gabalis has an edge in the passing game over Cooper and that the Cougars were in need of a spark through the air to keep up with USC after it found its offensive mojo late in the second half.
Practices have been closed to the media since fall camp ended, so I can't say for certain. Rolovich noted the competition between the two has been "really close" over the past couple of weeks, though.
Perhaps the Cougars were saving Cooper for a potential goal-line wishbone package?
All jokes aside, apparently WSU settled this week on Guarantano and Cooper as its first two options vs. Utah – that is, if de Laura hasn't recovered from a leg injury suffered last weekend.
Is there a concern that by not having de Laura out there, it could alter the team's DNA?
- @jaredshurtliff
Again, nice segue. The position at WSU has been a carousel this year, so I'm not stunned by all the QB questions.
Yes, I believe de Laura's absence would change the Cougs' style on offense. I fear it'd become more methodical and therefore, conservative.
De Laura appears to have a grasp on the run-and-shoot and a rapport with his teammates.
You could see him last weekend continuously adjusting protections and audibling his receivers.
He's absolutely the Cougars' best running QB, and he is not at all afraid of taking shots to kick-start the offense.
It sounds simple, but it'd be a major factor: If WSU's without de Laura, it's without his distinctive playmaking abilities, which have translated to the Cougs' best stretches of offense this year.
Without de Laura, we'll probably be seeing more out routes than we already have.
What's with the constant defensive substitutions we've seen? The D-line seems to shuffle every play. Is it matchup/down-and-distance based or are we rotating to keep guys fresh?
- @TyMartin3
It's both.
Edge coach A.J. Cooper touched on this earlier this week. He said there were games last season in which starting edge rushers Brennan Jackson and Ron Stone Jr. played between 60 and 70 snaps.
"That's not good for them in the game and it's not good for their bodies in the long haul," he said. "Being able to rotate and keep those guys fresh and keep the competition hot at practice has been really good, and I know (defensive tackles coach Ricky) Logo feels the same way."
At edge, WSU is alternating Jackson, Stone, Willie Taylor III, Andrew Edson and Quinn Roff – with a little of Moon Ashby sprinkled in.
As for the interior: Amir Mujahid, Ahmir Crowder, Christian Mejia, Antonio Pule and Dallas Hobbs take turns.
Rotation on the D-line has been emphasized by this staff.
"Ultimately, as you develop a D-line, you want it to be like waves hitting a beach," Cooper said. "You just keep rolling people in and that wave just keeps crashing into the sand."
WSU tends to send all its defensive tackles to the sideline on sure-fire passing downs. Jackson, Stone, Taylor and Edson are usually in on those four-edge sets, which are employed to speed-rush opposing QBs.
Local journalism is essential.
Give directly to The Spokesman-Review's Northwest Passages community forums series -- which helps to offset the costs of several reporter and editor positions at the newspaper -- by using the easy options below. Gifts processed in this system are not tax deductible, but are predominately used to help meet the local financial requirements needed to receive national matching-grant funds.
Subscribe to the Cougs newsletter
Get the latest Cougs headlines delivered to your inbox as they happen.
---