News > Sci/Tech
Bugging the Northwest: Meet the beetle that's 'not a problem insect' despite its rhinoceros-looking horn
Wed., Aug. 10, 2022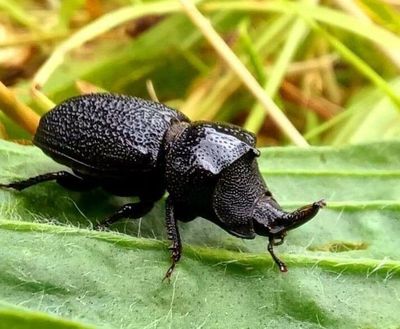 If you come across a beetle sporting a rhinoceroslike horn, you'll do a double- or triple-take. After all, the insect ambling across damp leaves in the forest resembles a dinosaur stalking through the movie "Jurassic Park."
Except that it's barely an inch long.
Meet Sinodendron rugosum, also known as the rugose stag beetle. "They are one of the region's more interesting looking beetles," said entomologist Richard Zack of Washington State University.
Although they live throughout the state, they're more common west of the Cascades, he said. Even so, because they tend to keep to themselves in wood piles and among rotting logs, it can take a little work to find them.
Once you do, they won't charge at you with that prominent horn. Only the males have one, and it's used to do battle against rivaling males for females, somewhat like rutting elk.
S. rugosum isn't the only beetle to sport a head protrusion. In fact, there's one whose common name is the rhinoceros beetle, which isn't even found in Washington state.
"Stag beetles and rhino beetles are from two very different beetle families," Zack explained, adding that because so few stag beetle species possess a horn, "ours is kind of the oddball to the rule."
Beetles' horns – which happen to come in a variety of sizes and shapes ranging from antlers and pitchforks to a horn of plenty – are a highly evolved form of weaponry, according to "Beetle horns and horned beetles," published in the July 2012 issue of Wiley Interdisciplinary Reviews Developmental Biology. Species from at least seven beetle families have evolved horns or horn-like structures, the authors wrote.
And yes, S. rugosum is one of those species. Long before the beetle grows a horn, the larvae feed on decaying logs and stumps and then emerge as adults in late spring and early summer. Relying on fat stored from their larval stage, the adults eat very little as they move about in search of a mate.
"They are not a problem insect at all," Zack said.
Local journalism is essential.
Give directly to The Spokesman-Review's Northwest Passages community forums series -- which helps to offset the costs of several reporter and editor positions at the newspaper -- by using the easy options below. Gifts processed in this system are not tax deductible, but are predominately used to help meet the local financial requirements needed to receive national matching-grant funds.
Subscribe now to get breaking news alerts in your email inbox
Get breaking news delivered to your inbox as it happens.
---