News > Washington
Washington indoor mask mandate now set to end March 12
Feb. 28, 2022 Updated Tue., March 1, 2022 at 12:42 a.m.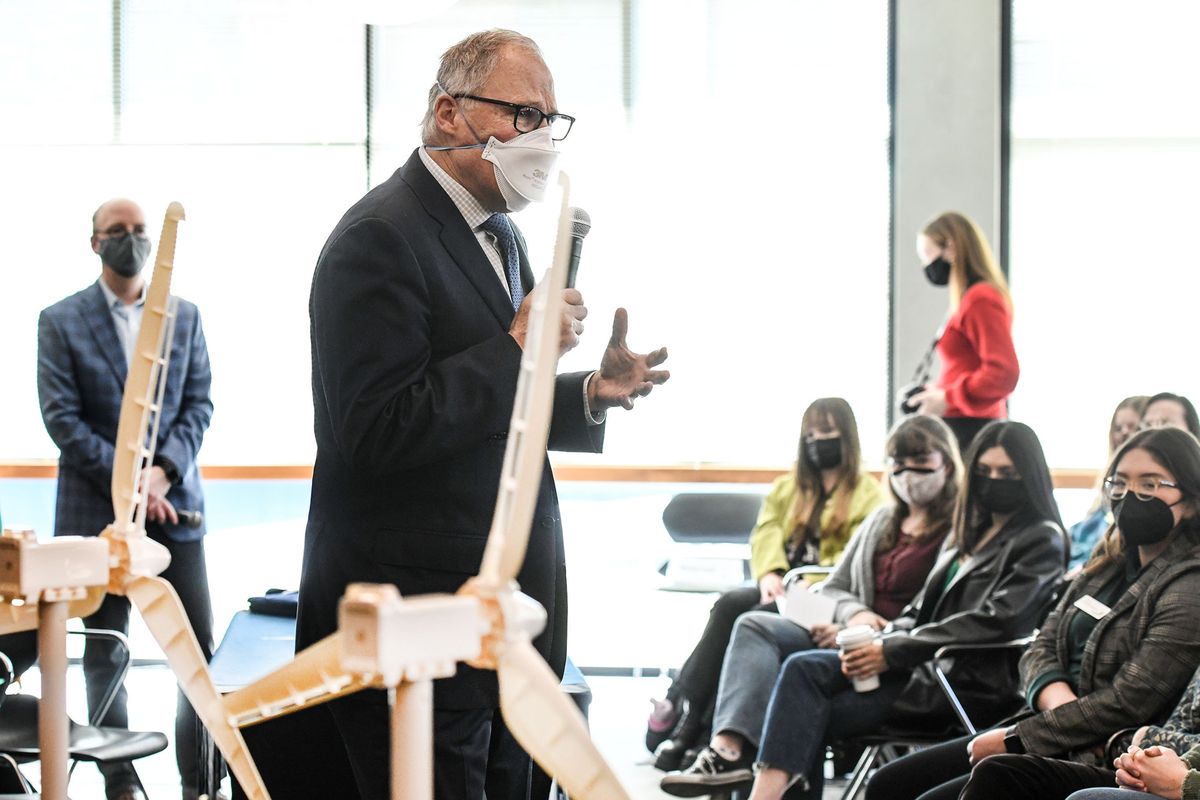 Gov. Jay Inslee speaks to students Friday at Gonzaga University in Spokane. (KATHY PLONKA/THE SPOKESMAN-REVIEW)
OLYMPIA – Washington's indoor mask mandate will lift on March 12 – sooner than previously announced by Gov. Jay Inslee, but not as soon as recommended by the federal Centers for Disease Control and Prevention last week.
Washington joined Oregon and California in announcing a new date. The decision was a result of discussions involving the three states, following new Centers for Disease Control and Prevention guidance announced last week.
"We are turning a page in our fight against the COVID virus," Inslee told reporters Monday.
The new CDC guidelines removed the strong mask recommendations for most of the country, switching to a county-by-county approach. Counties with "high" levels of transmission are still recommended to have mask requirements indoors. In Washington, nine counties, mostly in central Washington, are considered to have high levels of transmission. Spokane County is in the "medium" category.
The CDC data uses seven-day totals for COVID-19 hospital admissions, new COVID cases as well as percent of staffed inpatient beds occupied by COVID-19 patients.
Looking at the CDC data, Inslee said it is likely that as a state, Washington will be out of the high risk category by March 11.
It's a different metric than what Inslee used earlier this month to announce the March 21 end date for the mask mandate. At the time, Inslee said that was the date hospital admissions were projected to be low enough for health officials to feel comfortable ending the mandate.
Inslee said there are a lot of different projections and data that the state is using together to make this decision.
"I would not do this if I didn't think it was safe," Inslee said.
Secretary of Health Dr. Umair Shah said the updated masking timeline is a direct result of following the science, but "the pandemic is not over."
Washington will lay out its plan for the coming months of the pandemic in the next week, Inslee said. The next phase will focus more on empowering individuals and families, rather than government restrictions.
It will also include ensuring the state has adequate personal protective equipment, testing and other resources in case a new variant pops up, Inslee said.
Shah said health officials continue to watch new variants.
Washington is seeing in increase in the BA.2 subvariant of omicron, but there are a lot of other things the state is watching as well to make these decisions.
As of Feb. 23, BA.2 made up 11% of sequenced cases in the state, while the original strain of the omicron variant made up the rest and vast majority of sequenced cases in the state.
BA.2 is called a "stealth" variant because of its increased transmissibility, and while it was responsible for surges in cases in European countries, so far, this has not been the case in the United States. BA.2 has been detected in all 50 states.
Shah said the department is monitoring BA.2 and encouraged people to protect themselves against BA.2 and potential future variants.
Those who are not vaccinated yet should do so to protect against more variants, Shah said.
Inslee said the state will remain ready, in case there are new variants, and will respond properly if that time comes.
Even with the new date, masks will still be required in Washington health care facilities, long-term care settings, public transit and correctional facilities.
The new date will be the same for businesses as well as schools. The Department of Health will also update its school guidance on other safety measures, such as social distancing, hygiene and ventilation, next week.
Local health departments, school districts and businesses can still institute their own mask mandates based, if they choose, Inslee said.
Shortly after the announcement, Spokane Public Schools sent an online message to staff and families acknowledging the new deadline.
Moving forward, the district said it would "continue to follow the guidance of public health officials, and we ask that all students and staff abide by health and safety protocols."
The district thanked families for their "patience and support as we continue to navigate the pandemic."
Responding to a query from The Spokesman-Review, a district spokesperson said that "SPS will continue to follow public health guidance.
Referring to new guidance expected next week, communications director Sandra Jarrard said in an email that the new guidance "will allow for SPS to determine the next steps in implementing updated health and safety protocols."
"We are still working with the DOH and the Department of Labor and Industries to determine the next steps," Jarrard said.
Kyle Rydell, the superintendent at the West Valley School District, said in a statement that the district is "excited that updated guidance has been issued around indoor masking and we feel like we have other mitigation measures that will continue to support our staff and students.
"March 13th would mark the 24th month of our pandemic response in our schools and it feels great to be able to see things like masking and contact tracing roll off," Rydell said.
Here's a look at local numbers:
The Department of Health is still experiencing some data delays in its reporting system, which could impact daily reports from local health districts.
The Spokane Regional Health District reported 56 new COVID-19 cases on Monday and 174 over the weekend. The district also reported four additional deaths.
There have been 1,283 deaths due to COVID-19 in Spokane County residents.
There are 92 patients hospitalized in Spokane hospitals with COVID-19.
The Panhandle Health District reported 78 new COVID-19 cases and no additional deaths.
There are 55 Panhandle residents hospitalized with the virus.
Local journalism is essential.
Give directly to The Spokesman-Review's Northwest Passages community forums series -- which helps to offset the costs of several reporter and editor positions at the newspaper -- by using the easy options below. Gifts processed in this system are not tax deductible, but are predominately used to help meet the local financial requirements needed to receive national matching-grant funds.
Subscribe now to get breaking news alerts in your email inbox
Get breaking news delivered to your inbox as it happens.
---