News > Washington
Pullman weighs removing Thomas Jefferson portrait from library after complaints
UPDATED: Mon., Jan. 24, 2022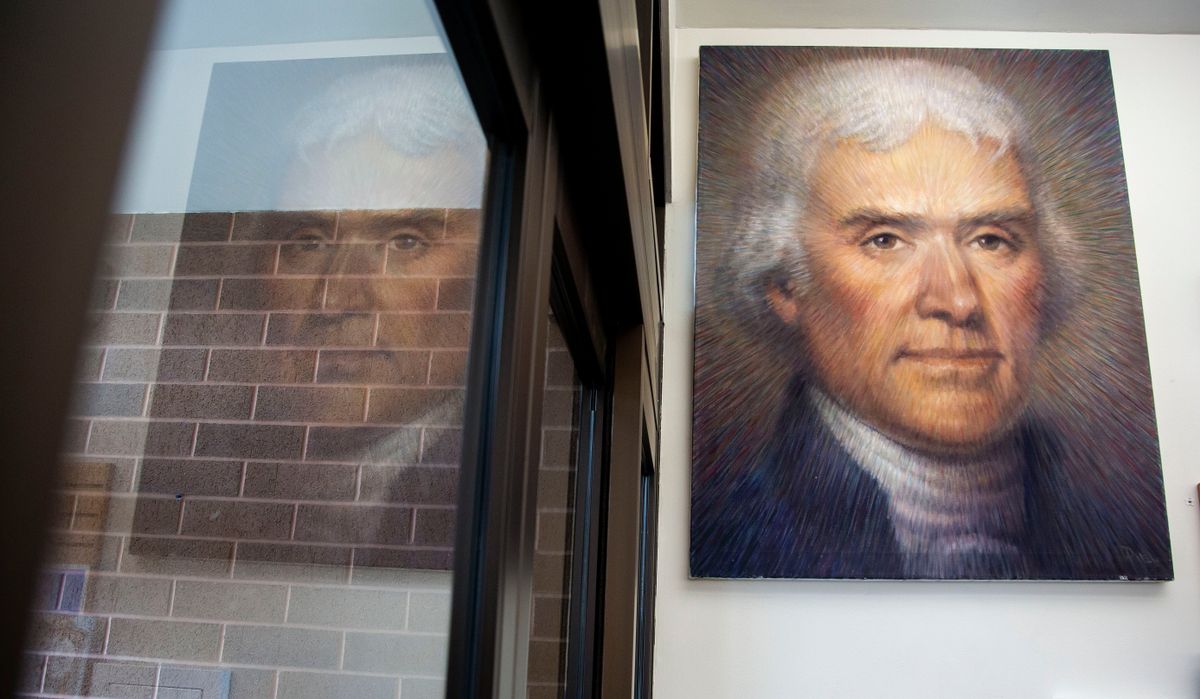 Four patrons asked that this painting of Thomas Jefferson by Dan Piel be moved or taken down from where it is displayed at Neill Public Library in Pullman because of Jefferson's views on slavery. The library's board of trustees will meet on Feb. 9 to review policies that affect the library's art collection. (Geoff Crimmins/For The Spokesman-Review)
The Pullman Library Board of Trustees is considering a request to remove a portrait of Thomas Jefferson, the third U.S. president, from the Pullman Neill Library.
Regarded as one of America's founding fathers, Jefferson was the primary author of the Declaration of Independence and is known for being an avid spokesperson for democracy. But his own views were highly contradictory. He publicly called slavery a "hideous blot" and a "moral and political depravity," yet he owned an estimated 600 enslaved Africans during his lifetime.
As president, he signed a law banning the trans-Atlantic slave trade in the United States, yet he fathered at least six children with an enslaved woman on his plantation, Sally Hemmings.
Since racial and social unrest erupted in 2020, many activists have worked toward a goal of seeing the full, conflicting truths about the figures America regularly uplifts as heroes of the country.
In Spokane, activists have led a local charge to right historical wrongs.
In August, Indigenous leaders such as Margo Hill of the Spokane Tribe gathered for a land acknowledgment as Whistalks Way replaced George Wright Drive at Spokane Falls Community College. Wright, an Army colonel in the 1850s, led acts of genocide against multiple Indigenous tribes around the Pacific Northwest.
At the end of August, Mukogawa U.S. Campus, part of the Mukogawa Women's University in Nishinomiya Japan, also removed Wright's name from its campus entry signs.
Joanna Bailey, director of the Neill Public Library since 2011, explained that the Jefferson portrait is part of the submissions that the library's art committee began in 1980.
"The criteria under which the acquisitions were made, was that work was by professional artists, who made their living in the art or the art that was judged appropriately by the committee. They had to use the Palouse community in their subject matter. They did a lot of work with WSU and the fine arts faculty," Bailey said.
The art committee received the Jefferson portrait from the GTE Telephone company in 1980, and it was painted by the late portraitist Dan Piel, a faculty member of Washington State University's Fine Arts program at the time.
Last December, public records show, four local residents emailed Bailey asking to remove or relocate the painting, the Moscow-Pullman Daily News reported.
This spurred a special meeting for Jan. 4.
Public comments came from both sides of the argument, some stating that requests to remove Jefferson's portrait aren't helpful, others supporting the removal as a step in the right direction.
Pamela Awana Lee attended that Jan. 4 meeting, expressing her opinion not only as a woman of Scandinavian and Chinese descent, but an art professor.
Lee worked in Washington State University's Fine Arts and Honor College program for 32 years, and spoke about the qualities of the painting itself. According to Bailey, Piel's portrait of Jefferson is about '6 feet by 4 feet,' and that wall space was a 'big determiner and logistics decision.'
"There are these rays that seem to come in and out of focus on Jefferson's face, and that created visual messaging as if he is the Egyptian sun god or something," Lee said. "The visual of message I receive is that this man is a revered and adored person. What I'm interested in, is that every person walks into that library is how people of color could get a message that this is not their place. And I want our library to be all of our place."
In her public statement, she highlighted the implications of Jefferson's portrait being the first and last things patrons will see, and said it seems "exclusionary."
"When I stand and check out the library material, I'm standing right there by that painting," Lee said.
"And as most have acknowledged, though Jefferson was the third president, he is a symbol of one of the founding fathers who did not give up his slaves. He treated them as chattel, and, yes, he wrote about his misgiving of holding slaves, but he never changed it. And I find that a very bad experience as a woman of color in Washington state on the Eastern side or anywhere. It's not the right symbol."
Carey Edwards moved to Pullman in 1999 and is the father of three children who were students in the Pullman Public School District.
He does not take personal offense to the portrait and does not believe it should be removed.
"The library should be the last place where anything is censored," Edwards said. "It's the library, and that's where you go for all credible information. I think that people wanting to remove the Jefferson painting from the collection is censoring the library's collection. I just don't feel that's right."
Edwards, however, recommended using the controversy as a way to educate.
"Jefferson was a founding father, was a great man, but he definitely had some personal flaws. Who doesn't? His being a prominent person, his flaws were more prominent," Edwards said. "Using him as an example makes us question more. It can definitely be and should be a learning point for people who don't know about Thomas Jefferson … being a library, it should be an educational type of situation."
Though some are asking for a complete removal of the portrait, according to the library's art acquisition policies, obtained art cannot be removed, only rotated in and out of display.
The conversation will shift to the board of trustees and its ability to change policy.
"The art that we have has to be on permanent exhibit unless there's not a lot of space in the library to do so. The only option is to rotate the pieces in and out as a revolving display … we don't have enough space to permanently display all 70 pieces at one time," Bailey said. "The other point being, if it's out of display, you also need to rotate it back in for display. You can't just rotate it out and it never come back. So the board needs to spend time to look at its policies, too."
During the Jan. 4 meeting, the Pullman Library Board of Trustees did not come to a decision on removal, opting to deliberate at its next meeting on Feb. 9.
Veta Schlimgen, a U.S. history professor at Gonzaga University, finds the conversations about the founding fathers and other complex architects of American history an important, difficult step for current American citizens to reconcile with the past. She calls the way Americans idolize historical figures a "mythology of U.S. history."
"The complexity and history, rather than the mythology of Jefferson, means that we have to pay attention to the fact that when Jefferson talked about equality, he was talking about property-owning white men like himself, and some of the property that they claim to have was people," Schlimgen said. "So we have to weigh that along with Jefferson's other contributions to the founding of the United States. And it humanizes him. There's just few heroes who are perfect people. We have to allow Jefferson, I think, to be human by talking about his history, not just his mythology."
On a larger scale, Schlimgen described the Jefferson portrait controversy as just one piece of the puzzle.
Similar to the removal of George Wright's name from local entities in Spokane, or discussions about critical race theory, Jefferson's portrait
is a thread to a larger conversation about how Americans can discuss the wrongs of American history, something that Schlimgen calls "impossible" if censorship and feelings are only discussed.
She believes the nation's concerns about re-evaluating history started in 2019 with the release of Nikole Hannah-Jones and the New York Times Magazine's 1619 Project.
"The argument offered by the 1619 Project (is) that slavery is foundational to the United States, that we cannot talk about U.S. history starting in 1776, we have to go back to 1619," Schlimgen said.
"It was followed up by efforts, I would say, of mostly white Americans, but also different Americans of color, to try to better understand the past and understand how they might contribute to perpetuating inequalities. So (the Jefferson portrait controversy) is a manifestation of censorship that we can only have a comfortable story of U.S. history, and anything that makes us uncomfortable is too controversial and can't talk about it. So I think that is really the wrong way. That's not history, that's more like a mythology about the American past that is very patriotic and exceptional."
The next meeting is set for Feb. 9 at 3 p.m. in a hybrid virtual and in-person format. Public comment will be taken again, and an update on the library's board of trustees will also be given.
"When we have our meeting on Feb. 9, we're going to have a public comment and we're going to be taking a deeper dive into policy," Bailey said. "We're taking so much attention and time on policy, because the policy should govern your staff actions. But, just to emphasize, we really are listening.
"That's the appropriate action in this phase of the process. To listen to our community, hear their voices."
Local journalism is essential.
Give directly to The Spokesman-Review's Northwest Passages community forums series -- which helps to offset the costs of several reporter and editor positions at the newspaper -- by using the easy options below. Gifts processed in this system are not tax deductible, but are predominately used to help meet the local financial requirements needed to receive national matching-grant funds.
Subscribe now to get breaking news alerts in your email inbox
Get breaking news delivered to your inbox as it happens.
---