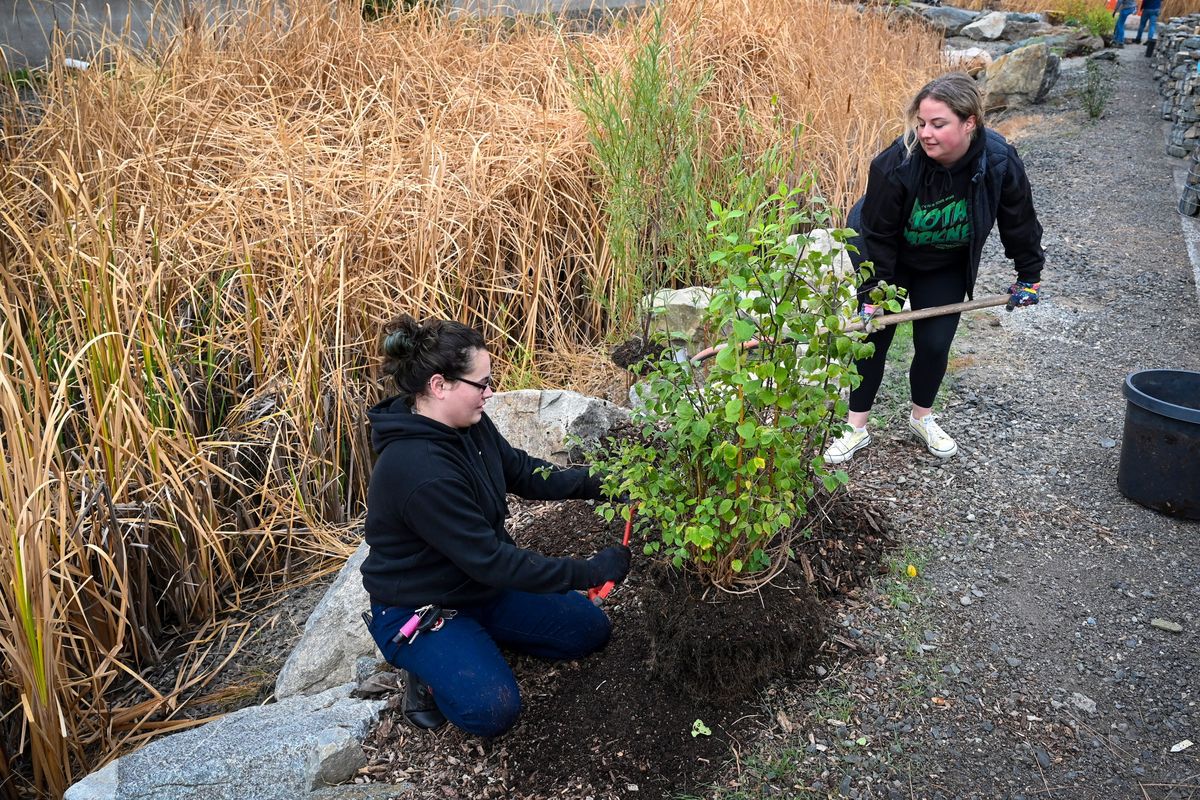 Sometimes sows' ears do turn into silk purses. In this case, it's the Spokane Conservation District's new project to restore and redevelop a battered 50-acre piece of land located just east of Eighth Avenue and Havana Street in Spokane Valley.
During spring 2017, the SCD purchased what had been a rock quarry that was used to produce rock and asphalt. The district immediately began rehabilitating the area by removing tons of asphalt and concrete debris, garbage, controlling noxious weeds and brush, planting native shrubs and trees, restoring wetlands and building trails through the hilly property. They also built a new, sustainable designed headquarters building that serves as offices and a new community environmental education center.
Now they are ready to show off their hard work to the public. On Friday, the district will host a Forestry Field Day from 8 a.m. to noon that is free to the public. The field day will host tours of the quarry and the work that has been done to clean up the site, manage the long-neglected forests and wetlands found on the property and talk about plans to become an urban environmental learning center. Along with the tours, there will be demonstrations of wood milling, chipping and handling equipment such as chainsaws. Arborists, foresters, landowners and natural resource managers, in particular, are invited to attend.
"This property is an island of nature in an urban world," said Garth Davis, district forester. "It has so many different pockets of nature from wetlands to forests to unique geologic features."
In the northeast corner of the area is a wetland that catches seasonal water from the Carnahan area. Another wetland in the middle of the property provides habitat for frogs, insects and the occasional blue heron. Where a mountain of asphalt was piled, Davis and community groups have planted a wide variety of native plants and trees.
At the south end of the property, the district brought in goats to eat down two or three acres of noxious weeds. To help restore the soil, the district has been covering areas with arborist wood chips.
"We are planting directly into the chips, and everything has survived remarkable well because the chips hold enough moisture to keep the plants alive even in the heat," Davis said.
Existing landscaping on the property is being converted to drought-tolerant plantings.
The quarry's geology is also unusual.
It is a place where three major geologic events that shaped our region are visible and easily accessible. The quarry sits on the contact zone between the Columbia River basalts and the much older granitic rocks that were once an ancient coastline. The basalt is around 5 to 16 million years old while the granitic rock it abuts is around 1 billion years old and a remnant of continental drift.
More recently, the Ice Age floods scoured over the area leaving interesting, sculpted rock formations and glacial gravel.
---