Sports > Outdoors
Regional trail work continues despite wet spring, COVID-19 participation dip
Sun., June 26, 2022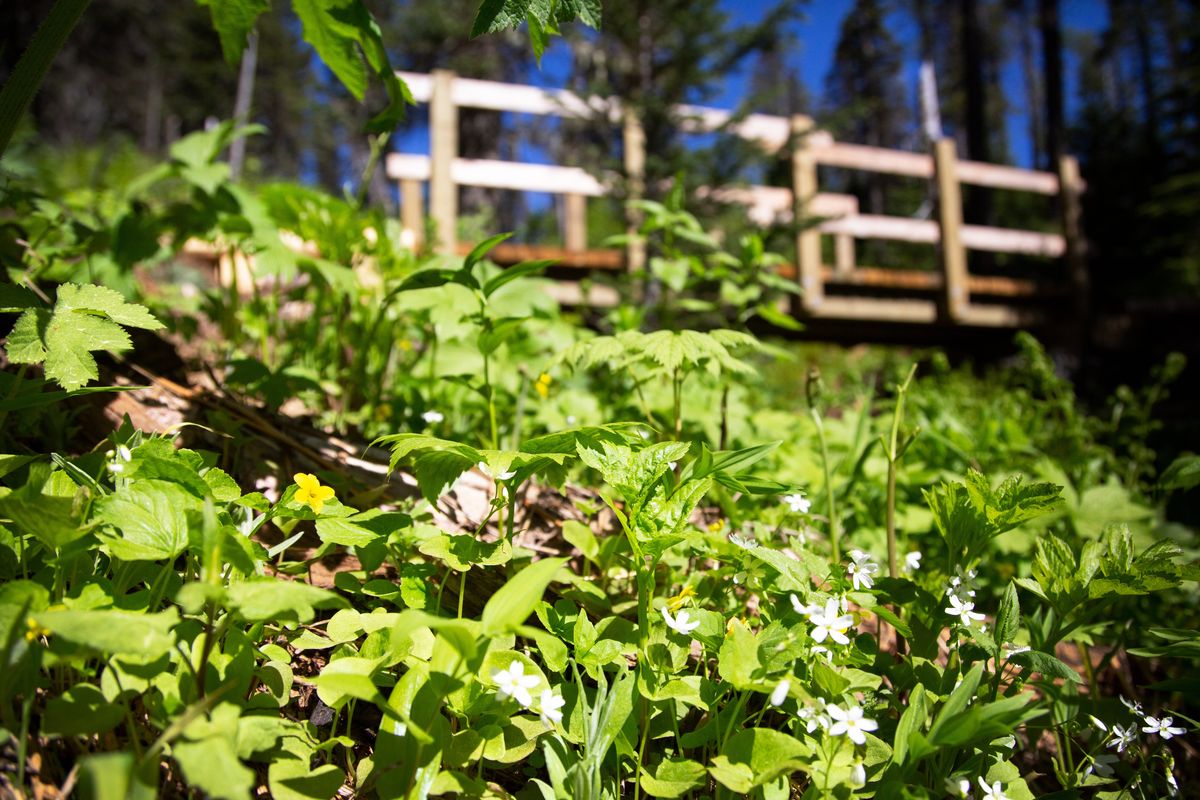 The new bridge on Trail 131 on Mount Spokane as seen Thursday. (Eli Francovich/The Spokesman-Review)
On a verdant morning last week, the kind that reminds many of us why we live in the Pacific Northwest, I crossed a sturdy log bridge on Mount Spokane's Trail 131.
That's a rather mundane fact. An anecdote nearly not worth telling, except its insignificance reveals an important and self-evident truth: Trails and all their associated infrastructural convenience don't build themselves. No where is that more evident than on Mount Spokane, which has 100 miles of trails open to hikers, bikers and equestrians an hour or less from Spokane.
Still, it's easy to forget all that work has to be done by someone, usually volunteers. Finding those volunteers can be tricky, and a wet and wild spring has made that job even harder this year, said Holly Weiler, the Washington Trail Association's Eastern Washington coordinator.
"We are having the weather issues this year," she said.
Several planned trail work days have been canceled or postponed due to closed roads (see sidebar) or bad conditions. At the same time, she said she's noticed a drop-off in participation, something she attributes to the decline in COVID-19 restrictions and concerns.
"The last two years, outdoor volunteer opportunities were about the only way people could gather together in groups," she said. "Now there are lots of things competing for people's time and energy."
Still, work continues, even if it's a bit delayed, Weiler said, to which that bridge that I blithely walked across is a testament.
"We have projects all over the place right now," she said. "It's really been kind of crazy how many simultaneous projects have been going on."
The Evergreen Mountain Bike Alliance – Eastern Washington Chapter is also working on trails. The wet weather is a boon for building, president Chris Conley said, although all the rain has caused some erosion problems. While that club has a number of projects ongoing, the big news is that they're in the process of hiring two to three paid trail builders at Mount Spokane. Those seasonal employees will help build and maintain trails. Mount Spokane has two trails that go from top to bottom (Trails 140 and 290) and the use has been intense.
"It's pretty incredible the usage those trails get," he said.
Below is a list of upcoming volunteer opportunities, each a chance for you to give back. For details on Washington Trail Association projects and to sign up, visit wta.org/volunteer/schedule. For Evergreen Mountain Bike Alliance information visit evergreeneast.org.
June:
Want to help build a new trail? Join a WTA crew Tuesday on Trail 182 on the west side of Mount Spokane. "The only way to see it right now is to join us," Weiler said. Be ready to hike 1 to 3 miles. No prior experience needed. Bring a lunch, sturdy shoes and all-weather clothing. There are other Trail 182 projects scheduled throughout summer.
July:
Help build a new trail north of Spokane. WTA is working with the Kalispel Tribe on Saturday to create a 2-mile interpretive trail along Indian Creek.
Join the WTA in the Salmo-Priest Wilderness, an area of stunning views and abundant wildlife the only wilderness area in Northeast Washington. Volunteers will work on improving the tread of the Salmo Loop trail as it drops to the South Salmo River and then heads east, climbing to the Shedroof Divide. Scheduled July 7-10. This is an overnight trip and requires plenty of hiking.
The Idaho Trails Association is looking for youth volunteers (14-18) for a three-day trail maintenance project on the Coeur d'Alene River. Scheduled July 8-10. This is the group's first youth project in North Idaho. No experience is necessary and there is no cost. All food will be provided. Volunteers will learn how to remove logs from the trail using a crosscut saw, trim back brush and do tread work on the Coeur d'Alene River Trail that follows the river and is designated a National Recreation Trail. For more information, visit idahotrailsassociation.org
.
Join WTA at Trautman Conservation Area, located in the heart of Riverside State Park. It is an old ranch that is crisscrossed by cow paths, user built trails and ranch roads. WTA volunteers will be working to help formalize the trail system and address some trail issues that make the present trails unsustainable. Scheduled July 13.
WTA work continues at Mica Peak. This event is an opportunity for hikers to discover Mica Peak and start working on trails that were developed as part of the Mica Peak trail plan over the past few years. High-clearance vehicle required or carpooling is possible. Scheduled July 15.
Another WTA trip to the Salmo-Priest wilderness, which contains two ridges: the Shedroof Divide and Crowell Ridge. Volunteers will be tackling deferred maintenance on the Crowell Ridge trail. Scheduled July 21–24.
Help finish Trail 130/131 on Mount Spokane. WTA has done extensive rerouting between the Sno-Park parking lot and Bald Knob. These reroutes will make the trails more sustainable and more user friendly in winter and summer. Scheduled July 22.
August:
WTA volunteers will return to the Salmo-Priest Wilderness Aug. 4-7 and Aug. 25-28.
Local journalism is essential.
Give directly to The Spokesman-Review's Northwest Passages community forums series -- which helps to offset the costs of several reporter and editor positions at the newspaper -- by using the easy options below. Gifts processed in this system are not tax deductible, but are predominately used to help meet the local financial requirements needed to receive national matching-grant funds.
Subscribe to the sports newsletter
Get the day's top sports headlines and breaking news delivered to your inbox by subscribing here.
---