Sports > Gonzaga basketball
"He's a character": Gonzaga's Efton Reid maintained positive attitude during challenging season
April 1, 2023 Updated Sat., April 1, 2023 at 6:33 p.m.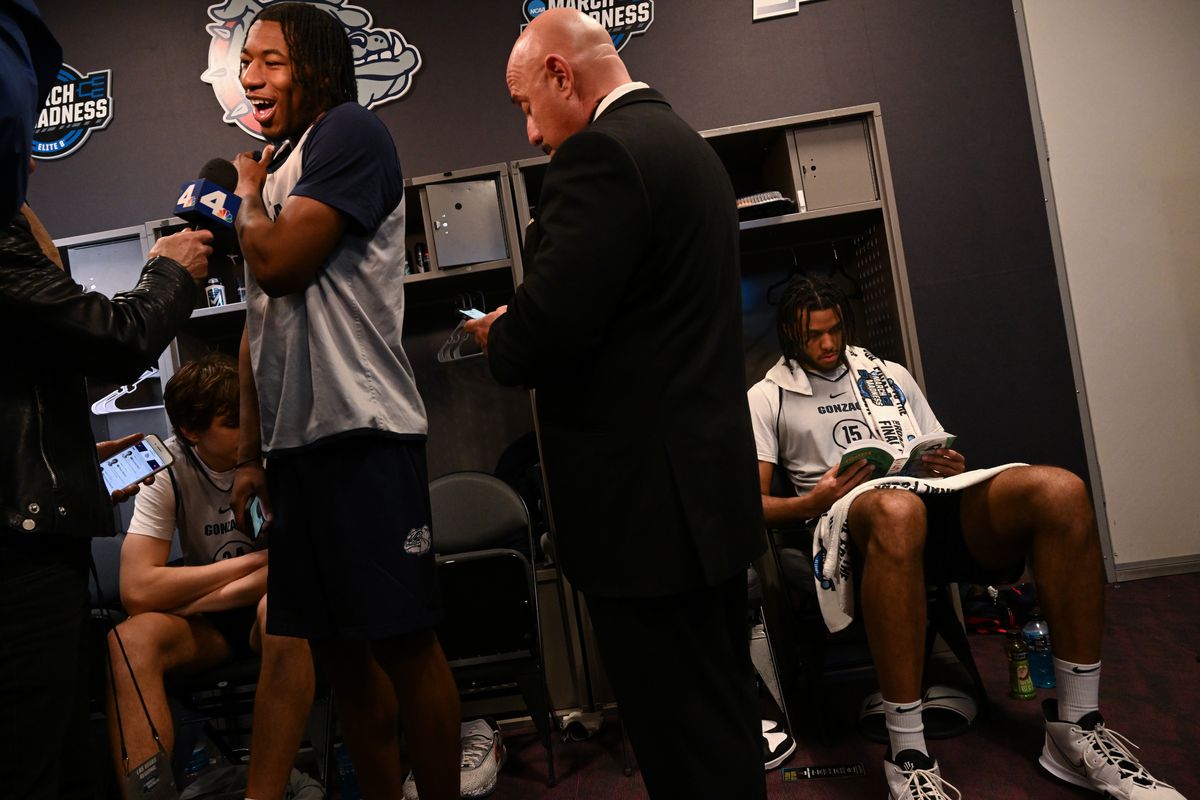 Gonzaga's Efton Reid III reads while Dominick Harris answers questions during an NCAA Tournament media session March 22 in Las Vegas. (By Tyler Tjomsland/The Spokesman-Review)Buy a print of this photo
Efton Reid III was fixated on a book while media scattered inside Gonzaga's locker room during the NCAA Tournament looking for interviews, often with Drew Timme, Anton Watson or Julian Strawther.
Reid's eyes barely raised when locker neighbor Rasir Bolton was asked about the 7-footer's reading habits and perpetually positive attitude.
"No doubt, he's always upbeat, always happy for everybody, always trying to bring guys together, always talking," Bolton said. "It's just what he does. Just a great guy on and off the court."
And the reading?
"He reads his books all the time," Bolton said. "We'll be in the room and I let him be, and he reads. That what he likes to do. I'm not going to bother him, I'll help him try to find a book."
Questions about Reid draw similar reactions from his teammates. First, they are unable to suppress a smile when Reid is the topic and then they use similar words to describe the big man.
"He's a character," wing Julian Strawther said. "Efton is a funny dude."
"He can talk (on a variety of subjects)," forward Ben Gregg offered. "He's a character, man. He's always about something different. He has all these conversation starters.
"He's always reading his comic books at breakfast and team meals. Really funny guy. He's always upbeat, just someone you like to have around and he definitely helps the culture of the locker room."
It wasn't the easiest of seasons for Reid, a transfer from LSU. He started all 34 games, averaged nearly 20 minutes per game, 6.3 points and 4.3 rebounds at LSU in 2022.
Reid was in Gonzaga's rotation early – logging 12 minutes in the season opener against North Florida and 11 against Michigan State – but he only reached double figures in minutes once more, tallying a season-high 16 points in 19 minutes vs. NAIA Eastern Oregon.
Reid had several DNPs (did not play) and battled a February back injury before returning for the regular-season finale vs. Chicago State. He was on the court for 116 minutes in 25 appearances after playing 668 minutes as an LSU freshman.
"He's locked into the team. He wants the team to be successful," assistant coach Roger Powell Jr. said. "It says a lot about his character."
Reid's limited playing time didn't stop him from being a supportive teammate, particularly when the Zags hit turbulence during the nonconference schedule.
"It's not hard for me because I've always grown up like that," Reid said. "My mom has told me to be positive, no matter what it is. I've been through a lot of stuff in my life, but I just thank God for remaining grateful and for what I have.
"There are different ways to motivate everybody. You have to find that thing that gets them motivated and locked in, like, 'OK man, you have to keep going, let's go.' We're different types of people and everybody comes from a different backgrounds."
Many of Reid's early-season minutes eventually went to Gregg, who emerged as the first big off the bench. Gregg averaged 12.4 minutes per West Coast Conference game.
"It's really impressive," Gregg said of Reid's encouraging demeanor. "I know how hard it is to deal with (limited playing time) and not to get too down on yourself, but he's always positive. He's never negative. Just a joy to have in the locker room."
Reid's book of choice was "Vagabond" when the Zags were in Las Vegas for the West Regional.
"It's about Miyamoto Musashi, a swordsman who actually defeated like 60-70 people in 1-on-1 combat," Reid said. "I'm a big history guy, It's on my own, not for a class. It's like a fictional novel, but some parts are real. Since I was little, I've read a lot of books, but since I've been playing basketball I try to inform myself in different ways. I like learning about history, where we came from, where we evolved from."
Reid often watches the History channel. He's studying public relations at GU, but he made sure to take a history class this semester.
"We have a lot of similarities, me and 'E,' " Strawther said. "We're really close. The first thing we really bonded over was anime, watching anime cartoons."
Reid leaned on his mom and brother for support throughout the season.
"They just tell me to stay the path and trust the process," he said.
Local journalism is essential.
Give directly to The Spokesman-Review's Northwest Passages community forums series -- which helps to offset the costs of several reporter and editor positions at the newspaper -- by using the easy options below. Gifts processed in this system are not tax deductible, but are predominately used to help meet the local financial requirements needed to receive national matching-grant funds.
Follow along with the Zags
Subscribe to our Gonzaga Basketball newsletter to stay up with the latest news.
---