Washington State spring camp: Secondary will be a group to watch during Cougs' second scrimmage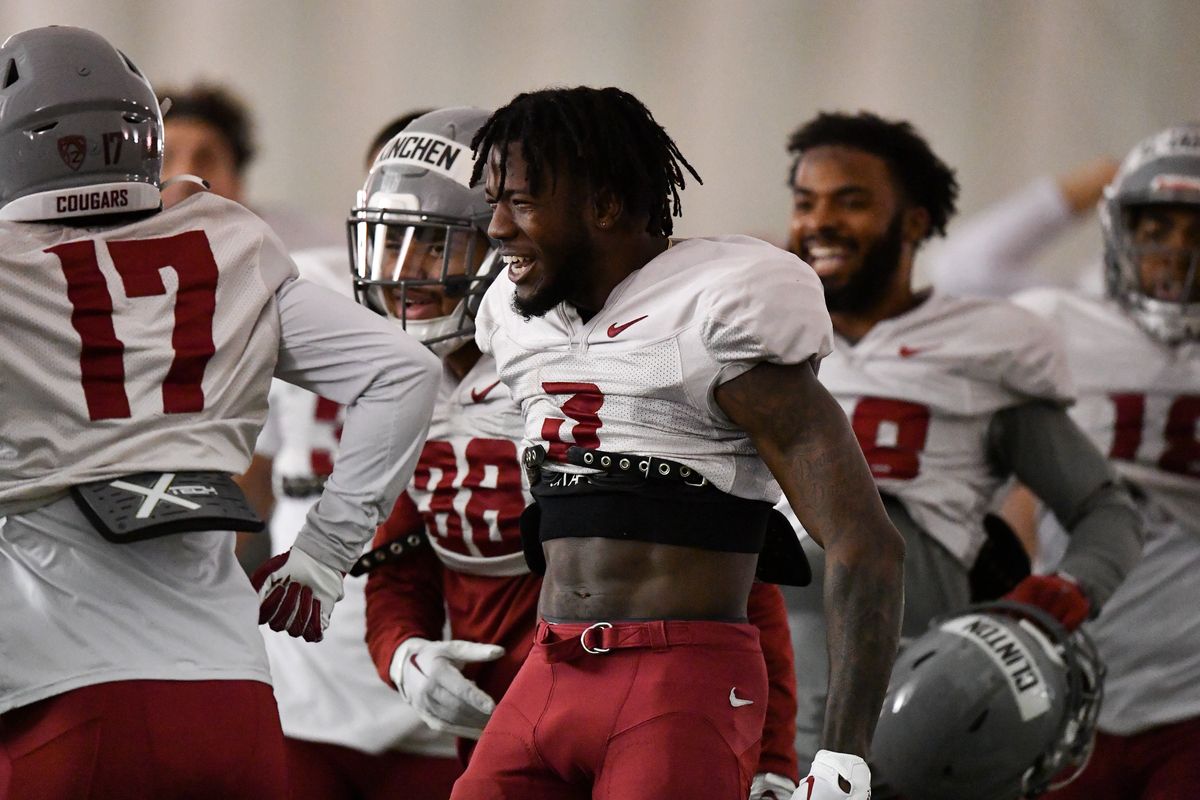 PULLMAN – Coach Jake Dickert will keep a close eye on the secondary when his Washington State football team stages its second scrimmage of spring camp.
On one hand, there's been a lot to like about the Cougars' offense during recent practices. Quarterback Cameron Ward is settling in nicely to new offensive coordinator Ben Arbuckle's system, and WSU's wide receivers are getting open downfield.
On the other hand, Dickert wants to see his new-look defensive backfield step up and limit the big plays. WSU's fast-paced offensive style has created some issues for the team's secondary.
"Defensively, we gotta handle the (offense's) tempo better," Dickert said Thursday at Gesa Field after Day 11 of camp when asked about his goals for the scrimmage, which will begin at 10:30 a.m. Saturday.
"It's been a really rough patch, as far as our guys having the ability to get aligned, communicate and execute, and that's led to a bunch of explosive plays," he said. "We've allowed way too many explosive plays in the defensive secondary. Today was a lot better."
The Cougars ran approximately 110 plays April 1 during their first scrimmage of the spring. The passing offense was the highlight of the day. Dickert expects the second mock game to include about 90 plays. WSU coaches will be evaluating several defensive backs who are vying for roles.
Secondary still takes shape
Chau Smith-Wade emerged as one of the top cornerbacks in the Pac-12 last season. He's been the team's most consistent defensive back in spring camp.
Also locked in atop the depth chart: strong safety Jaden Hicks and free safety Sam Lockett III, both of whom are second-year starters.
A few players are in the mix for the second starting spot at cornerback. Three Cougars are competing for the nickel position, and backup duties at safety need to be sorted out.
Cam Lampkin played sparingly off the bench last season after transferring from Utah State, but the senior has taken the bulk of first-team reps at cornerback this spring. Freshman Javan Robinson, a 2022 recruit who redshirted last year, has been a spring-camp standout. He leads the defense in interceptions across all full-team drills and appears to be just behind Lampkin for the No. 2 job.
"I think Javan Robinson has probably had a really, really solid camp," Dickert said when asked to name players who have made the most significant improvements over the past month. "Cam Lampkin could be right there with him."
Junior college transfers Jamorri Colson and Stephen Hall are the next two options at CB. They'll get a chance Saturday to make up some ground.
Nickel will be a position to watch during the scrimmage. Chris Jackson, Kapena Gushiken and Jackson Lataimua have each seen time with WSU's first unit over the past three weeks. Jackson, a sixth-year senior, made one start last season but saw limited action otherwise. He shifted to nickel from corner ahead of spring camp.
"(I'm) just getting used to playing in all that extra space," Jackson said Thursday of switching positions. "At corner, you're kind of close to that sideline. At nickel, you got all that extra space."
Gushiken came to WSU from Saddleback (California) College. He's been a strong open-field tackler – perhaps WSU's best tackler of the three nickels. The Cougars like Lataimua's potential, but he could use some experience. The redshirt sophomore was primarily a special-teamer last season.
Ward makes strides
The Cougars' second-year QB had a somewhat inconsistent start to the spring, but he's grown comfortable as camp has progressed. Ward is leading the offense with more poise and decisiveness.
While still able to improvise and create plays from outside the pocket – like he often did last season – Ward looks sharp when he works within the structure of the offense and makes timely, accurate throws. Dickert said Ward's fundamentals and leadership traits have improved.
"Cam, now in Week 3 of spring ball, has been more comfortable with the new technique," Dickert said. "I just told him the other day, when I went and watched him on Tuesday, that he looked like a dang quarterback. His feet, his progressions, his base and his arm are in sync – and his leadership ability. Those are the little things I don't take for granted, just with his progress and being mature enough to know he needs to work on some things."
Ward's fast release and sidearm passes stood out last season. His quarterbacking traits fit well in Arbuckle's offense, which wears opponents down with quick passes, fired to receivers in space. Ward and his receivers have developed their rhythm and timing.
"The trio between Josh Kelly, Kyle Williams and Cam Ward is crazy," Smith-Wade said last week. "They attack us everywhere on the field, in every coverage. … It makes us a lot better. We look to them to fill those voids at wide receiver. For them to come in and compete with us every day, it makes us better. I know what those guys are coming with, so I better come with something every day."
Williams and Kelly – junior transfers from UNLV and Fresno State, respectively – have been reliable targets as starting outside receivers. Another new receiver is a likely candidate for a starting job. Quick slotback DT Sheffield has played well during spring camp.
Stability at running back
Backup running back Jaylen Jenkins received a shout-out Thursday for "taking the next step" this spring after being "thrown into the fire" as a true freshman last season.
The 5-8, 167-pounder totaled 494 yards and three touchdowns from scrimmage last year as the Cougars' speed-oriented ball-carrier. Jenkins has taken on a healthy workload this spring as WSU looks to expand his responsibilities.
"Just as far as his pass-protection and knowing where to be, so we can make him a three-down back," Dickert said of Jenkins' improvements.
WSU's offense leans on the pass, but the Cougars should have a capable ground game with Jenkins and starter Nakia Watson back . WSU is confident with its two options at running back, so the position hasn't drawn much attention during spring camp.
Watson earned an All-Pac-12 honorable mention nod last season after totaling 1,064 yards and 13 touchdowns from scrimmage. The 6-foot, 216-pound senior mixes power, elusiveness and receiving abilities.
"That was the biggest thing I told Nakia last year, that he impressed me with his versatility to go win in space," Dickert said. "We thought he was going to be a tackle-to-tackle guy (a power back) and I think he continues to prove to all of us that he can be a three-down guy, and be versatile and create mismatches."
The Cougars' tailbacks sometimes ran routes from the slot position on passing downs in 2022. That won't be as common this season. But they'll still be used as check-down options and occasionally be sent on swing routes.
"It's a little less of a big route tree, but still being versatile," Dickert said.
Redshirt freshman Djouvensky Schlenbaker and redshirt sophomore Dylan Paine are in a competition for the No. 3 spot at running back. Paine earned offensive player of the day honors from Dickert on Thursday.
"Every time I look out there, he's doing something right," Dickert said of Paine. "Djouvensky, in his second spring – because he was an early enrollee (last year) – has taken steps forward. So, I like the group."
Most improved players
Dickert praised true freshman wide receiver Carlos Hernandez, transfer linebacker Ahmad McCullough and the tight end group as a whole when asked to name players who have made the most significant jump since the start of spring camp.
An early enrollee from Monrovia High in the Los Angeles metro, Hernandez has taken second-team reps at both outside receiver and slotback.
"Every day, it's like he just keeps getting better and better," Dickert said.
McCullough, who spent the past five years at Maryland, is making a strong case to be the Cougars' starter at outside linebacker. He's probably the fastest player in the position group.
"I think Ahmad is really starting to stand out with his athleticism," Dickert said.
Coming into spring camp, the Cougars were uncertain about the potential among tight ends.
"(We) went from maybe not knowing what they are to feeling really good about it," Dickert said.
The Cougars will ask their TEs to play a more significant role in the passing game this season.
The Cougars have four solid options at the position in Cooper Mathers, Billy Riviere III, Andre Dollar and Cameron Johnson. WSU is still sorting out its depth chart at TE. It'll be a position to watch during Saturday's scrimmage.
---