Where's Walker? After Senate run, Herschel mostly out of sight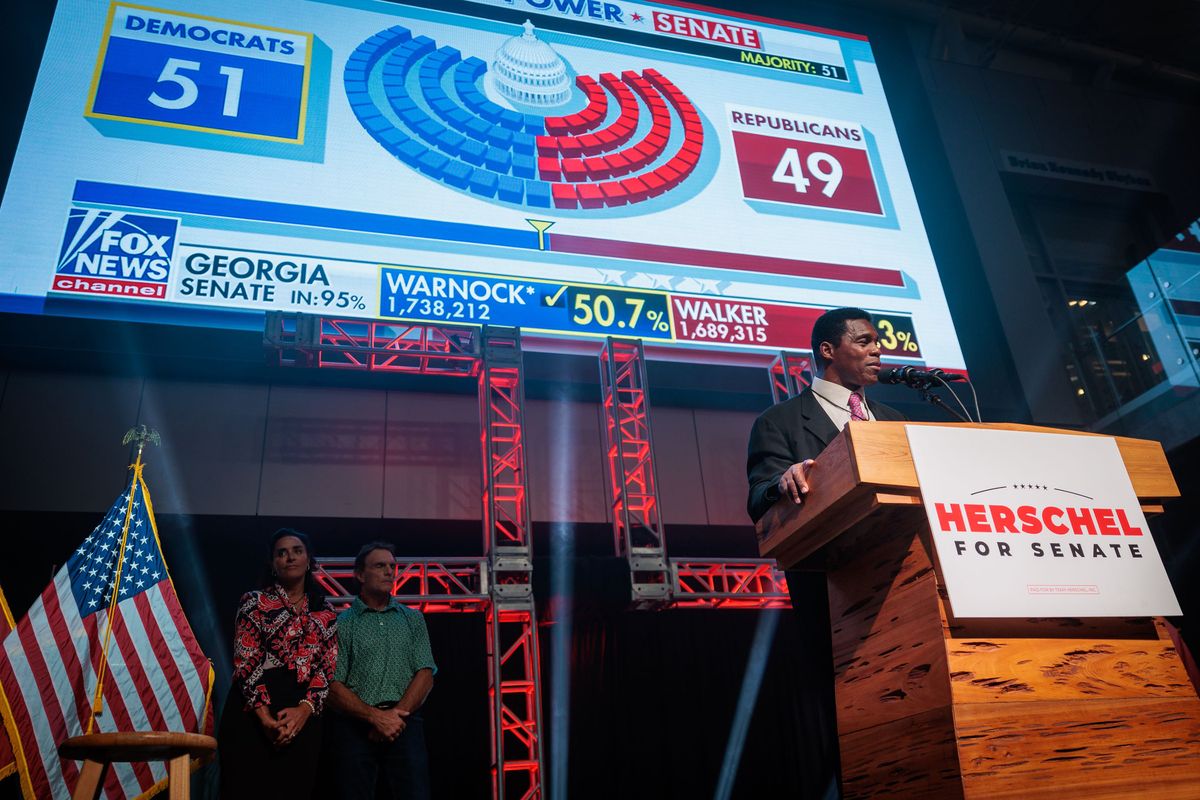 ATLANTA — Herschel Walker might be one of the most recognizable figures in Georgia. He also might be one of the least visible.
The former football star was a household name in Georgia long before he waged a failed bid for the U.S. Senate, and the more than $470 million that was spent during the 2022 campaign rendered him an unavoidable figure.
Now the once-ubiquitous candidate has all but disappeared from the public eye.
Walker has made only a handful of public appearances since his December runoff defeat to Democratic U.S. Sen. Raphael Warnock and the accounts of his chaotic campaign that followed.
He's hardly posted on social media, and he's shunned even the friendly conservative media outlets that once lionized his quest for office.
Even his former aides and confidantes say they haven't kept in touch with the candidate who often talked about his staff and supporters as "family."
"I'm short on details," said Salleigh Grubbs, the Cobb County GOP chair who was a key Walker ally.
"I have not heard anything from him or his former campaign," said Julianne Thompson, a onetime Walker consultant and influential activist.
"I have not spoken with Herschel recently but always wish him the best," said Republican National Committeewoman Ginger Howard, who served as an important Walker surrogate.
A half-dozen ex-Walker aides told The Atlanta Journal-Constitution that they've lost touch with the candidate.
Walker and his wife, Julie Blanchard, didn't respond to multiple requests for comment.
Georgia-bound
Recruited to run for the Senate in 2021 at Donald Trump's urging, Walker's campaign lurched from one crisis to another amid revelations about his history of violent behavior and infidelity, a pattern of lies and exaggerations and a propensity for erratic statements.
Walker was the only statewide Republican candidate in Georgia to lose in last year's midterm, a defeat enabled by hundreds of thousands of swing voters who cast ballots for other GOP contenders but withheld support for the former football star.
The most concrete hints of Walker's post-election activity now can be found in public records and on his once-prolific social media account, where frequent posting has given way to occasional shout-outs to fellow athletes and the occasional conservative policy.
"What makes America different is our Constitution and the Bill of Rights within the Constitution," Walker posted in late March after a mass shooting sparked new calls for gun control. "We must hold this true."
Campaign finance records show that Walker has spent more than $1.5 million of what's left in his campaign account to boost several of his favorite charities and political allies.
One of the largest was a $250,000 contribution to the Horatio Alger Association, which bestowed him with one of its awards last year. This year, the foundation listed Walker and his wife as "eagle flight" sponsors for their largesse.
His attendance at the Alger awards banquet earlier this year was one of his few public appearances since his defeat, and several attendees snapped selfies of the former candidate at the Washington ceremony.
Meanwhile, recent tax filings indicate that Walker no longer considers his suburban Dallas estate his primary residence — a source of contention during the campaign as voters questioned whether he lived in Texas while running for a Georgia office.
The documents now show he lists an Atlanta home owned by Blanchard as his primary residence and will no longer receive a homestead exemption for the Texas property. Officials say that paperwork was completed in late November, shortly before his runoff loss.
Even with the retreat from the spotlight, Walker's sky-high name recognition and enviable fundraising ability could give him an opening to mount another bid in 2026, when Democratic U.S. Sen. Jon Ossoff is on the ballot.
But he surely wouldn't have the same glide path to the nomination he enjoyed last year, when many of the party's most formidable candidates stepped aside. Gov. Brian Kemp, former U.S. Sen. Kelly Loeffler and ex-U.S. Rep. Doug Collins are among the potential GOP candidates in the next go-round.
Stephen Lawson ran the pro-Walker 34N22 super PAC that spent about $9 million promoting the Republican's campaign, including gas and grocery giveaways intended to tie Warnock to rising inflation. He's among many state Republicans who say others are ready to step up.
"I think it goes without saying that Georgia will always hold a special, special place for Herschel Walker. But in so many ways, the game in this state has changed," Lawson said.
"It's a battleground centered around a competition of ideas, of personal connection, and clearly articulating what you stand for and why," Lawson said. "That's the playbook for winning statewide — and I'm not sure it's going to change anytime soon."
---