Spring camp takeaways: With new coordinator and standouts established, Washington State offense shows exciting potential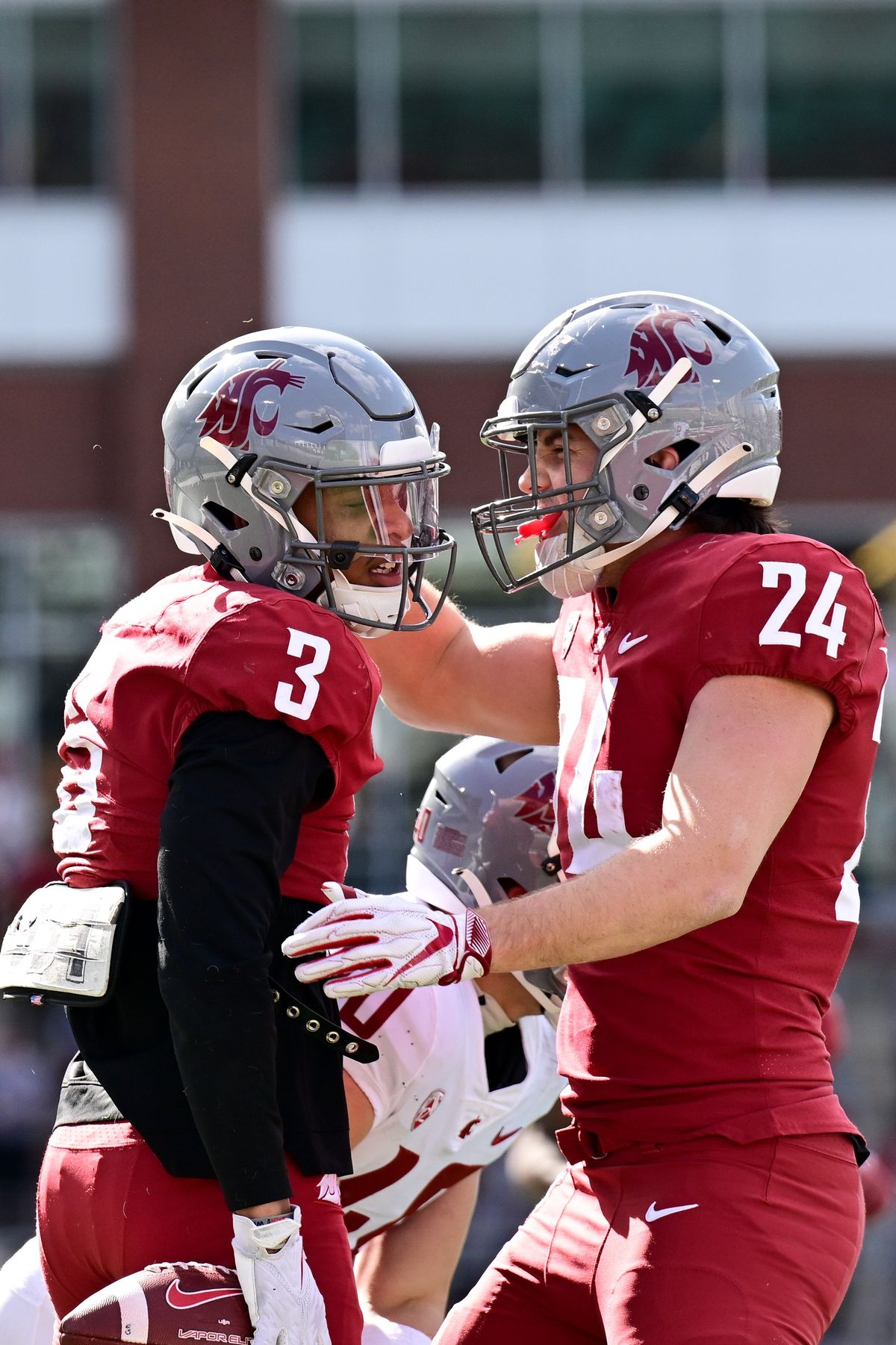 PULLMAN – A first-year coordinator introduced his system. New options emerged in a rebuilt receiving corps. Tight ends saw their roles expand. The backfield provided stability. The offensive line showed progress.
Over the past month, we got a sneak preview of Washington State's potential on offense. Now, with spring camp finished, let's recap what we learned about coordinator Ben Arbuckle's scheme and the Cougars' offensive personnel.
Fast, fluid and favoring the pass
Expect the Cougars to throw the ball often.
Players estimate that WSU will elect to pass on approximately 70% of its plays next season in Arbuckle's modified version of the Air Raid. Last year, as co-OC at Western Kentucky, Arbuckle guided an offense that led the nation in total passing yardage.
Arbuckle's system operates at a fast pace and leans on quick passes – fired over the middle or toward the sidelines to receivers in open space – to wear out the defense. He adds receiver screens, sweeps, swing passes to tailbacks, run-pass option plays and a couple of deep balls on every possession.
The Cougars struggled to connect on long-range passes last season under former OC Eric Morris, who left the program in December to take the head coaching job at North Texas. WSU relied too heavily on receiver screens and other short passing attempts.
Arbuckle's WKU offense topped the nation last season in plays that gained 20 or more yards. At spring camp, the Cougars made clear strides in their ability to pick up big gains through the air. Coach Jake Dickert said WSU has adopted a new offensive strategy: "Great things happen when you throw the ball downfield."
The Cougars' offense is capable of transforming from snap to snap. For instance, it changes from a four-receiver set to a heavy formation with two tight ends on the field.
In recent history, WSU's base lineup has included four receivers. The Cougars reintroduced tight ends last season after 10 years. In 2022, tight ends were mostly used as extra blockers. Next season, they will be more involved.
"We have way more formations with the tight ends compared to last year," quarterback Cameron Ward said Saturday after WSU's spring game. "We're using the tight end on deep-field concepts."
In the backfield, everyone's back
Ward showed encouraging signs in his first year at WSU and was named All-Pac-12 honorable mention. The junior has made noticeable improvements to his decision-making and footwork .
Last season, Ward would sometimes take unnecessary risks and try to extend the play outside of the pocket. His improvisational skills are impressive, but coaches wanted Ward to stay under control a little more – to work within the structure of the offense and make smarter decisions and safer passes, not throwing from an unbalanced stance.
Dickert said he has seen considerable development this spring in Ward's fundamentals. He has better patience in the pocket. His accuracy has "really improved" because his feet and arm are "in sync," Dickert said.
Ward is still given the freedom to scramble – some of his best highlights in 2022 came on broken plays. But WSU fans can expect Ward to look like a more polished pocket-passer in 2023.
The Cougars didn't have any turnover in their offensive backfield. Senior Nakia Watson returns for his second year as WSU's starting tailback. He provided punch on inside runs throughout a steady spring camp. Sophomore backup Jaylen Jenkins added a speed element to WSU's tailback position, like he did last season. Redshirt freshman Djouvensky Schlenbaker might find his way onto the field this fall. The power runner was given extra reps at every spring camp scrimmage and always produced.
"Is Jaylen going to take the reins (of the backup spot)?" Dickert said last week. "Can Djouvensky take another step?"
New-look receiving corps is promising
WSU lost its four top receivers from 2022 – two transferred out, two graduated – but the Cougars added two veterans from the Mountain West Conference and a big-play threat from the junior college ranks.
The most intriguing new receiver is probably DT Sheffield, a junior out of Northwest Mississippi College. The 5-foot-10, 170-pounder outran defenders for a number of plays throughout spring camp. He totaled 121 yards and a 51-yard touchdown on three catches during WSU's spring game.
"(Sheffield) can take the ball over the top and we're going to try to find a way to get the ball in his hands in a lot of different ways," Dickert said.
Josh Kelly and Kyle Williams – former players at Fresno State and UNLV, respectively – appear locked into first-team roles at outside receiver . Kelly thrives in the red zone on short crossers and fade routes. He's also a deep-ball target who can outjump defensive backs . Williams was one of Ward's favorite targets on short and intermediate routes – 7-yard hitches toward the sideline and midrange crossing patterns – but he also broke free down the sideline for a few 50-yard receptions.
The most consistent receiver at camp, Dickert said, was veteran Lincoln Victor. Victor had a down year last season but bounced back with a stellar spring and should reclaim a starting spot in the lineup.
Dickert believes WSU has upgraded at the receiver positions. The Cougars' receivers are faster and "more athletic" than last season, he said. WSU also has more depth at receiver.
Eight or nine players will be in the mix for playing roles . Spring camp standouts included sophomore Tsion Nunnally and freshman Carlos Hernandez. Tacklers had trouble bringing down the 6-3, 220-pound Nunnally. Hernandez, a true freshman early enrollee, made plays from the slot and outside receiver to climb up the depth chart.
Line a work in progress
WSU's offensive line was a glaring weakness last season. The Cougars gave up more sacks than all but four teams in the nation.
"They really took that to heart," Ward said of the line's performance in 2022.
Sorting out the O-line is still the team's priority this fall.
It was difficult to gauge the line's progress in spring practices that don't include full-speed, full-contact drills, but protection issues became less noticeable as camp progressed.
The Cougars' first-team line struggled April 1 in the first spring scrimmage. Two weeks later, in the second scrimmage, the No. 1 line surrendered four sacks. During Saturday's spring game, the group allowed two sacks – both late in the game – in 10 possessions.
"The No. 1 offensive line continues to keep Cam upright and allow him to go through his progressions," Dickert said.
"The offensive line has more confidence."
The Cougars feel more confident in their experience and depth . Konner Gomness, entering his third year as a starter, is a stabilizing presence at center. Fa'alili Fa'amoe returns for his second season at right tackle. Junior Ma'ake Fifita made starts at tackle and guard over the past two seasons, but he's been moved permanently to guard, where he's most comfortable. Sophomore guard/tackle Christian Hilborn has a full season under his belt.
Two transfers joined the program this offseason in left tackle Esa Pole and guard Christy Nkanu. Pole is settling in with WSU's first unit. He has a reliable backup in Hilborn. Nkanu is a capable reserve.
"The transfers we added in Esa and Christy, they're a big addition to that room," Ward said.
The Cougars were short on substitutes last season, but they like what they saw this spring from reserve options such as center Devin Kylany, and tackles Zack Miller and Luke Roaten.
---