Vital computer system goes down at Spokane VA and military hospitals nationwide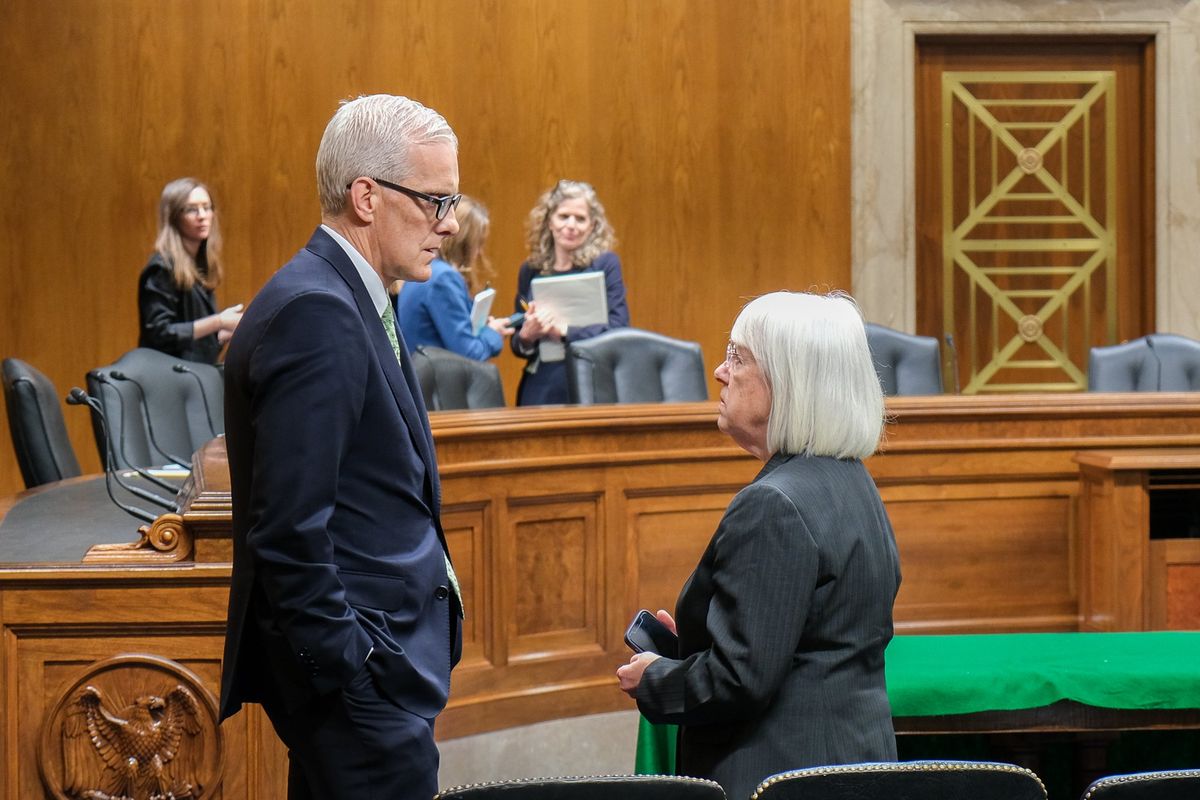 WASHINGTON – A vital computer system used at Spokane's VA medical center, Fairchild Air Force Base and military hospitals across the country went down for several hours on Tuesday, just as the troubled system faces greater scrutiny from Congress.
In a subcommittee hearing on Wednesday chaired by Sen. Patty Murray, D-Wash., VA Secretary Denis McDonough said the Oracle Cerner electronic health record system – which launched at Fairchild in 2017 and at Mann-Grandstaff VA Medical Center in 2020 – had a complete outage that lasted nearly four hours. Internal emails obtained by The Spokesman-Review show the system was unusable for at least five hours.
"The rollout at VA sites in Washington state has been an ongoing disaster, with new disruptions still happening," Murray told McDonough in the hearing. "I've heard from providers who are burnt out trying to navigate this broken interface, patients who are unable to get medicine they rely on because of system malfunctions and even a patient who received a late cancer diagnosis because of flaws in the system. And that's just what we know right now. It is unacceptable."
In an email to staff Tuesday afternoon, when the system was still down, Mann-Grandstaff Director Robert Fischer thanked his colleagues and acknowledged the burden they have borne for the past two-and-a-half years.
"I am sincerely sorry for the frustration you are experiencing regarding the electronic health record. I know you are doing your very best to see patients and document on paper until the current severe system degradation and downtime have been resolved," Fischer wrote in the email, obtained by The Spokesman-Review.
"Please continue your focus on caring for Veterans and doing what is necessary to provide safe and quality health care. There is no question it is challenging in the current environment – but at this moment there is no option but to meet our responsibilities to patients as health care providers, nurses and administrative staff."
Since October 2020, Spokane's VA hospital and its affiliated clinics across the Inland Northwest have been hamstrung by the system, for which the Trump administration agreed to pay $10 billion to Cerner, a health technology company that was acquired by the software giant Oracle last June. VA officials say they are now renegotiating that contract with Oracle.
The Defense Department opted to buy Cerner's system in 2015, under the Obama administration, after the Pentagon and the VA spent nearly two decades fighting over the best way to make their hospitals' computer systems work together.
Despite encountering problems similar to those at VA facilities, the Defense Department has deployed the system at about 75% of its clinics and hospitals.
A year after the system launched at Fairchild in February 2017, an internal report concluded it was "neither operationally effective nor operationally suitable." A month later, then-VA Secretary Robert Wilkie signed a contract with Cerner to adopt essentially the same system, replacing an aging but highly specialized system developed by VA clinicians and technologists over the course of four decades.
On Tuesday, shortly after the system went down, Rep. Cathy McMorris Rodgers, R-Spokane, became the first lawmaker who represents an area affected by the system to call for the VA to scrap it and revert the affected clinics and hospitals to the system used at all other VA facilities. VA officials say switching back to that system, known as VistA, would be prohibitively difficult and would deprive the department of "lessons learned" from the roughly 10,000 clinicians and 200,000 veterans currently using the Oracle Cerner system.
After pausing the system's rollout in 2021 in response to problems reported in Spokane, VA leaders chose to launch it in 2022 at four more medical centers – in Walla Walla; Columbus, Ohio; and White City and Roseburg, Oregon – along with their respective regional clinics.
The system, on which VA employees rely to track patient information and coordinate care, has been partly or completely unusable hundreds of times since it launched in Spokane. The system went down for about five hours on April 17. McDonough said Wednesday the system hadn't had an outage for seven consecutive months before that, although he conceded that "doesn't mean that across the system it was functioning perfectly."
Tuesday's outage began when one of the databases in the electronic health record system shared by the VA, Defense Department and Coast Guard "became unresponsive due to a failed background process," VA spokesman Randal Noller said in an email.
"Normally the other databases would compensate, but in this instance, they were not able to do so and the entire database cluster had to be restarted," Noller said. "Recovery from this event took more time than usual due to issues encountered when restarting the system. The root cause(s) underlying this incident remain under investigation."
When the system is working, a cluttered interface slows users' work, reducing the number of veterans each provider can see. That reduced productivity – coupled with staff losses since the system launched – has forced the affected VA facilities to refer more veterans to private hospitals, where they often face long waits for care.
Design flaws in the system and trouble transferring data from the VA's existing system have caused medication errors and further delays in care, which have contributed to the deaths of four veterans, VA officials told Congress in March. The department's Office of Inspector General concluded in a July 2022 report that scores more veterans have suffered varying degrees of harm due to problems with the system.
On Friday, VA leaders announced they would halt all future deployments of the Oracle Cerner system and focus their resources on improving its performance in Spokane and at the other facilities where it has been launched, during a period they are calling a "reset."
In Wednesday's hearing, Murray asked McDonough how the "reset" period is different from what the VA called an "assess and address" period that immediately preceded it, and from an earlier pause that was followed by launching the system in 2022 at other sites in Washington, Oregon, Idaho and Ohio.
"The main difference is that we've said very clearly that we're not going to try to do both of these things at the same time," McDonough replied. "The bottom line is we are going to invest in those five sites to make sure that we get it right, and to make sure that we know this is get-it-right-able."
When Murray asked when veterans and VA employees in Spokane and Walla Walla could expect those hospitals to recover from the impacts of the troubled system, McDonough didn't answer directly, but he said he had visited the VA medical center in Roseburg the previous week and was committed to fixing the problems.
"I am extraordinarily frustrated with this," the VA chief said. "I know our providers and our veterans in Washington and Oregon and Ohio are extraordinarily frustrated with this."
---