Jim Meehan: Washington State senior Pono Yanagi's game on 'right' track for U.S. Amateur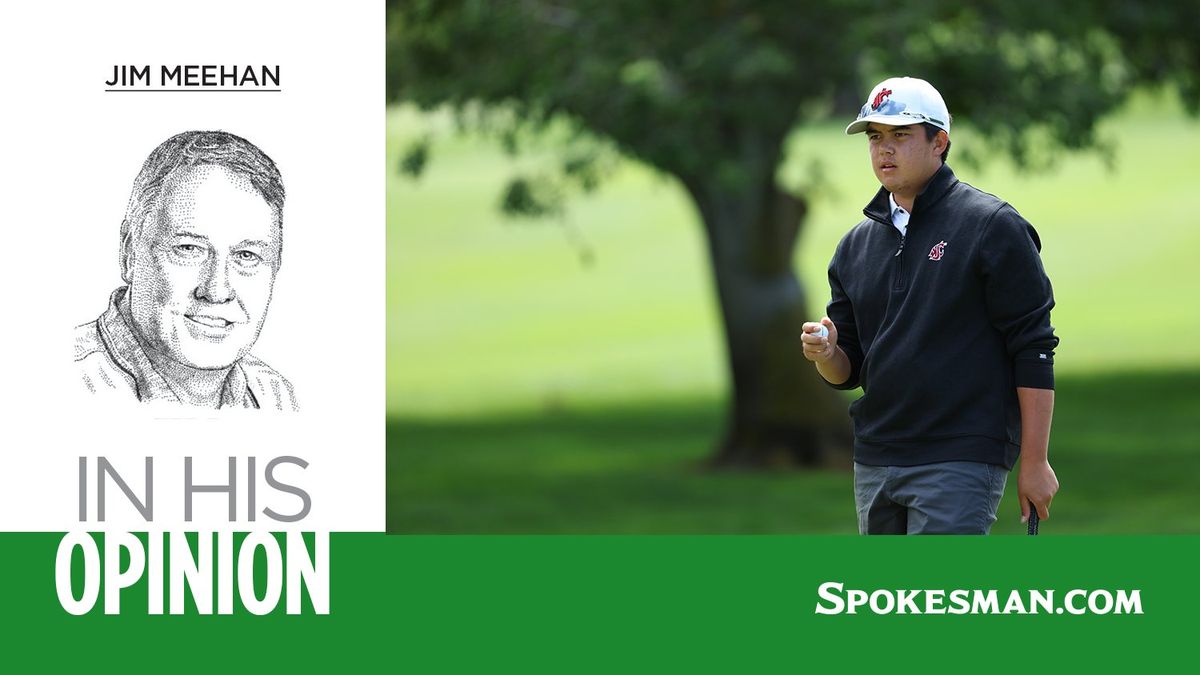 His full name is Christian Pono Seitaro Yanagi, but his bio on Washington State University's golf team roster and everyone close to the fifth-year senior refers to him as Pono.
"It means righteousness or to do right," Yanagi said of the Hawaiian meaning of Pono.
The Hilo, Hawaii, native has made a habit of doing the right thing – whether it's thoughtful course management, steady ball-striking, avoiding big numbers or simply staying in the moment – as he awaits the biggest tournament of his young life.
Yanagi doesn't remember how many times he attempted to qualify for the U.S. Amateur or U.S. Junior Amateur, but he broke through a month ago with a pair of 65s at WSU's Palouse Ridge to earn medalist honors and a spot in the 123rd U.S. Amateur.
"The first time I tried (for the U.S. Amateur) was a couple years ago at Palouse Ridge," Yanagi said. "I might have let it get to me, the expectations part. It's your home course, you play it almost every day.
"This summer it was nice having it here. I just went out with no expectations and just played. I knew I was playing solid and could take advantage of the home course."
His confidence is on the rise after posting one of the best individual seasons in WSU program history. His 71.64 scoring average is second on the school's single-season list. His third-place finish and 12-under score at the Pac-12 Championship established new program records. He became the first Cougar in 13 years and just the third in program history to earn a bid to the NCAA Regional.
Yanagi's scoring average, in order, reflects his four-year trajectory: 74.6, 75.4, 72.5 and 71.6. There wasn't an aha moment along the way, just incremental gains that led to better results.
"Just a lot of learning over the years," said Yanagi, whose older sister, Nani, played at WSU from 2012-16. "I'm fortunate for the people around me who are very knowledgeable and willing to help me. It definitely helps having two coaches (head coach Dustin White and assistant Kevin Tucker) who played on (professional) tours and they're still really good. I have a lot to learn from them."
There's more to learn for Yanagi to achieve his long-term goal of playing professional golf. That's the primary reason he's returning to WSU to use a fifth season of eligibility. Another factor: The six players who contributed to WSU's school-record third-place finish at the Pac-12 tournament are coming back.
"It's an extra year to get my game ready for the next stage in golf," Yanagi said. "It was a good year, but it can always be better, just learning more about the game and myself. I just want to be more consistent."
His strides in those areas helped him claim one of 312 spots in a U.S. Amateur field represented by 41 states, 24 countries and 18 of top 20 in the World Amateur Golf Rankings. A record 8,253 attempted to qualify.
Yanagi is No. 330 in the rankings, but his performance, particularly over the last four months, indicates he belongs among the world's top amateurs. He shot 14 under for 54 holes at Wine Valley in Walla Walla to win the Washington Men's Amateur title by six shots in late June. A month later, he tied for 20th at the Pacific Coast Amateur.
"Just playing simple golf really," he said of his game plan this week. "We're trying to make it into match play. You have to put up some low numbers, but at courses like this you have to avoid the big numbers.
"With the big hype of the tournament, I'm trying to be in the moment, understand bad shots will happen, but letting it go and focusing on the next shot."
He will have a familiar face assisting with that process. Tucker, who made two trips to regionals during his WSU playing career, will caddie for Yanagi this week at Cherry Hills Country Club and Colorado Golf Club in the Denver area.
Yanagi tees off Monday at 7:28 a.m. PT on No. 10 at Cherry Hills. He makes it three consecutive years of Cougars playing in the U.S. Amateur, following Preston Bebich last year and Max Sekulic in 2021. Gonzaga's Jace Minni also qualified and he's in the first threesome at 6 a.m. off No. 1 at Cherry Hills.
The top 64 from stroke play Monday and Tuesday move on to match play.
"I believe it's going to be courses where you need to be strategic, knowing where to put your ball and having a solid plan I can stick to," said Yanagi, who has spent summer months working on his game at Palouse Ridge. "I've been liking strategic courses recently where you have to place the ball in the right spot.
"If I stay in the moment, one shot at a time, I know I can do well. One of my big goals is to just have fun and no regrets when I walk off the course."
---