News > Features
To the Olympic Peninsula and beyond
Sun., Feb. 5, 2023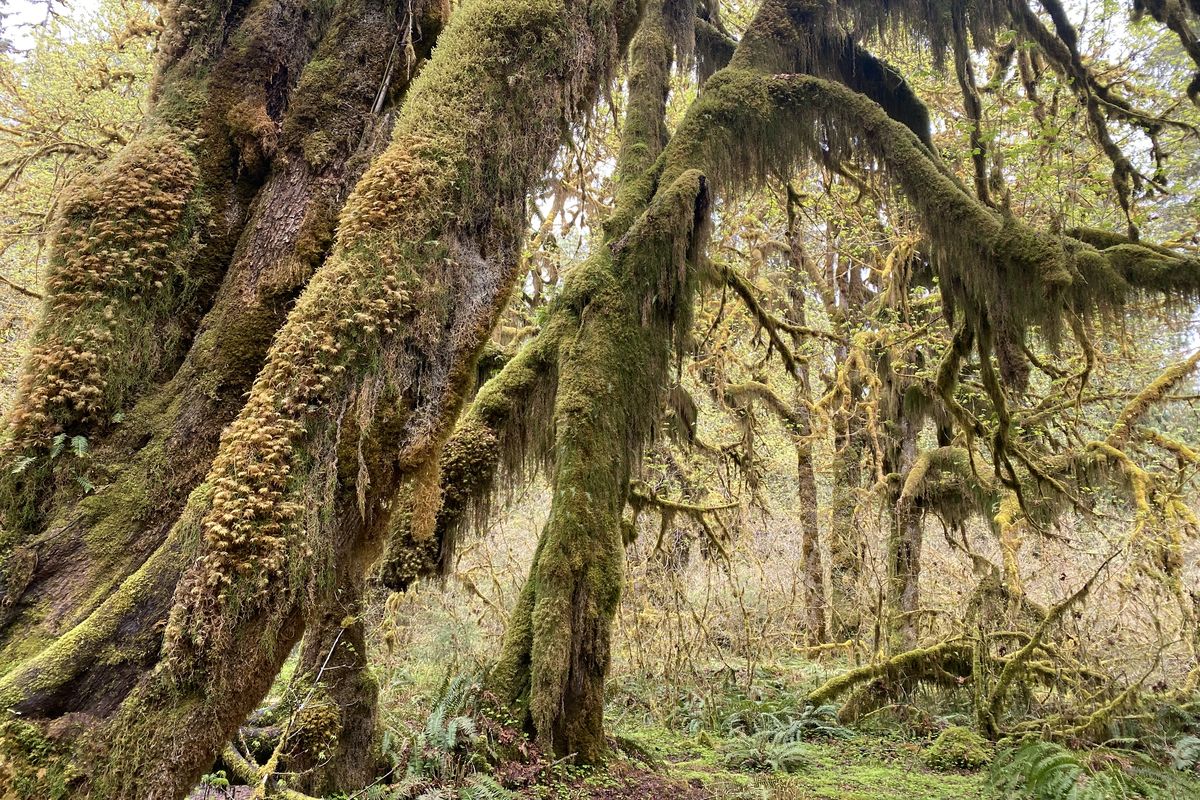 In the Hall of Mosses in the Hoh Rain Forest, where it can rain as much as 14 feet a year. (Dan Webster)
Like the master travel planner she is, my wife saved the best for last during our road trip last spring to the Olympic Peninsula and San Juan Islands.
I'll get to the good part in a moment.
And it's not as if anything was bad – aside from the amount of time that we spent in our car. It did take us seven hours to drive from Spokane to Lake Quinault.
Oh, and there was the rain. Is anyone surprised to learn that it rains a lot in Western Washington?
Not every day, of course. But it did drizzle at least part of most every day on our weeklong trip. Still, our room at the Lake Quinault Lodge, where we stayed the first night, was spacious, the food in the lodge's dining room tasty.
And our view of the sunset over the lake resembled something Charles M. Russell might have painted.
That view was nearly matched the next day as we donned our rain jackets and hiked through a small part of the Quinault Rain Forest. (I say "small" because our elderly legs, one of which is surgically repaired, no longer allow for extended forest expeditions – if they ever did.)
One impressive sight: the Quinault Giant Sitka Spruce, which stands 191 feet tall and boasts a diameter of 17.7 feet. Said to be something like 1,000 years old, it is thought to be "the overall largest Sitka spruce in the world" (though the Queets Spruce in the Olympic National Park boasts more cubic feet).
Our trip continued northwest, up U.S. Highway 101, to where we'd booked a cabin for two nights at the Kalaloch Lodge. The good part: We had a 180-degree view of the ocean from our sun porch. The bad part: There wasn't a lot of sun.
Still, in our two-night stay, we did work in a couple of long beach walks. And if we were impressed by the Quinault Rain Forest, our next afternoon in the Hoh Rain Forest proved even more enjoyable.
It rained, of course. Reports are that the Hoh, a World Heritage Site, can catch up to 14 feet of rain annually. But that's what makes it so green and what helps the Sitka spruce and Western hemlock trees grow so tall.
Again, our hiking was minimal, though in sporadic spurts of sunshine we trekked the scenic Hall of Mosses Trail. Our big disappointment? Because it was still the pre-season, the park's visitor center was closed – a situation we encountered more than once.
And so we moved on, first stopping in the town of Forks, which bills itself as "the rainiest town in the contiguous United States," where we stayed dry while eating a hearty breakfast at the In Place diner.
Then we drove to Port Angeles, a city known for many things: the ferry to Victoria, one-time home of the writer Raymond Carver, site of a fine little bookstore (Port News and Books) … and for being the gateway to the Olympic National Park's Hurricane Ridge.
The 17-plus-mile winding road up to the ridge was open, despite snow and ice covering much of the summit. The visitor's center was closed, as expected. So after taking a few quick selfies, we fled the frigid temperatures and high winds to join a number of people huddled in the foyer next to the center's single operational toilet.
Leaving Port Angeles the next morning, we drove to Port Townsend, where we'd made a ferry reservation (which, based on the heavy traffic, turned out to be a good decision). Our destination was Whidbey Island, but we'd allowed enough time to eat lunch (at the Hudson Café), check out the Victorian downtown area and do a quick tour of the Jefferson Museum of Art & History (don't miss the basement jail cells).
After a windswept and wet ferry crossing, we motored the length of Whidbey Island, stopping only briefly for a look in the fading light at Deception State Park. Our one-night stay in Anacortes featured a meal at the trendy Adrift Café, and the next morning saw us joining a long line of vehicles for the San Juan Island ferry to Lopez Island.
And now we arrive at what I promised above: the best part.
First, why Lopez? Mainly because our friends, my former Spokesman-Review colleagues Leslie Kelly and John Nelson, had been hired as camp hosts at the island's Spencer Spit State Park. (Both write the Going Mobile feature that runs in the Sunday Spokesman-Review).
Instead of tent camping with our friends near their RV, though, my wife had found a place for us to stay – Lopez Island Farm Cottages & Tent Camping – that proved to be the nicest surprise of the whole trip. Our cabin featured a fully modernized interior, a king-size bed, windows looking out on a mass of greenery – and, not least, a two-person hot tub.
We spent the next day and a half exploring Lopez, getting coffee (a necessity) in Lopez Village, first at Lopez Grind and then Isabel's Espresso. We bypassed the village's eateries, only a few of which were open, because Leslie – a food writer who once worked for Allrecipes – is a gourmet cook.
But we did buy baked goods at the Barn Owl Bakery, goat cheese at Sunnyfield Farm, snacked on tacos from the El Taco 'Bout It taco truck, and scored a bagful of groceries from the bountiful Lopez Village Market.
And we still had plenty of time to drive around the island (third largest of the San Juans), go past the port, explore Spencer Spit itself and take the short hike out to see Shark Reef. We even spent an hour touring the booths at the annual Lopez Lamb, Wool and Goat Festival.
Which made our final night, during which we simply sat around an open fire and munched on s'mores, all that more enjoyable.
And just in time, the rain took a break. As I promised, the best.
Local journalism is essential.
Give directly to The Spokesman-Review's Northwest Passages community forums series -- which helps to offset the costs of several reporter and editor positions at the newspaper -- by using the easy options below. Gifts processed in this system are not tax deductible, but are predominately used to help meet the local financial requirements needed to receive national matching-grant funds.
Subscribe now to get breaking news alerts in your email inbox
Get breaking news delivered to your inbox as it happens.
---