Gonzaga flirts with century mark, makes up ground in WCC play with 99-81 win over San Francisco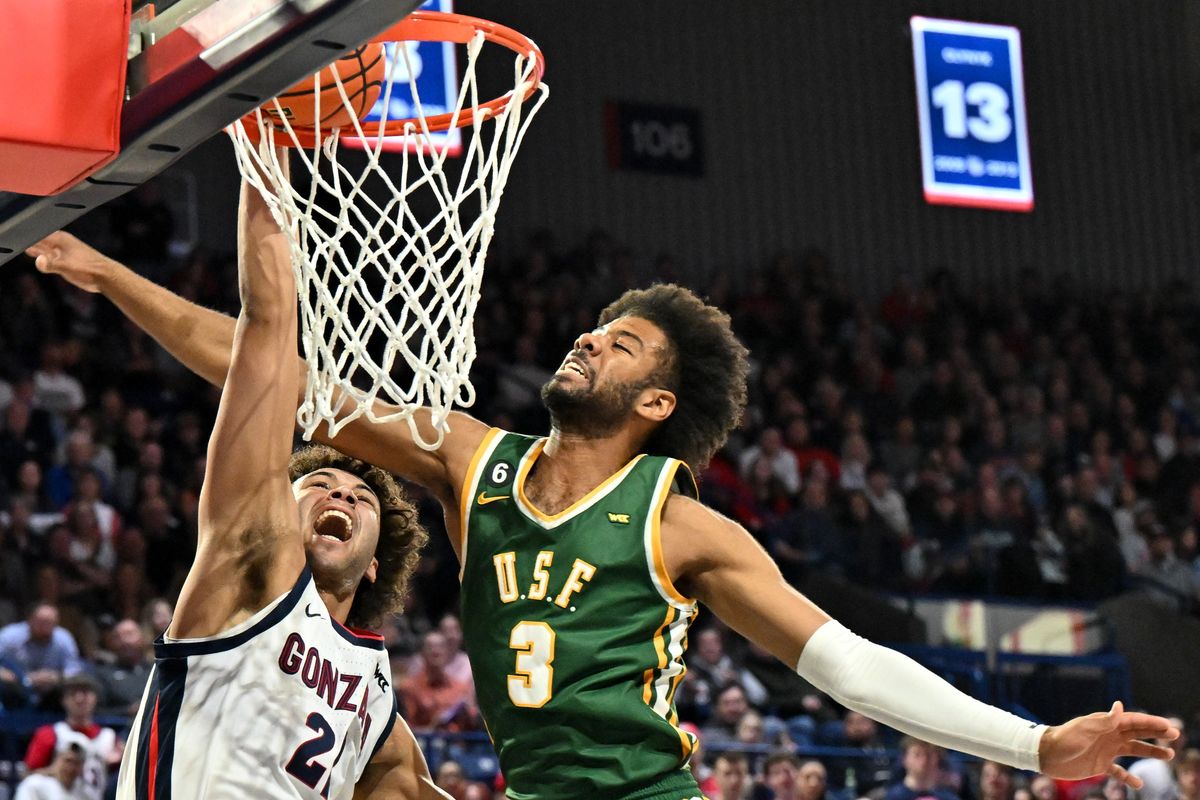 The Zags will use all the practice time available to them between now and the end of the regular season to tighten up screws on defense and make sure they avoid any untimely lapses once the calendar flips to March.
On offense, Gonzaga has looked postseason-ready for at least a month or two and the Bulldogs flirted with the century mark against San Francisco on Thursday night, rebounding from Saturday's overtime loss at Saint Mary's to cruise by the Dons 99-81 at McCarthey Athletic Center.
Gonzaga picked up its 20th win of the season and made up ground on the Gaels in the West Coast Conference standings. Saint Mary's dropped its first conference game on Thursday, losing 78-74 to Loyola Marymount in overtime.
At 20-5 and 9-2 in WCC play, the Bulldogs sit one game behind the Gaels in WCC play. Gonzaga and Saint Mary's play again Feb. 25 in Spokane.
After honoring former GU point guard Dan Dickau in a pregame ceremony, the Zags raced out to an 8-0 advantage and led by double figures for the remaining 30 minutes, 41 seconds. Gonzaga's largest lead was 28 points with less than 6 minutes remaining in the second half.
"I think this team just does a good job of taking what they give us," Gonzaga coach Mark Few said.
Thursday may not have represented Gonzaga's offensive ceiling – the Bulldogs scored 115 points against Portland and 111 against Pepperdine – but there weren't many wasted trips down the floor in a game that saw the Zags shoot 73% from inside the arc and commit just two turnovers in the first half.
"I think the best thing we did tonight, especially in the first half, was we took great care of the ball," Few said. "… So, think that's probably one of the better things in lieu of where we were at earlier in the year. We had a variety of guys come in and really, really help us."
Gonzaga has needed different players to step up at different times in conference play, but Few would prefer Thursday's distribution – four or five players contributing to the Bulldogs' cause, rather than just one – if given the choice.
Four players finished in double figures, led by Rasir Bolton's 23 points. Bolton rescued the Zags against USF last month with a late 3-point flurry and sealed a 77-75 win at War Memorial gym with a follow shot inside the final 10 seconds.
Bolton finished 8 of 9 from the field and 3 of 4 from the 3-point line while dishing out six assists. He's scored 44 points in two meetings with the Dons this season.
The fifth-year senior chalked up his success against USF to "just listening to coaches, going over the scouts, just learning throughout the week what they do and just going out there and being aggressive."
"I know I had a big game down there last time," Bolton said, "so I came out a little more aggressive and it worked out me."
Drew Timme was on pace for a career night, scoring 20 points on 8-of-11 shooting in the first half, but the All-American forward played just 5 minutes in the second half. Timme picked up his third foul with 15:28 left in the game and didn't return to the floor with Gonzaga nursing a big lead.
After scoring 11 points on 3-of-16 shooting from the field – the least efficient game of his career as a GU starter – Timme finished with 21 points in only 20 minutes on Thursday.
Anton Watson posted his fourth double-double of the season, scoring 15 points to go with 10 rebounds. The senior forward and Gonzaga Prep product also had four steals, four turnovers, two assists and drew six fouls.
Hunter Sallis finished with a season-high 13 points while playing 17 minutes off the bench. Sallis went 6 of 6 from the free-throw line.
The Bulldogs scored 48 points in the paint, turned it over nine times and shot 50% from the field, along with 63% inside the arc. Gonzaga's 60 points in the first half were the second most the Bulldogs have scored in any half this season (61 vs. Portland).
"I think it's just getting the offense flowing and not getting stagnant," Watson said. "You can tell they were getting tired on the defensive end and once we play with that pace, it's pretty hard to keep up with. I think that led to a lot of open shots."
Coming off a 31-point game against Santa Clara, USF senior guard Khalil Shabazz scored 25 points on 7-of-16 shooting in possibly his last career game at the Kennel. Tyrell Roberts had 16 points for the Dons, but the Washington State transfer – a 39% 3-point shooter this season – finished just 2 of 7 from behind the arc.
A group of current WSU players, including Mouhamed Gueye, Andrej Jakimovski and Myles Rice, attended the game and sat two rows behind USF's bench. They stayed afterward to visit with Roberts, former WSU/current USF center Volodymyr Markovetskyy and assistant coach Michal Plank, formerly a recruiting coordinator for the Cougars.
---