Sports > EWU basketball
EWU basketball: Eagles' Cedric Coward models success after Olympian grandfather Maxie Parks
Feb. 20, 2023 Updated Mon., Feb. 20, 2023 at 9:10 p.m.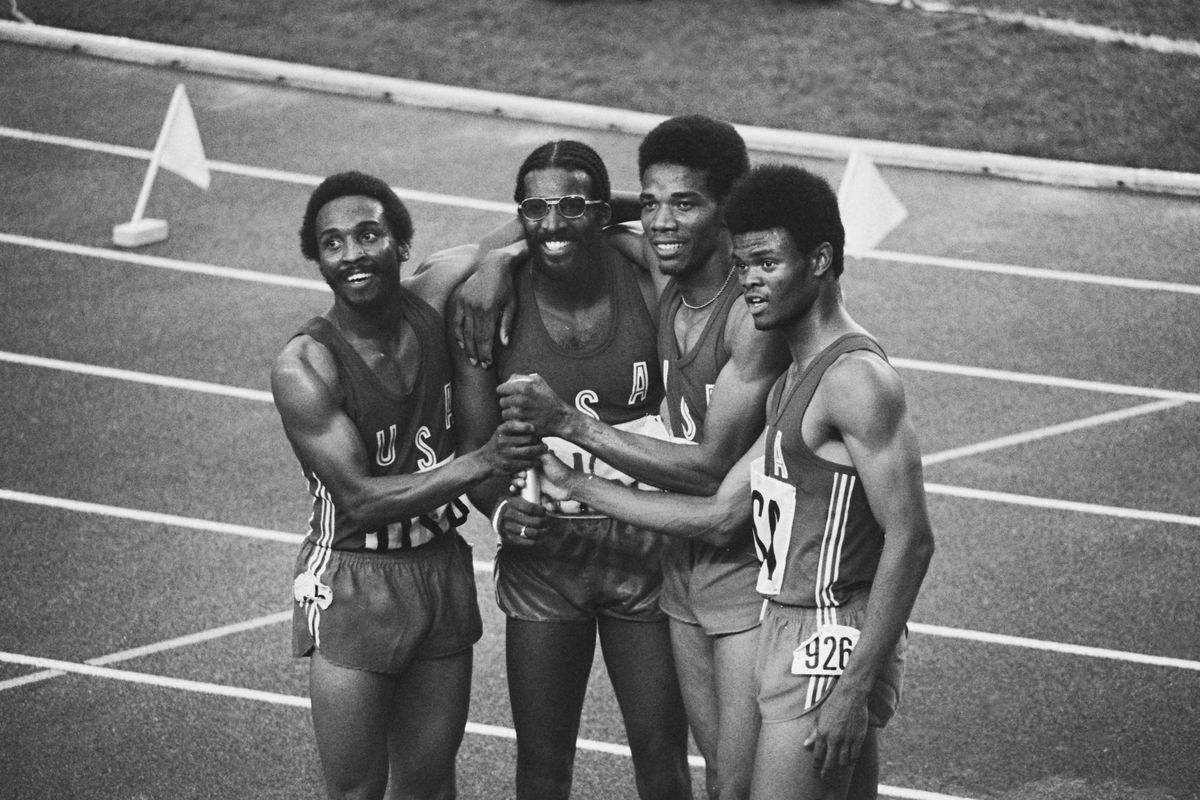 The U.S. team, winners of the men's 4x400 meter relay at the 1976 Summer Olympics in Montreal, Canada, July 1976. From left to right, Fred Newhouse, Benny Brown, Maxie Parks and Herman Frazier. (Getty Images)
Cedric Coward joined his teammates in cutting down the nets after defeating Northern Colorado and securing at least a share of the regular season Big Sky men's basketball championship on Saturday.
It is the latest accomplishment for an Eastern Washington team that is 21-7 overall, including 15-0 in conference play, and is looking to extend its 17-game winning streak when it plays at Weber State on Thursday.
On an individual level, Coward's play this year has been a big part of that success. But Coward has a long way to go to being the most accomplished athlete in his family.
That title belongs to Maxie Parks, his 71-year-old grandfather.
"He's gotten to where I want to go: the highest level," Coward said last week, before Eastern beat Northern Arizona and Northern Colorado at home. "How he succeeded in his field (is) how I want to succeed in mine."
For Coward, that highest level is the NBA. For Maxie Parks, the highest level was the 1976 Olympics in Montreal. That's where he won a gold medal for the United States while running the anchor leg of the 4x400-meter relay race.
Parks also competed in the 400 meters on his own and finished fifth with a time of 45.24 seconds. That came in behind gold medalist Alberto Juantorena of Cuba (44.26) and his U.S. relay teammates Fred Newhouse (silver, 44.40) and Herman Frazier (bronze, 44.95).
Growing up in Fresno, California, Coward said he saw his grandfather – who, after competing in the Olympics, ran collegiately at UCLA – nearly every day.
"There are 365 days in the year, and I probably saw him 330 (days)," Coward said. "We're that close. Every time I go back home, that's who I stay with."
Coward, who said he has watched a VHS recording of that gold-medal race, doesn't consider himself an avid runner. But when he visits Parks, part of his workout regimen is to run. He runs a 6-minute mile and also credits Parks with helping him put on about nine pounds of muscle during the offseason.
"I'm his mini. Even though I'm taller than him, many people call me the mini him," Coward said. "He and my dad (Ray Moore) are the top two most important men in my life."
Coward, who transferred to Eastern before this season after being named Northwest Conference Freshman of the Year at Division III Willamette last season, has stepped into a key reserve role for the Eagles. The sophomore averages the sixth-most minutes on the team (21.6 per game) and has made 68.4% of his field goal attempts (78 of 114), which would lead the Big Sky if he had made enough shots (five per game) to qualify.
He also averages the second-most rebounds (5.6) and has the third-most assists (57) on the team. Coward is tied with Steele Venters for the team lead in steals with 23, and his 18 blocks are second to Ethan Price, who has 25.
The Eagles need one more win – or a loss by Montana State – to clinch the top seed in the conference tournament. After traveling to Weber State, the Eagles play at Idaho State on Saturday, and then they are back at Reese Court in Cheney against Montana State on Monday.
Eagles' scoring driven by cast, not stars
Coward's play is part of a balanced Eastern Washington attack that has put up some of the league's best offensive numbers.
Of the league's top-seven scoring totals put up during conference play, Eastern has four of them, including 98 at Portland State, 95 at Idaho, 92 against Portland State in Cheney and 89, which they scored against Northern Colorado on Saturday.
It also has recorded five of the top seven single-game shooting efforts of the conference season, including those four games plus the Eagles' 65% shooting performance against Sacramento State on Feb. 2. Eastern's 49.1% overall shooting ranks 11th nationally; Gonzaga ranks first (52.5%).
The Eagles have accomplished that without a heavy reliance on single players in the way other teams in the conference have. The top 15 individual scoring performances belong to players on other Big Sky teams, led by Isaac Jones' 42-point game for Idaho on Jan. 5 against Sacramento State.
Angelo Allegri's career-high total of 28 against Weber State ranks 16th in the league this season. Tyreese Davis' 27 points against Portland State are tied for 17th-most.
The same goes for rebounding: Casey Jones' 12-rebound game against Montana State on Dec. 31 is the league's 18th-best single game total this year. The season-high total belongs to Weber State's Dillon Jones, who grabbed 21 against Montana on Jan. 12.
EWU, Oral Roberts unbeaten in league play
After Alabama's loss to Tennessee last week, just two Division I teams – Eastern Washington and Oral Roberts – remain unbeaten in conference play.
Oral Roberts, 16-0 in the Summit League, is 26-4 overall and has won 12 games in a row, the second-longest active streak in the nation behind Eastern's 17. The Golden Eagles' most recent loss came in a nonconference game against New Mexico, 82-75, on Jan. 9.
The Toledo Rockets, of the Mid-American Conference, have the third-longest active winning streak at 11 games. Hofstra, of the Colonial Athletic Association, is on a 10-game run.
Local journalism is essential.
Give directly to The Spokesman-Review's Northwest Passages community forums series -- which helps to offset the costs of several reporter and editor positions at the newspaper -- by using the easy options below. Gifts processed in this system are not tax deductible, but are predominately used to help meet the local financial requirements needed to receive national matching-grant funds.
Subscribe to the sports newsletter
Get the day's top sports headlines and breaking news delivered to your inbox by subscribing here.
---