Sports > UW basketball
Mike Hopkins ignores talk of future at UW while preaching continued belief in Husky men
Feb. 25, 2023 Updated Sat., Feb. 25, 2023 at 3:31 p.m.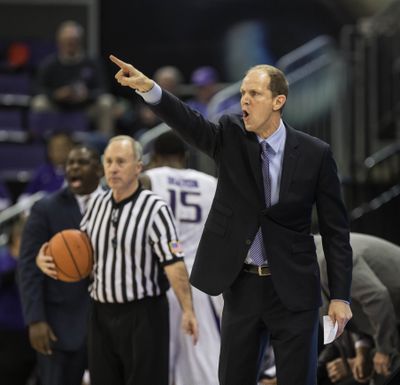 STANFORD, Calif. – Before the recent uptick in wins momentarily quieted his detractors, Mike Hopkins talked about his future as coach of the Washington men's basketball team.
In summary, he doesn't spend a whole lot of time thinking about next year or next week for that matter.
"One game at a time," Hopkins said. "Coach it, then move on to the next one. I've been very hyper focused on the process. It's all about right now. That's the only thing that matters, what we do in this moment and taking advantage of the opportunity in front of us."
At the time the Huskies were floundering and riding an extended losing streak that's epitomized their roller-coaster season.
Following a respectable 8-3 performance against nonconference opponents that included blowout losses to then-No. 18 Gonzaga and then-No. 23 Auburn and a gritty overtime road win against Saint Mary's, Washington began Pac-12 play with four straight losses.
The Huskies won four of their next five games before dropping four straight again.
Heading into Sunday's 3 p.m. game at Stanford, Washington (16-13, 8-10 Pac-12) is on a three-game winning streak and needs wins in its final two regular-season games to get to .500 in the conference race.
A victory ties last season's win total and guarantees a winning season for the Huskies.
But what about Hopkins?
Has the 53-year-old UW coach who has spent six seasons on Montlake done enough to warrant another season?
It must be noted, after this season Hopkins has two years left on a six-year, $17.5 million deal he signed in 2019. He's due to make a $3.1 million next season and $3.2 million for the 2023-24 season.
Aside from the financial ramifications, there's no disputing the first two years with the Huskies were a smashing success for Hopkins, who captured Pac-12 Coach of the Year honors.
Washington posted a 21-13 record his first year and went 27-9 in 2018-19, which included a trip to the second round of the NCAA Tournament with mostly holdovers from the previous Lorenzo Romar regime.
However, in the past four years the Huskies are 53-66 (.445), including 28-48 (.368) in the Pac-12, which has put Hopkins in the crosshairs of UW disgruntled fans.
Hopkins acknowledged mistakes and recruiting miscalculations, particularly in 2020-21 when the Huskies finished 5-21 for the worst winning percentage in modern UW history.
Still, Hopkins believes his current Husky team is as good as any he's had, including the 2018-19 squad that went 15-3 and won the Pac-12 regular-season title.
"Obviously, the record doesn't say that, but those two years we were what? We were healthy," Hopkins said. "This year, we lose two guys which I think cost us six games. We get them and those games, then we're as good as we've ever been.
"If we had Noah (Williams) from the beginning and Franck (Kepnang) all year, we're plus-six in the (win-loss) column. I really believe that. But sometimes those things happen. What can you do? You got to adapt. You got to roll with the punches. You got to stay positive and as a coach it's how do you reach the potential of this team. That's all you can focus on. But the outside noise? You put the blinders on and move forward."
Next up is Stanford (11-17, 5-12) and embattled Cardinal coach Jerod Haase, who is one of a handful of Pac-12 coaches on the hot seat, including California's Mark Fox, Oregon State's Wayne Tinkle and Arizona State's Bobby Hurley.
The Cardinal have lost five of their past six games, including a heartbreaking 67-63 defeat against Washington State on Thursday.
Washington beat Stanford 86-69 at Alaska Airlines Arena on Jan. 12 and is looking for its first regular-season series sweep since the 2018-19 season.
The eternally optimistic Hopkins believes that if the Huskies continue their three-game winning streak then they'll make a deep postseason run — which would silence a chorus of critics who have lobbied for a coaching change at UW.
"I'm around these guys all the time, but I can't imagine being an 18-year-old kid in college," Hopkins said. "I have a Twitter account, but I'm not on it. These guys, I don't know how they do it. It's the society we live in. It's just what it is. People have opinions and that's great.
"But I know how good these guys are and the potential they have. Our job as coaches is to raeach that and try to give these guys the best opportunity to learn, grow and win – not just win games, but to win in life. That's what it's all about."
Local journalism is essential.
Give directly to The Spokesman-Review's Northwest Passages community forums series -- which helps to offset the costs of several reporter and editor positions at the newspaper -- by using the easy options below. Gifts processed in this system are not tax deductible, but are predominately used to help meet the local financial requirements needed to receive national matching-grant funds.
Subscribe to the sports newsletter
Get the day's top sports headlines and breaking news delivered to your inbox by subscribing here.
---