News > Nation/World
U.K. nears deal on Northern Ireland trade, a Brexit sore point
Feb. 26, 2023 Updated Sun., Feb. 26, 2023 at 5:37 p.m.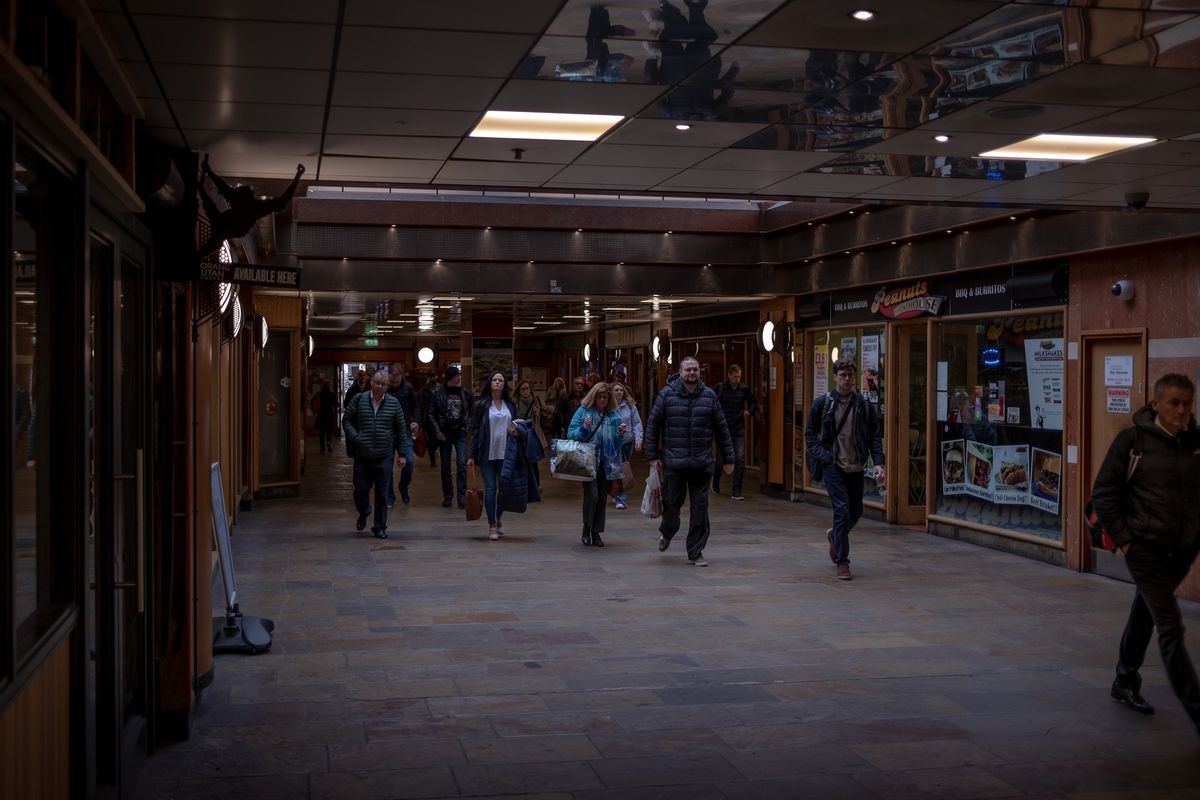 FILE -- Shoppers at a mall in Belfast, Northern Ireland, April 27, 2022. After two weeks of false starts, last-minute hitches and closed-door wrangling, Prime Minister Rishi Sunak of Britain appears poised to announce an agreement with the European Union that would resolve one of the most bedeviling legacies of Brexit: the trade status of Northern Ireland. (Andrew Testa/The New York Times) (ANDREW TESTA)
LONDON – Britain and the European Union neared a landmark agreement on post-Brexit trade rules for Northern Ireland, announcing Sunday that the president of the European Commission, Ursula von der Leyen, would travel to Britain on Monday to work out the final details with Prime Minister Rishi Sunak.
After two weeks of false starts, last-minute hitches and closed-door wrangling, Sunak and von der Leyen appeared on the cusp of a deal, which, if successful, could resolve one of the most bedeviling legacies of Brexit: the so-called Northern Ireland Protocol, which governs trade in the territory.
In a joint statement late Sunday afternoon, Sunak and von der Leyen said they had "agreed to continue their work in person towards shared, practical solutions for the range of complex challenges around the Protocol on Ireland and Northern Ireland."
Although the deal could still fall apart, diplomats said it was highly unlikely that the leaders would agree to meet if they were not ready to sign. Earlier, Sunak said he was working through the weekend to nail down an agreement, telling The Sunday Times of London in an interview posted Saturday evening that he was optimistic there would be a "positive outcome."
"There's unfinished business on Brexit, and I want to get the job done," Sunak said in his first public remarks about the deal. "As someone who believes in Brexit, voted for Brexit, campaigned for Brexit, I want to demonstrate that Brexit works, and it works for every part of the United Kingdom."
This is not the first time Sunak has been on the brink of an announcement. Last weekend, he was expected to unveil a deal within days, only to pull back amid signs of a rebellion by the main pro-British party in Northern Ireland, the Democratic Unionists, and the hard-line supporters of Brexit in his own Conservative Party.
The threat of a mutiny has not gone away – there was a new report of opposition to Sunak's plans by his predecessor, Boris Johnson – but Sunak's remarks suggested he was ready to face a confrontation with Johnson and other holdouts to settle a chronic dispute with Brussels.
"This is not about third parties or anyone else," Sunak said. "It's about the people and communities of Northern Ireland. It's about what's best for them, and that's what everyone should have in the uppermost of their minds."
At issue is the operation of the Northern Ireland Protocol, a complex agreement between Britain and the EU that governs trade in the territory. It sets out rules to handle Northern Ireland's status as a part of the United Kingdom that also has an open border with Ireland, which is a member of the EU and part of its single market.
The Democratic Unionist Party complains that the protocol drives a wedge between the territory and the rest of the United Kingdom by putting a customs border in the Irish Sea. The extra paperwork required to ship goods is a burden for businesses in Northern Ireland, the party says, and has led some mainland British companies to stop shipments there.
Under the new terms being hammered out by Sunak and von der Leyen, who runs the bloc's executive arm, food and other goods destined for grocery shelves in Northern Ireland would pass through a "green lane," requiring no customs declarations. Goods destined for Ireland would continue to undergo border checks.
The role of the European Court of Justice is another stubborn sticking point. Unionists and Brexiteers in the Conservative Party have threatened to oppose any agreement that would leave the court with ultimate jurisdiction over Northern Ireland, arguing that this would infringe on British sovereignty.
Sunak said he was seeking a compromise that would allow Northern Ireland's Assembly to scrutinize European Union laws – and potentially amend or reject them – before they were imposed on the territory.
"I want to correct the democratic deficit because sovereignty is really important, and that's why the idea that the EU can impose laws on Northern Ireland without them having a say isn't acceptable," Sunak said to The Sunday Times of London. "We need to find a way to ensure sovereignty for the people and institutions of Northern Ireland. So that's what I'm trying to achieve."
For Sunak, achieving all of these objectives will be a political tightrope walk – one that could determine the success or failure of his government. In a sign of the value that the government attaches to the deal, there were reports that von der Leyen would meet King Charles III in addition to Sunak. But past negotiations over Brexit tormented several of the prime minister's predecessors, dooming one of them, Theresa May, after she could not contain a rebellion within her party.
Part of the problem is that Sunak has negotiated the deal with Brussels under a veil of secrecy, which has heightened the suspicions of the unionists and Brexit enthusiasts. He has also been noncommittal about whether Parliament would be allowed to approve the agreement. Sunak's deputy prime minister, Dominic Raab, declined Sunday to confirm that lawmakers would get to vote on the deal.
"Parliament will find a way to have its say," Raab said on the Sophy Ridge talk show on Sky News, without explaining what that meant.
There are other worrisome signs for Sunak. He has indicated that if he secures an agreement with the EU, his government will drop legislation that would allow it to discard parts of the protocol unilaterally. That legislation is awaiting examination in the House of Lords, the British Parliament's unelected upper chamber.
But Johnson, who introduced the legislation and who negotiated the original protocol with Brussels in 2019, warned Sunak not to give up the threat to overturn the agreement because it could be used as leverage.
The Sunday Times of London reported that when one of Johnson's colleagues tried to persuade him to support Sunak's plans by noting that the issue was important to the Biden administration, Johnson responded with a crude epithet, dismissing the concerns of "the Americans." Allies of Johnson's insisted he was joking.
President Joe Biden has appealed to Sunak to resolve the dispute over Northern Ireland, saying that the tensions could imperil the Good Friday Agreement, which ended decades of sectarian violence. Biden plans to visit Belfast in April to celebrate the 25th anniversary of the agreement. Whether he adds a stop in London could depend on whether Sunak strikes a deal with Brussels.
This article originally appeared in The New York Times.
Local journalism is essential.
Give directly to The Spokesman-Review's Northwest Passages community forums series -- which helps to offset the costs of several reporter and editor positions at the newspaper -- by using the easy options below. Gifts processed in this system are not tax deductible, but are predominately used to help meet the local financial requirements needed to receive national matching-grant funds.
Subscribe now to get breaking news alerts in your email inbox
Get breaking news delivered to your inbox as it happens.
---