Sports > Area sports
Locally: Former Washington State volleyball standout Sarah Silvernail to be inducted into Pac-12 Hall of Honor
Feb. 27, 2023 Updated Mon., Feb. 27, 2023 at 3:10 p.m.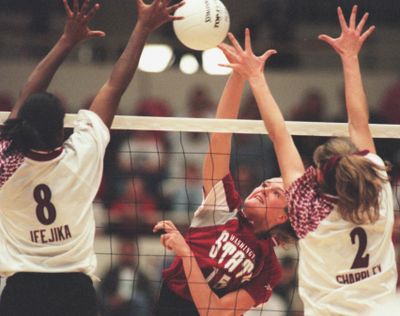 From staff and wire services
The Pac-12 Conference has announced the 2023 class to be inducted into the Pac-12 Hall of Honor, the conference's most prestigious recognition of the greatest on and off-field contributors to Pac-12 athletics.
In recognition of the 50th anniversary of the passage of Title IX, the 2023 class will be the first all-female class inducted into the Hall of Honor.
Receiving the honor for Washington State this year is Washington State Hall of Fame volleyball player Sarah Silvernail.
Formal induction will take place on Friday during a private ceremony prior to the semifinals of the 2023 Pac-12 Women's Basketball Tournament in Las Vegas.
Silvernail is one of the most honored volleyball players in Cougar history. She dominated the Pacific-10 Conference and NCAA volleyball during her career from 1993-96. She was a two-time All-American, the 1996 Pacific-10 Conference Athlete of the Year, and a three-time All-District 8 selection. Silvernail established WSU records for career kills (1,848), single season kills (649), and most kills in a match (39).
Born in Spokane and schooled in Yakima and Tacoma, the 6-1 middle blocker was the backbone of Cougar volleyball teams that reached the second round of the NCAA tournament in 1993, the first round in 1994, the second round in 1995 and the regional championships in 1996, her final collegiate season when she won team MVP honors.
In March of 1997, she was named to the USA National Team and spent the summer in Colorado Springs training for the 2000 Olympic Games. Silvernail enjoyed a professional career in the United States Professional Volleyball League and overseas. She was inducted into the Washington State Athletics Hall of Fame in 2001.
The 2023 Pac-12 Hall of Honor class: Susie Parra (Arizona, softball); Jackie Johnson-Powell (Arizona State, track & field); Dr. Luella Lilly (California, administration); Ceal Barry (Colorado, women's basketball coach/administration); Janie Takeda Reed (Oregon, softball); Dr. Mary Budke (Oregon State, women's golf); Jessica Mendoza (Stanford, softball); Natalie Williams (UCLA, basketball/volleyball); Barbara Hallquist DeGroot (USC, tennis); Kim Gaucher (Utah, basketball); Danielle Lawrie (Washington, softball); Sarah Silvernail (Washington State, volleyball).
College men's basketball
Garrett White, a senior from Post Falls who played for North Idaho Christian and Community Colleges of Spokane, has become the first player in Vanguard men's basketball history to earn all-conference recognition three times.
White was one of 12 student-athletes to be named to the NAIA 2022-23 Golden State Athletic Conference All-Conference Team.
He averaged a team-leading 19.4 points and 5.2 rebounds per game while shooting 51.2% overall and 40.7% from 3-point distance. White ranked second in the GSAC in scoring during the regular season, and was 15th in rebounding, and 11th in both 3-point percentage and free-throw percentage (.778).
College women's basketball
Three area players from Cascade Collegiate Conference schools received recognition on the NAIA 2022-23 Academic All-District Women's Basketball Team.
They are Hannah Broyles, Lewis-Clark State (Moscow High), Sara Muehlhausen, Lewis-Clark State (Lake City High) and Tori Younker, Corban University (Coeur d'Alene High).
To be nominated, a student-athlete must be at least a sophomore starter or important reserve with a minimum 3.50 cumulative grade point average (on a 4.0 scale) at her current institution.
College rowing
Gonzaga once again was picked to win the women's West Coast Conference Rowing Championship by an eight-point margin in the 2023 WCC Rowing Preseason Coaches Poll.
The Bulldogs accumulated 36 points to take first. Creighton tallied the second most votes in the poll with 28 points. Gonzaga collected six first-place votes while third-placed San Diego claimed one. Creighton and the Toreros were separated by only one point. LMU was voted fourth in the poll with 22 points followed by Portland, who rounded out the top 5, with 16 points.
The coaches poll was selected solely by a vote of the conference's seven head coaches. Coaches cannot vote for their own teams.
Last season, Gonzaga claimed its 20th overall WCC Rowing Championship and seventh consecutive conference title. The Bulldogs placed 18th overall at the NCAA Championships.
The All-WCC Preseason Rowing Team is made up of 17 student-athletes from the WCC's seven member institutions. Among those 17, Grace Dojan and Hannah Cooney from Gonzaga were also All-WCC first team a year ago.
Junior hockey
The Spokane Chiefs have announced that defenseman prospect Owen Schoettler has signed a WHL Scholarship and Development Agreement. From Edmonton, Alberta, Schoettler was selected by the Chiefs in the fourth round (71st overall) of the 2022 WHL Prospects Draft.
The 5-foot-11 blueliner has posted 30 points in 30 games so far this season with Northern Alberta Xtreme U17 Prep on seven goals and 23 assists. Schoettler, 16, has also played three games up with Xtreme's U18 squad.
Senior softball
'Northwest Yeahoos' took second place at the 60+ AAA Tournament of Champions softball event in Lakeland, Fla., earlier this month.
The team of Tim Coles, Mike Klemke, Lee Libera, Al Martin, Doug Payne, Matt Seeliger, Brian Williamson, Roger Williamson, Lynn Hargreaves, Kevin Jacka, Kerry Pease and Darren Taylor lost 15-13 to 'Bomb Squad' of Indiana in the championship game.
Hargreaves, Jacka, Pease and Taylor made the all-tournament team.
'Northwest Yeahoos' went 0-3 in pool play before sweeping their way to the championship game of the playoffs.
Youth baseball/softball
Registration is open for youth softball and baseball leagues associated with the Spokane Indians baseball club.
Leagues are forming in the following divisions:
10U-14U Softball
10U-12U Baseball
8U Coach Pitch Softball
6U-8U Baseball
Spokane Indians Youth Baseball (SIYB) is a non-profit organization that provides a positive youth baseball and softball experience in the Inland Northwest for boys and girls, including players with special needs, by developing sportsmanship, leadership, teamwork, honesty, and character. SIYB is powered locally by the Spokane Youth Sports Association (SYSA).
Information: Spokane Indians Youth Baseball website/ email: info@siyb.org/ or call (509) 321-1999.
Local journalism is essential.
Give directly to The Spokesman-Review's Northwest Passages community forums series -- which helps to offset the costs of several reporter and editor positions at the newspaper -- by using the easy options below. Gifts processed in this system are not tax deductible, but are predominately used to help meet the local financial requirements needed to receive national matching-grant funds.
Subscribe to the sports newsletter
Get the day's top sports headlines and breaking news delivered to your inbox by subscribing here.
---