A&E > Art
A jack of all trades who is the master of many will showcase her art at the Coeur d'Alene Resort
Jan. 26, 2023 Updated Thu., Jan. 26, 2023 at 2:23 p.m.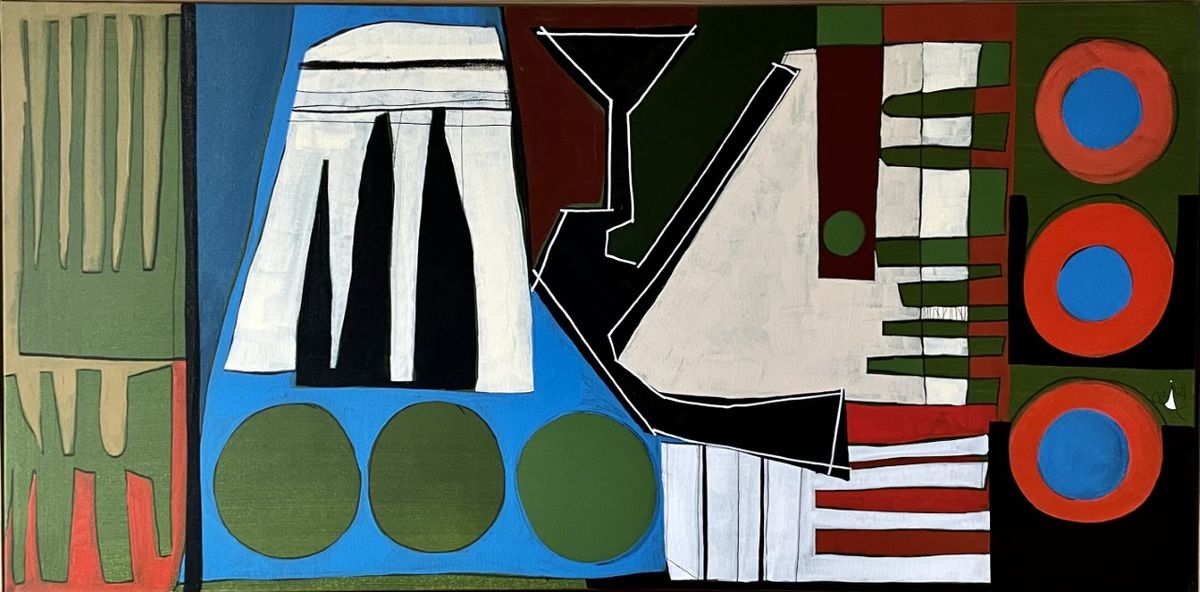 "Godforsaken Time Machine" (2022) by Claire Akebrand. (Courtesy photo)
Specialization is the norm in much of America today. So there is a level of surprise when someone is a master of a number of disciplines.
Claire Akebrand is a gifted and versatile artist who is adept at painting, poetry and music. In addition to her vibrant artwork, which will be on display Friday at the Coeur d'Alene Resort, Akebrand has published a book of poems, a novel and will release an album next month.
"I'm fortunate to have several passions," Akebrand said. "I enjoy working on different artistic projects."
Akebrand, 39, is a self-taught artist, who primarily works with acrylic, ink and vintage magazine cutouts. Her art is inspired by the work of Swiss-German artist Paul Klee, who made his mark last century with surreal art that is filed under expressionism.
"There's no doubt that Paul Klee is my biggest influence," Akebrand said from her Provo, Utah, home. "My parents were big fans of his and my dad had a lot of his prints in the house. If I Google Paul Klee's art and look at it for two minutes I'm set to go and paint."
The Swedish native, who grew up in Germany, didn't focus on art until 2017 after publishing poetry and her novel.
"After those projects I felt this sort of creative emptiness,"Akebrand said. "There was this expression I was missing out on. I couldn't put my finger on it. There was a hole in my life. My husband said that I should probably paint and he was right. I tried something new but it felt old inside of me. I felt so comfortable. I felt this huge relief and it was so satisfying stumbling on to something like this."
Akebrand's work alternates from dark and moody to light and inspiring. The common denominator is that her painting is provocative and unusual.
"I love painting but I can only paint for three or four hours a night because it kills my neck due to my terrible posture," Akebrand said with a laugh. "I have to limit my work but I'm lucky that I have other passions."
Akebrand's novel "The Field is White: A Novel" is about a young Mormon missionary from Alberta who returns to his native Sweden. The unusual story unfolds through letters, journal entries and flashbacks.
Akebrand has earned acclaim for her poetry collection, "What was Left of the Stars."
And there is Akebrand's music, which is typically baroque and sometimes inscrutable. "I never did music lessons" Akebrand said. "I never had money to sign up for guitar lessons when I was growing up. I didn't learn guitar until two years ago but then I got more serious about it after discovering Brian Eno. So I alternate between painting, writing and making music."
It's impressive Akebrand has the energy to create while raising two children with her husband, who teaches poetry at Brigham Young University. She said running keeps her grounded. "I run for my mental health," Akebrand said. "It helps that it's so beautiful here."
The CdA Resort has Akebrand's work in its gallery, but she has yet to make the trip to Coeur d'Alene. "I will go there eventually," Akebrand said. "I hear it's beautiful. I'm sure it will be inspiring to go to Coeur d'Alene."
Akebrand's art will be presented during a culinary event, a seven-course meal at Beverly's, prepared by executive chef Jim Barrett and sous chef Taylor Wolters, and co-hosted by the Art Spirit Gallery.
Local journalism is essential.
Give directly to The Spokesman-Review's Northwest Passages community forums series -- which helps to offset the costs of several reporter and editor positions at the newspaper -- by using the easy options below. Gifts processed in this system are not tax deductible, but are predominately used to help meet the local financial requirements needed to receive national matching-grant funds.
Subscribe to the Spokane7 email newsletter
Get the day's top entertainment headlines delivered to your inbox every morning.
---