Sports > EWU basketball
Eastern Washington finds inside game, rolls past Idaho State 81-68 for 11th straight win
Jan. 26, 2023 Updated Thu., Jan. 26, 2023 at 10:17 p.m.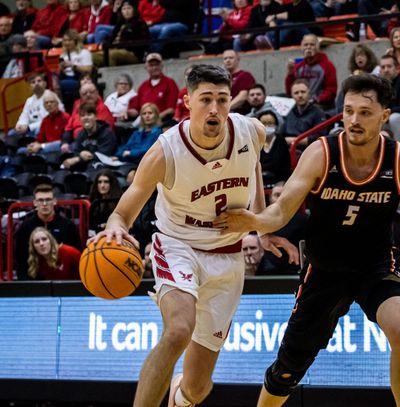 Most of Thursday night, Idaho State was able to do what it does best: Shut down an opponent's 3-point shooting.
That's a distance from which the Eastern Washington men's basketball team shoots the ball better than anyone in the Big Sky.
But as it turned out, the Eagles can shoot the ball well from inside the arc, too.
Trailing by two at half, Eastern Washington made 62.5% of its second-half shots – including 15 of 17 inside the arc – to buzz past the Bengals for an 81-68 victory at Reese Court in Cheney, giving the Eagles their 11th straight win overall and ninth to open Big Sky play.
"When we get stops, we've got five guys who can get out and push it on the break," EWU coach David Riley said, "and (after halftime) we just started flowing in the offense and playing inside out."
Eastern Washington (15-7 overall and 9-0 in conference) matched the program's longest Division I winning streak and extended what is its best start to Big Sky play. Halfway through conference play, Eastern is the only team with fewer than two losses.
Against the Bengals, who have the lowest opponent 3-point percentage (30.5) in the Big Sky, the Eagles made just 6 of 24 3-pointers and opened the game 1 of 14. For a while, that kept the game close.
But early in the second half, with Idaho State ahead 37-36, EWU sophomore Steele Venters hit a short jumper in the lane to retake the lead. Then sophomore Dane Erikstrup pump-faked a 3 and drove for an easy basket.
Soon after, senior Angelo Allegri drove the baseline for a three-point play, followed by another layup for Erikstrup on Eastern's next possession. The 9-0 run ballooned into an 18-3 run to give the Eagles a 54-40 lead, and the Bengals never got back within 10.
"(In the second half) we started playing together," Allegri said. "We started talking more, and we started moving the ball. And I feel like that really opened up the paint for us and we were able to get easy 2s.
"That's why we shot so well compared to the first half, when we were trying to make difficult plays off the first action. We felt like it was selfish, compared to the second half, when it felt like we were really playing together."
Allegri finished with 17 points on 7-of-10 shooting. He also had seven rebounds and two assists.
Venters made just 1 of 6 on 3-pointer attempts but hit all seven of his attempts inside the arc and finished with 16 points.
EWU's Tyreese Davis, who transferred from Jacksonville before the season, scored eight points and has 1,000 points in his four-year college career. He also grabbed eight rebounds.
Idaho State junior Brayden Parker led all scorers with 18 points on 8-of-15 shooting from the field, but no other Bengals starter had more than eight points. Idaho State dropped to 7-14, 4-4.
For the fifth time in seven games, Eastern shot better than 50% from the floor, making 29 of 57 shots against the Bengals. The Eagles also made 17 of 21 free throws, content to attack the basket when their 3-pointers weren't landing.
"All five of us, I feel like we all are mismatch nightmares," Allegri said. "Whenever one of us has the ball and we see somebody that's smaller or anything of that nature, we just pick on that and make them adjust."
Eastern also outrebounded the Bengals 39-26 and hasn't been outrebounded by an opponent since playing Texas Tech on Dec. 13. That was also the last time the Eagles lost.
The only Big Sky team the Eagles haven't played this year is Weber State (11-10, 6-2), which visits Cheney on Saturday. Tipoff is set for 2 p.m. at Reese Court.
Local journalism is essential.
Give directly to The Spokesman-Review's Northwest Passages community forums series -- which helps to offset the costs of several reporter and editor positions at the newspaper -- by using the easy options below. Gifts processed in this system are not tax deductible, but are predominately used to help meet the local financial requirements needed to receive national matching-grant funds.
Subscribe to the sports newsletter
Get the day's top sports headlines and breaking news delivered to your inbox by subscribing here.
---