News > Crime/Public Safety
Courthouse dogs offer comfort, support to crime victims
Fri., Jan. 27, 2023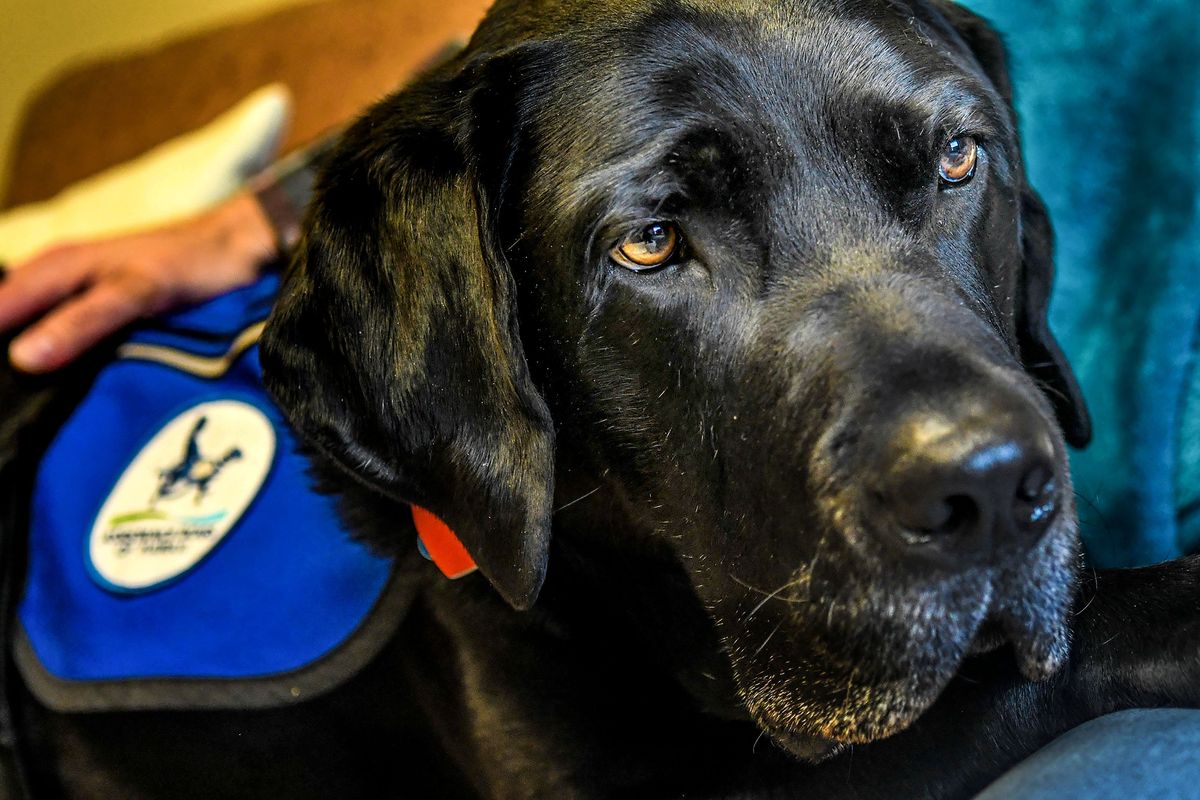 Lutheran Community Services dog, Walker, is photographed Monday in Spokane. Walker comforts victims throughout the criminal justice process. (Kathy Plonka/The Spokesman-Review)
Reporting a sexual assault or other violent crime is terrifying, and that's just the start.
A series of interviews, court hearings, delays, testimony and eventually – hopefully – a sentencing follow.
The process is long, emotional and arduous. In fact, testifying in court often results in worse mental health outcomes, according to the American Academy of Pediatrics.
That's why victim advocates have been pushing to allow courthouse facility dogs to support survivors throughout the process.
The Spokane County Superior Court has allowed the use of courthouse dogs for years, but a new bill in the Washington state Legislature would guarantee the dogs as a right for child victims and people with disabilities.
Lutheran Community Services, which provides victim advocacy, has one therapy dog, Walker.
His handler, Mark Kloehn, an advocate for sexual assault and crime victims, was a bit skeptical at first about how much Walker could help his clients.
The first client Walker supported was a college-aged woman during an interview with a defense council, after she already spoke with law enforcement and prosecutors numerous times.
The woman sat under a conference room table with Walker in her lap, weeping into his jet black fur.
"She disclosed more of what had happened and that there was another offender," Kloehn said.
The whole truth finally came out, Kloehn said, in part because Walker supported the woman through sharing her story.
Partners with Families and Children, another organization that supports mainly children through the criminal justice system, has two facility dogs, Skipper and Tori.
Skipper and his handler, Mental Health Therapist Meghan Davidson, support children through forensic interviews and medical exams, along with court proceedings.
The dogs are allowed in court except when a jury is present, then the use of a dog is determined by the judge and attorneys have the right to object if they believe it could bias the jury.
Skipper has been on the witness stand with a child once, out of the view of the jury.
House Bill 1077, which unanimously passed out of committee earlier this month, would require that dogs like Skipper be allowed in courthouses and other public areas where they provide a service to children and disabled people, and encourages the broader use of the dogs for all victims.
However, both Davidson and Kloehn feel the bill doesn't go far enough. They would like to see requirements that the dogs be allowed to support people during testimony.
Spokane County Superior Court has approved both LCS and Partners to have support dogs in the courthouse.
"We are already doing what the bill is proposing," said Ashley Callan, superior court administrator.
For children especially, the dogs are a safe thing to focus on during a scary moment.
"He's able to help them feel more comfortable," Davidson said of Skipper. "It's scary. You're coming into this building, and you have to talk to people that you've never met before about the hardest moments of your life."
It can change how comfortable children are when giving testimony, she said.
"You see complete shifts in kids where they come in," Davidson said. "They're nervous, they're scared, they're closed off, they don't want to talk to anyone. Then you have kids who are open to talking to anyone.
"They're smiling, because they have a dog there."
The dogs' support doesn't end when court proceedings do. Davidson gives her clients a stuffed animal version of Skipper for them to take home.
Often, the toy attends doctor or therapy appointments with the children in the future.
While the bill expands access for children, it does little for adults, something Kloehn hopes will be addressed in the future.
"I think the legislation that's coming through right now is kind of the bare minimum," he said.
Kloehn and Walker also frequently attend civil protection order hearings to support clients.
"The person that you're afraid of and that you're seeking safety from is on one side of the courtroom and all the people petitioning are on the other," Kloehn said. "So it's a tense atmosphere.
"You can just feel Walker just take some of that tension out of the room."
Local journalism is essential.
Give directly to The Spokesman-Review's Northwest Passages community forums series -- which helps to offset the costs of several reporter and editor positions at the newspaper -- by using the easy options below. Gifts processed in this system are not tax deductible, but are predominately used to help meet the local financial requirements needed to receive national matching-grant funds.
Subscribe now to get breaking news alerts in your email inbox
Get breaking news delivered to your inbox as it happens.
---