News > Nation/World
Florida Gov. DeSantis proposes sweeping higher education measures aimed at 'indoctrination'
Jan. 31, 2023 Updated Tue., Jan. 31, 2023 at 2:23 p.m.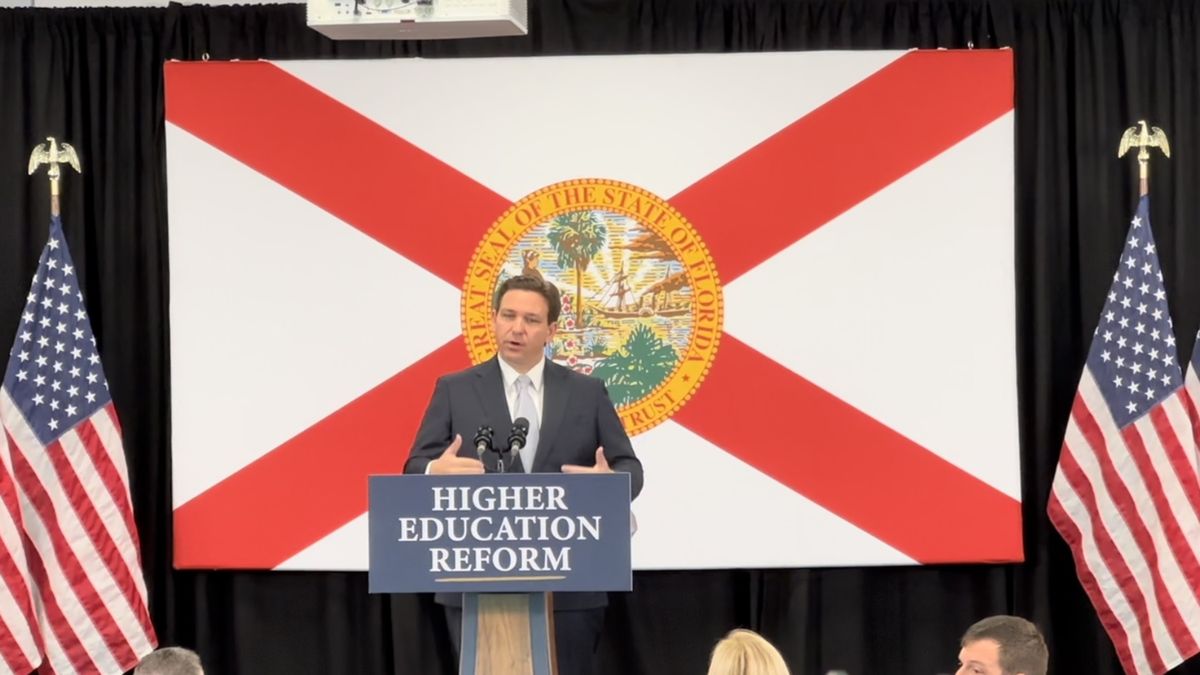 Florida Gov. Ron DeSantis announced plans to reform public universities by banning CRT and investing millions of dollars in Sarasota's New College. He made his remarks at the Bradenton campus of State College of Florida on Tuesday, Jan. 31, 2023.  (James A. Jones Jr./The Bradenton Herald/TNS)
TAMPA, Fla. — Gov. Ron DeSantis on Tuesday announced a package of major reforms to Florida's higher education system, including tighter controls on faculty tenure, the establishment of "civics institutes" at three universities and prohibitions on diversity, equity and inclusion programs.
Speaking at a news conference in Bradenton, the governor unveiled a plan that would allow university boards of trustees and presidents to conduct reviews of tenured faculty members "at any time," in addition to the periodic reviews that now take place. Regarding university presidents in particular, he proposes "reestablishing their authority over the hiring process."
Currently, according to a flyer distributed by the governor's staff, "faculty committees can tie the hands of university presidents and bind them to only consider a small pool of recommended candidates."
And under a heading in the flyer that reads "Education not indoctrination," he proposes changes in standards and course content "to ensure higher education is rooted in the values of liberty and western tradition." His plan would require schools to "prioritize graduating students with degrees that lead to high-wage jobs, not degrees designed to further a political agenda."
The proposal also would prohibit state schools from "supporting campus activities or programs that promote divisive concepts like DEI and CRT." The acronyms refer to "diversity, equity and inclusion" programs and "critical race theory."
In addition, he proposes establishing "world-class civics institutes" at the University of Florida, Florida International University and Florida State University. The institutes, according to the flyer, would develop courses and curricula "that can be used to educate the next generation on the values of liberty and constitutionalism."
The flyer included information on the governor's higher education budget proposals as well. He proposes $100 million for "recruitment and retention of highly qualified faculty at state universities" and $15 million for faculty and student recruitment at New College of Florida, where he recently appointed six conservative members to the board of trustees.
The New College board meets Tuesday for the first time since the appointments.
Local journalism is essential.
Give directly to The Spokesman-Review's Northwest Passages community forums series -- which helps to offset the costs of several reporter and editor positions at the newspaper -- by using the easy options below. Gifts processed in this system are not tax deductible, but are predominately used to help meet the local financial requirements needed to receive national matching-grant funds.
Subscribe now to get breaking news alerts in your email inbox
Get breaking news delivered to your inbox as it happens.
---