Former G-Prep standout Michael Stockton has collected array of memories while traversing Europe for pro hoops career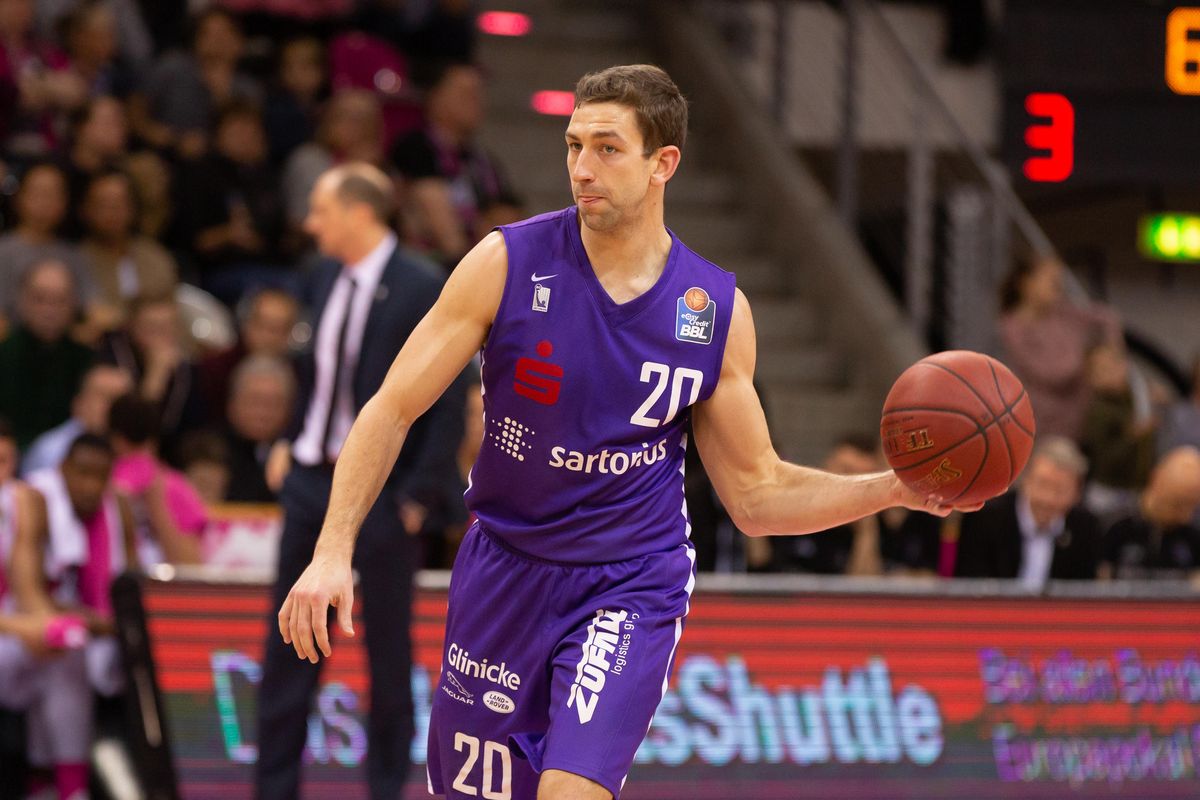 As Michael Stockton recalls his professional basketball career, he imagines flipping through pages. He jumps from one season to the next and from one European destination to another.
The 34-year-old considers that someday it could be worth putting on paper.
"You go, 'God there's a book that could be written somewhere about all this stuff,' " Stockton said. "I've thought about it a little bit and it's definitely wild experiences I got to have, and I'm glad I walked away and walked away unharmed from a few of them, and it'll be really cool years later to tell these stories to kids or to grandkids or to friends. To just have those experiences, it's been a pretty neat deal."
With Stockton's longevity, there could be a handful of chapters left to be written, so the book may have to wait. For now, the Spokane native and Gonzaga Prep product does his best to hit a few of the highlights during a 40-minute phone conversation.
Those include his time living in Kyiv, Ukraine, where he was playing games for FC Budivelnyk up to five days before Russian missiles rained down on the nation's capital city in February 2022.
In 2014, he was at the center of an officiating controversy in Germany's Basketball Bundesliga (BBL) that forced Stockton's LHP Riesen Ludwigsburg team to replay a critical playoff game against Bayern Munich.
Five years later, he was walking through the hallway of a Parisian gym when he brushed shoulders with a 15-year-old French basketball prodigy. This spring, Stockton had three more encounters, months before 7-foot-3½ phenom Victor Wembanyama became the No. 1 pick of the NBA draft.
"A couple times, he got switched onto me," Stockton said. "I can't even tell you what I did. I'll claim this, I'll make it sound like I'm killing. I think I scored a layup on him one time."
Stockton had modest expectations for his professional basketball career when he signed his first European contract in 2011 for a club competing in Germany's second tier.
Understandably so.
Despite a productive senior season at Westminster College, Stockton started just one year for the Division II school in Salt Lake City. Even with the cachet of his last name, he didn't garner interest from the pro leagues in home country, going undrafted and failing to pick up an NBA Summer League invitation.
A career overseas was in the cards, though, and if things played out the right way, Stockton figured he'd squeeze out eight years of professional basketball, 10 at the most.
"I signed a contract for almost zero money in the second league of Germany," Stockton said. "I think my goal at the time was, if I can make this last to where I can play eight to 10 years, to where I can say I made it to 30 and I really tried to scrape out a career and a life over there, I would've been happy with myself."
But plans change, players evolve and careers unfold in ways that are unexpected.
Stockton, who's found a way to capture his father's longevity, is now gearing up for his 13th professional season – 12 spent abroad, mostly playing for top-flight European leagues. He doesn't seem inclined to slow down anytime soon.
The oldest child of Gonzaga star and NBA Hall of Famer John Stockton is spending time in the United States, including a recent stop in Spokane, as he awaits his next professional contract following two seasons with Elan Bearnais Pau-Orthez of the top French league (LNB Pro A).
He ranked second in the league with 6.6 assists per game – more proof of the court vision that runs through the family tree – and averaged 10.2 points to go with 3.3 rebounds. Stockton was selected to participate in the league's all-star game, which pits homegrown players against foreigners, and played 9 minutes in an eight-point loss to an All-French team headlined by Wembanyama.
Stockton doesn't anticipate he'll be back with Elan Bearnais in 2023-24, which means he'll likely be signing with his 10th team since his initial contract in 2011. In Europe, that doesn't necessarily make him a journeyman, and Stockton considers himself fortunate to have had multiyear stints with four teams – a rarity for players in his position.
"I've actually loved the setup I have because a lot of guys, you look at a guy who's played as long as I have, they've played on at least 18 teams in 12 years because guys will leave teams midseason," Stockton said. "Because it is advantageous where you're not starting over every other year and trying to build a new culture from scratch."
Every pit stop has offered something different.
Controversy in Germany
In 2014, Stockton's MHP Riesen Ludwigsburg team secured the eighth and final seed in the BBL German playoffs, making them a heavy underdog against top-seeded Bayern Munich. Ludwigsburg trailed by two points inside the final 90 seconds of a decisive Game 3 when Stockton was knocked over setting a screen.
As he made the first free-throw attempt, Bayern Munich players and coaches contended the wrong Ludwigsburg player was at the line. Officials agreed and wiped away the point, giving Bayern possession with 1 minute left. Ludwigsburg collapsed down the stretch, losing 82-75, but filed a protest to the league office to challenge the referee's decision. Stockton, as team captain, was forced to sign the protest form.
"We were playing the Yankees, for lack of a better term. The team with all the guys, all the money, and we'd beat them in one game," he said. "I think I went to the bar with a couple teammates, we were getting ready to pack up and go home in two days. It was time to go back to the States and we get a text message the next morning saying, 'Hey boys, make sure to tone it down a bit because we may have to stay a little bit.' "
The officiating blunder was confirmed and the teams replayed a day later. Bayern closed out the series without trouble, winning 86-68 to end Ludwigsburg's season.
"Instant replay became a thing (in the BBL) because of that," Stockton said.
Unexpected destination
Stockton is coming out of a particularly turbulent chapter of his pro career. In 2020, he was playing for French club Cholet when the COVID-19 pandemic interrupted the LNB Pro A season on three occasions. Strict lockdown measures deterred Stockton from resuming his career in France, so he sought out a new destination.
"You couldn't be more than a mile from your house or else police would stop you and fine you," he said. "It just wasn't something I wanted to do for another year, even though I loved the place, I loved the coach, I loved the organization."
Stockton expected to resume his career in Western Europe, but plans changed when he was offered a contract from Budivelnyk Kiev of the Ukrainian Super League prior to the 2021-22 season.
"You hear a lot of things of how Kiev, it's just this old Soviet outpost and it's not even close," Stockton said. "What a beautiful city, beautiful place, great culture, fun people. Kiev was like living in New York City."
Months before Russia's invasion of Ukraine, concerned family members and friends followed news coverage from the U.S. and began contacting Stockton and his now-wife Paige to get a better sense of the events as Russian troops began to surround the Ukrainian border.
"What's going on? Have you been invaded? Is this going on?" Stockton recalled of those conversations.
Stockton's Budivelnyk team was on the road playing a game in Zaporizhzhia near the Crimean Peninsula when he learned employees at the American embassy in Kiev had exited the country. Stockton alerted his wife, who got a head start on packing their apartment, and the couple successfully left the country 24 hours later, returning home to Spokane.
"Five days later, the missiles were hitting Kiev and nobody could get out," he said. "So we got lucky in regards we left when we did and some of my teammates, my Ukrainian teammates, couldn't leave. Able-bodied guys they made stay in the country. Some American guys on the team and also in the league didn't leave and they got stuck on four-day journeys on planes, trains, automobiles and bunkers just trying to get out of the country."
The French connection
After roughly a month in the U.S., Stockton, felt reassured that it was safe to return to Western Europe. With French lockdown measures lifted, he signed a contract with Champagne of the LNB Pro A for the remainder of the 2021-22 season and joined Elan Bearnais Pau-Orthez last August, teaming up with Gerald Ayayi, the older brother of former Gonzaga guard Joel Ayayi.
Stockton's French clubs have had a variety of run-ins with Wembanyama, who many consider to be the best NBA prospect since LeBron James. In 2019, Stockton read an ESPN article touting the French star as the "No. 1 draft pick in 2023," but still couldn't wrap his head around the hype following a teenager who was still coming off the bench for his hometown club, Nanterre.
"I walk past him in a hallway in this gym in Paris (in 2019) and I said, 'OK, I get it,' " Stockton said. "Long arms, skinny frame, but I mean this guy even then – he didn't play a ton, but he just understood things that sometimes guys that are tall are just good because they're tall, and they're long and they can block shots just by standing there. This guy had timing. … I felt like I wasn't an easy guy to block when I go to the basket and take a layup, and he blocked me a couple times as if he knew what I was doing before I did it."
In addition to the LNB Pro A all-star game, Stockton's Elan Bearnais club had two regular-season meetings with Wembanyama and Boulogne-Levallois Metropolitans 92, losing 82-59 on Sept. 272, and dropping a March 7 game 78-76. Wembanyama combined for 30 points, 17 rebounds and nine blocks in the two games.
"This was like rolling with the Beatles anytime their team was in town," Stockton said. "If I wanted a ticket for a friend to the Levallois game, two months in advance that was completely sold out. We could all get our wives in, but if anyone else was coming, it was too late because they had sold them all. And that's the kind of hype that was following this guy.
"Again, it was like Michael Jordan in Barcelona when you see all those Dream Team clips. That was the following this guy had every single game of the year."
Cultural differences
Stockton, who's made three all-star teams in two European Leagues, has a collection of stories from his lone season in Greece, where passionate supporter groups – often representing the same team – were separated by riot police and fans would hurl batteries, coins and other objects at team benches that were covered by protective Plexiglas.
"The flares are definitely going before the games. People smoke at halftime and then when the tipoff happens, at least in Patras where I played, they'd throw the ball up in the air and instantly everyone in the crowd would – probably 3,000 people – would throw confetti onto the stands," he said. "So if there was a camera, you couldn't even see the game anymore. The game would stop, they'd come sweep everything. It's just quite the dynamic in Greece."
Stockton's adjusted to most of the cultural differences between European and American basketball. In some countries, for example, it wasn't uncommon for older teammates to puff on cigarettes or cigars at halftime.
"I had a coach that smoked very heavily," Stockton said, "and then sometimes at halftime before our little team get-together at halftime, a couple players would be out there smoking with them."
In the interest of prolonging his career, Stockton has avoided such vices. He's been named an all-star three times, in two European leagues, and has made 416 appearances over the past 12 years, according to ProBallers.com.
Stockton has averaged double-figure scoring each of the past six seasons and hasn't averaged fewer than 5.9 assists since 2016-17, posting a career-high 7.2 assists during his second season with Cholet.
Four years clear of the target he set for himself in 2011, Stockton said he isn't done dishing out assists and banking more memories thousands of miles from home.
"I played those two years in the second league (of Germany), I caught some good breaks," Stockton said. "The next year, my third year, I was in the top league of Germany, and it got to a point where it definitely got bigger and better than I imagined it early on, and I'm certainly glad that it did. It's been a lot of fun."
---