Commentary: The mesmerizing Denver Nuggets better get used to attention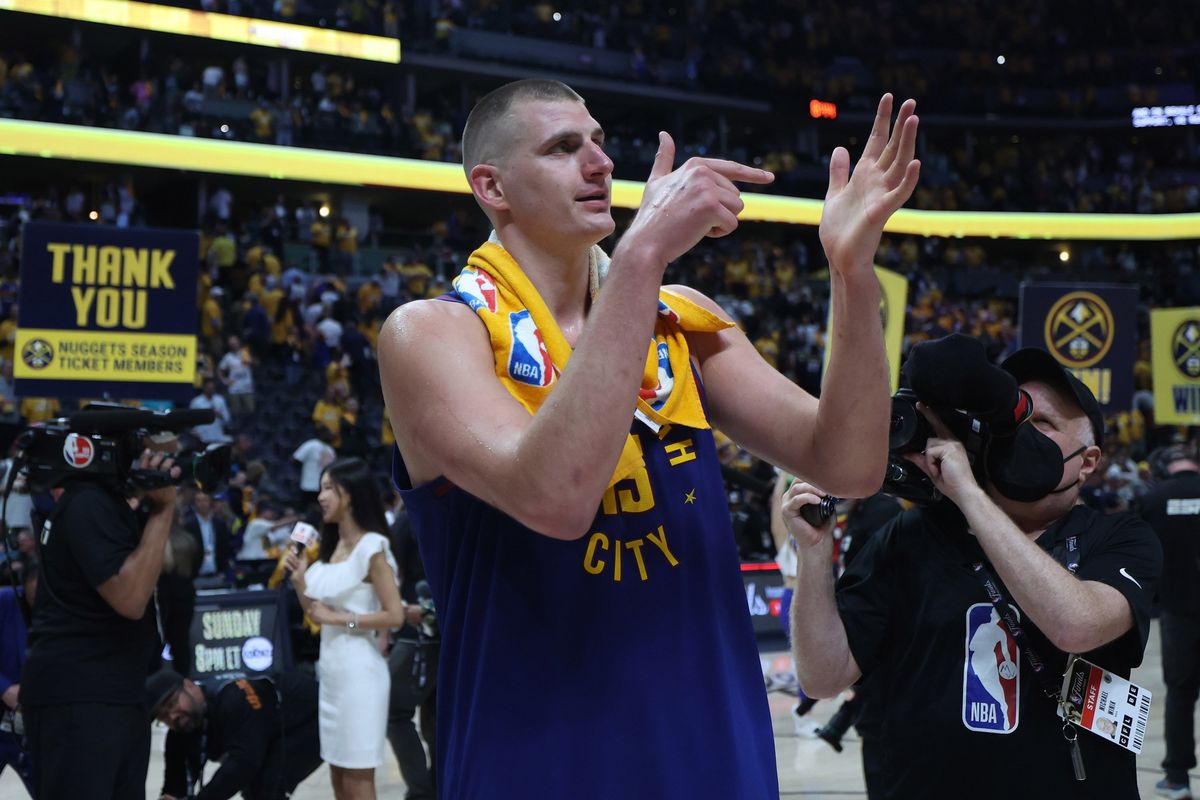 DENVER – They're so unimpressed with themselves. The Denver Nuggets are selfless and self-effacing, annoyingly so at times. Not since the San Antonio Spurs dynasty has a team had such an adversarial relationship with hype.
They act as if too many compliments will give them hives. They play the disrespect card when they need an edge, but if you pay them too much attention, they recoil. Or shrug. Modesty is a wonderful trait, except when a team deserves to revel.
The Nuggets play a mesmerizing brand of fluid basketball. They are a team unconstrained from positional norms on both ends of the court. So after the franchise made an impressive NBA Finals debut with a 104-93 victory over the Miami Heat on Thursday night, media fascination with their style commenced. And the Nuggets, bless their guarded little hearts, did their best to appreciate themselves. Some went as far as calling their system "beautiful." Then superstar center Nikola Jokic, the orchestrator of it all, tempered the praise.
"I didn't say that," Jokic announced after a reporter misstated a question and made it seem like he had described his team's style as beautiful. "I said we're playing good brand of basketball, not beautiful and not great."
Jokic is agnostic about glory. Some interviewees roll their eyes at questions. After the game, Jokic rolled his eyes while giving answers. He's an unintentionally fascinating personality, a master of dry humor delivered with deadpan perfection. The Serbian big man's English is good enough to communicate, yet still unpolished, which adds to the charm – unless he decides to stare you down for asking the wrong thing or talking too long.
Jokic posted another triple-double in Game 1, his ninth this postseason, finishing with 27 points (on 12 field-goal attempts), 14 assists and 10 rebounds. He joined Jason Kidd as the only players in league history to record a triple-double in their first Finals game. In the first three quarters, he took just five shots – and absolutely dominated. When the Heat threatened in the final 12 minutes, Jokic took over and scored 12 of his points. Then, in classic Joker fashion, he tried to put the emotions of the grandest night of his NBA career in perspective.
"I mean, to be honest, I couldn't wait to start just because it felt abnormal," Jokic said. "Everything felt abnormal, the whole media day (Wednesday). I think people are making something bigger than it is.
"When the game started, I felt really comfortable."
Imagine LeBron James opining about the excess of the Finals. Jokic is so uninterested in pageantry he makes Larry Bird seem like Magic Johnson. He's here to hoop. He doesn't want to get bigger, to swell into an icon. You get the feeling he would play basketball on gravel for $40 a day. The Nuggets follow his stoic lead.
"We have a big goal in mind," said guard Jamal Murray, who punished the Heat with 26 points, 10 assists and six rebounds.
The goal might be bigger than a single championship. While it's not a given that Denver can outlast a Miami team that never dies easily, a grand vision for the Nuggets has become clearer. If Murray and Michael Porter Jr. can stay healthy, the Nuggets are the safest bet in the Western Conference to chase titles for the next five seasons. Their best four players – Jokic, Murray, Porter and Aaron Gordon – are between ages 24 and 28. Kentavious Caldwell-Pope, their best perimeter defender, is just 30 and will remain under contract for at least another season.
They're a luxury tax-paying team, but they're not egregiously over the line because they've drafted well. Still, they'll have to constantly replenish their bench with low-cost players because of cap restraints. With a championship, that task becomes easier because Denver will be a destination franchise.
But the Nuggets won't get caught thinking ahead. Coach Michael Malone moved quickly from gratitude to criticism after Game 1. He was frustrated his team didn't play well in the fourth quarter after taking a 21-point lead.
"We're up 1-0. That's great, but we have to close games out," Malone said. "In the Finals, you can't pick and choose when you want to play. We've got to play much closer to 48 minutes."
The Nuggets are supposed to be a title-hunting novice. They aren't playing like it, however. For the entirety of this two-month postseason test of endurance, they have been locked in, winning 13 of 16 playoff games and growing stronger each round. They won't stop until they win 16 and clinch their first championship. Late slip-ups won't be dismissed despite a double-figure victory. The coach's mentality is merely a reflection of the whole group, which is partly why Malone refrained from calling a timeout after the Heat cut the lead to nine with 2:34 remaining.
"I can't bail them out every time," Malone said. "I called a few in the fourth, but at some point, our guys have to take ownership. If you're going to win a championship, you need the five guys on the floor to step up, take accountability and make sure we execute and get the best shot on offense and get stops defensively."
The burgeoning powerhouse can still grow. Denver has conquered the tricky task of getting every player to embrace his role. They sacrifice because Jokic shares the ball and shuns hero worship. It didn't even seem like Jokic and Murray scored more than half of the Nuggets' points because the ball moves so freely. Gordon exploited mismatches against smaller defenders early in the game and finished with 16 points to go with great defense on Jimmy Butler and others. Porter scored 14 points, grabbed 13 rebounds and blocked two shots, showing his growth from scorer to all-around player despite all the back problems. Bruce Brown, a versatile sixth man thriving in Denver's read-and-react system, worked his two-way magic.
"We're just reading the game," Murray said. "If they take the pocket away, we're looking somewhere else. If they take me away, then we're looking somewhere else. We're just trying to find the open man, find the best shot, find the mismatch.
"So, it's hard to guard everybody, instead of just one or two guys. It could be anybody's night and anybody's quarter, maybe not your quarter. That's just Nuggets basketball."
On their way to becoming a great team, the Nuggets just might end up as a popular brand, too. There's a Golden State Warriors-like quality to their chemistry and connection. There's too much appeal and showmanship in their game to ignore.
For a long time, Denver has been able to hide behind a facade of indifference. It's hard to perceive the Nuggets as boring now. At the Finals, people are making them into something bigger. They had better get comfortable with fame.
---