Nuggets seize Game 3 behind triple-doubles from Nikola Jokic, Jamal Murray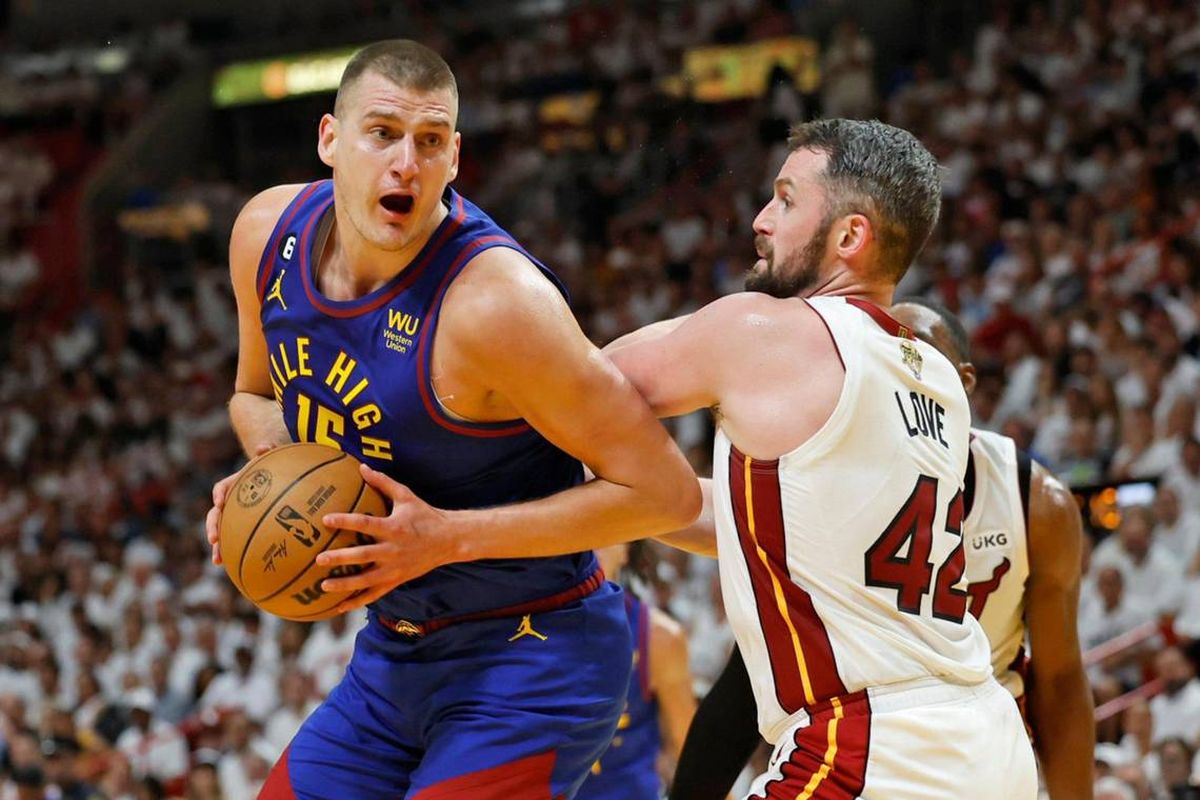 MIAMI – The Nuggets seized control of the NBA Finals with a 109-94 win in Game 3 on Wednesday. Behind dueling triple-doubles from Nikola Jokic and Jamal Murray, the Nuggets wrested homecourt advantage back from Miami after ceding it in Game 2.
After the Heat believed they'd found something to defend Jokic, the two-time MVP picked apart their defense for a 32-point, 21-rebound, 10-assist triple-double. Jokic propelled a 60-34 advantage for Denver in points in the paint.
Murray scored 34 points of his own, had 10 assists and grabbed 10 rebounds.
Quiet nights from Michael Porter Jr. (two points) and Kentavious Caldwell-Pope (six) did not affect Denver's offense. The Nuggets corrected the lapses from Game 2 and responded. Their 58-33 rebounding margin helped make up for Porter and Caldwell-Pope's inconsistent offense.
Miami's Jimmy Butler scored 28 points and Bam Adebayo added 22.
The Nuggets played outstanding two-way basketball for the entire third quarter and put themselves on the precipice of a big road win. They worked the ball inside, leaning heavily on their size advantage. And if the Nuggets didn't score on the initial try, their effort on the second-chance glass was rewarded.
Jokic flashed his soft touch from the midrange and stepped outside and hit a 3-pointer from the wing. Always moving, Denver rookie Christian Braun showed savvy reads and baseline cuts. He even ripped the ball on one opportunity and took off for a dunk the other way. The lead eventually ballooned to 19. Jokic dissected the Heat's defense for 12 in the third quarter, and Denver carried an 82-68 lead into the fourth.
During a quiet moment at Tuesday's practice, Nuggets coach Michael Malone threw his arm around Murray and issued some words of encouragement to his star guard. Without divulging any details of their conversation, Malone alluded to the tenor of it.
"He understands how important he is to this team," Malone said. "He understands how much I care about him, not just as a player but as a person. My job is not just to point out mistakes. My job is not just to applaud guys when they're playing well. It's also just to be there for them and provide whatever support I can. I do that for everybody, not just Jamal Murray. But yeah, that conversation will just kind of remain private."
In the days since Denver's Game 2 loss, the Nuggets regrouped with a dinner at Jeff Green's Miami home and then held a film session to help clean up mistakes from the previous game.
"And yesterday's film session wasn't an emotional film session," Malone said. "That's not going to get us anywhere. It was a constructive film session where everybody had a chance to speak up. … I believe that maybe us losing a game at home for the first time in the postseason and playing the way we did, you never want to go through that, but you have to take a negative and make it into a positive, and maybe that's a wake-up call."
The Nuggets limited the Heat to 39% shooting from the floor to establish a 53-48 halftime lead. Behind Jokic and Murray, whom Butler referred to as Denver's two-headed snake, the Nuggets regained their offensive rhythm.
Jokic had 14 points, 12 rebounds and seven assists in the first half.
"That's why it transcends scheme," Heat coach Erik Spoelstra said. "… Jokic can manipulate your defense in so many different ways that I can't even get into. You just have to embrace that competition and find a way to overcome it regardless of how difficult it can be."
Murray was aggressive from the start. He worked his way inside the paint early to establish his touch before stepping out and hitting three 3-pointers in the second quarter. His 20 points paced Denver's attack.
---