As Gonzaga's name resurfaces in realignment talk, Big 12 coaches weigh in on Bulldogs' potential fit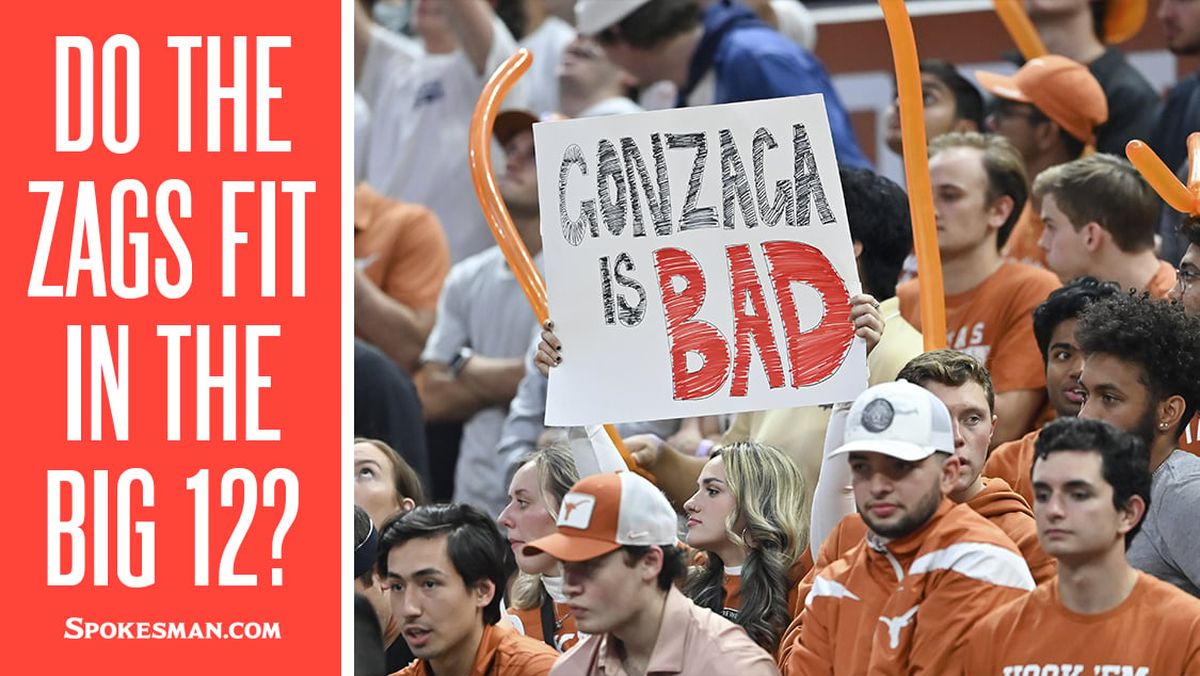 Gonzaga spent portions of its 2022-23 preseason and regular season in Big 12 territory, squared off with a Big 12 team at a neutral-site location in South Dakota, faced a future Big 12 member twice in West Coast Conference play and drew another Big 12 opponent in the second round of the NCAA Tournament.
Conversations around a potential move to the Big 12 Conference were inevitable once it was revealed Gonzaga Athletic Director Chris Standiford met with commissioner Brett Yormark in Frisco, Texas, prior to an Oct. 28 exhibition game against Tennessee, and rumors resurfaced whenever the Bulldogs had one of their scheduled – or unscheduled – run-ins with the league through the course of their 37-game season.
Standiford and Yormark spoke again at an event in Austin prior to Gonzaga's road game against Texas, triggering more dialogue about the Bulldogs and what they'd bring to a conference that's accounted for two of the last three national champions and sent 70% of its members to the 2023 NCAA Tournament.
"I would think it would be a tremendous awakening for Gonzaga (to join the Big 12)," West Virginia coach Bob Huggins said during a Nov. 3 press conference.
There's no offseason when it comes to conference realignment and speculation involving Gonzaga and the Big 12 found its way back to the college basketball news cycle last week when the conference held its annual spring meetings in West Virginia.
Expansion to 16 teams was on the agenda and with Gonzaga and UConn – teams that have combined to make five national championship appearances since 2011 – as primary realignment targets.
Coincidentally, the Bulldogs and Huskies reportedly agreed last month to a neutral-neutral series that sends UConn to Seattle's Climate Pledge Arena this fall and Gonzaga to New York City's Madison Square Garden in 2024. Dan Hurley's Huskies thumped Mark Few's Zags 82-54 in the Elite Eight en route to winning the national title.
According to a CBSSports.com article posted after spring meetings concluded, "mutual admiration" between the Big 12 and Gonzaga still exists, but there is stronger "momentum" for UConn to join the league at this point in time.
Among Big 12 coaches who've weighed in on Gonzaga as an expansion option, Huggins may be the lone skeptic, expressing concern about the Bulldogs' ability to handle the rigors of Big 12 physicality and travel. Each of the conference's 10 team finished inside the top-65 of KenPom ratings last season. The West Coast Conference had two members – Gonzaga and Saint Mary's – inside the top-15, but nobody else in the league finished in the top-75.
"To get in this league and play who we play day-after-day, I would think it would be a tremendous awakening," Huggins said. "You don't get to make your own schedule in the Big 12."
The Bulldogs were 0-2 against Big 12 foes during the regular season, losing 93-74 at Texas and 64-63 to Baylor at the Sanford Pentagon in Sioux Falls, but shored up their record against the conference with an 82-70 victory over TCU in the NCAA Tournament at Denver's Ball Arena.
"Yeah, that's not going to be my call, I know that. They haven't called me on it," TCU coach Jamie Dixon said when asked about Gonzaga-Big 12 rumors. "I don't know. I grew up on the West Coast, so the WCC is kind of dear to my heart, so, Catholic schools and a few others. That's not my call.
"Obviously the challenges are in the different sports and all the things that come with it. Our conference is considered the best in the country; certainly they would add something in that regard."
Reports of "growing mutual interest" between Gonzaga and the Big 12 leaked during the Bulldogs' game against the Longhorns, but former Texas coach Chris Beard – who was fired by the school less than two months later following a domestic violence charge – claimed he wasn't aware of the realignment rumors during a postgame press conference on Nov. 16.
"(I) make nothing of that, I try to kind of figure out what I've got to do each day," said Beard, who accepted the head coaching job at Ole Miss on March 13. "I really don't know what you're talking about. I do have a question, when are we going to the SEC? That's one I'm interested in. … But I don't know anything about Gonzaga and the Big 12."
The Bulldogs haven't been up against a full-fledged Power Six slate, but they're coming off one of the most daunting schedules in school history, playing 11 opponents from the Big 12, SEC, Big Ten, Big East and Pac-12. Gonzaga posting a 7-4 record in such games. That doesn't include a 2-1 record against Saint Mary's – ranked inside the top-20 prior to each matchup – and a 2-0 mark against BYU, which will join the Big 12 along with UCF, Cincinnati and Houston starting next fall.
At WCC Media Day, the question was posed to BYU's traveling contingent whether they'd like to extend their series with Gonzaga once the Cougars leave the WCC.
"I don't know, you guys want to continue the games with the Zags?" BYU coach Mark Pope asked starting forwards Fousseyni Traore and Gideon George.
"Of course they're good and all," Traore said, "but I'd say Big 12 is better."
A few months later, Pope said he'd be "all for" Gonzaga moving to the Big 12.
"I mean, add the Zags and add the (Boston) Celtics. Why not?" he said. "How can we make this league any better? It's ridiculous. This is what we signed up for, so why not make it the best league in the world by a hundred times? It's only 50 times better than other leagues.
"If it works for the Zags and it works for the Big 12, why would we not want it? It's just awesome. I love – coach Few's so incredible. Then we'd have the team that's been ranked No. 1 in the country for the last three years and the last two national champions, right? So why not just put it all in there together? I think it's pretty exciting."
Navigate, a consulting firm used by the Big 12 and other leagues to aid in realignment efforts, broke down how various programs performed against power-conference opponents using a metric called "TV Power."
Gonzaga ranked No. 5, behind Duke, Kentucky, North Carolina and Kansas but ahead of Ohio State, Michigan, Michigan State, Arkansas and Tennessee. Over that time span, the Bulldogs have posted a 20-8 record against current power-conference schools.
Baylor's Scott Drew, a longtime friend of Gonzaga's Few who's matched up against the Bulldogs three times since 2019, tackled the Big 12 question following a neutral-site, top-15 matchup between the teams last December.
"Since 2002, 60% of our league has been in the Final Four. The last seven out of nine years, analytically we've been the best conference," Drew said. "So if a basketball school comes in and makes us better, I know as coaches we're in the Big 12 because we want to play the best. So I know whatever Gonzaga does as long as coach Few's running that program, they're going to be in great shape."
---