Hoopfest elite: HUB Northwest wins fifth straight championship; NW Warriors Elite avenge last year's loss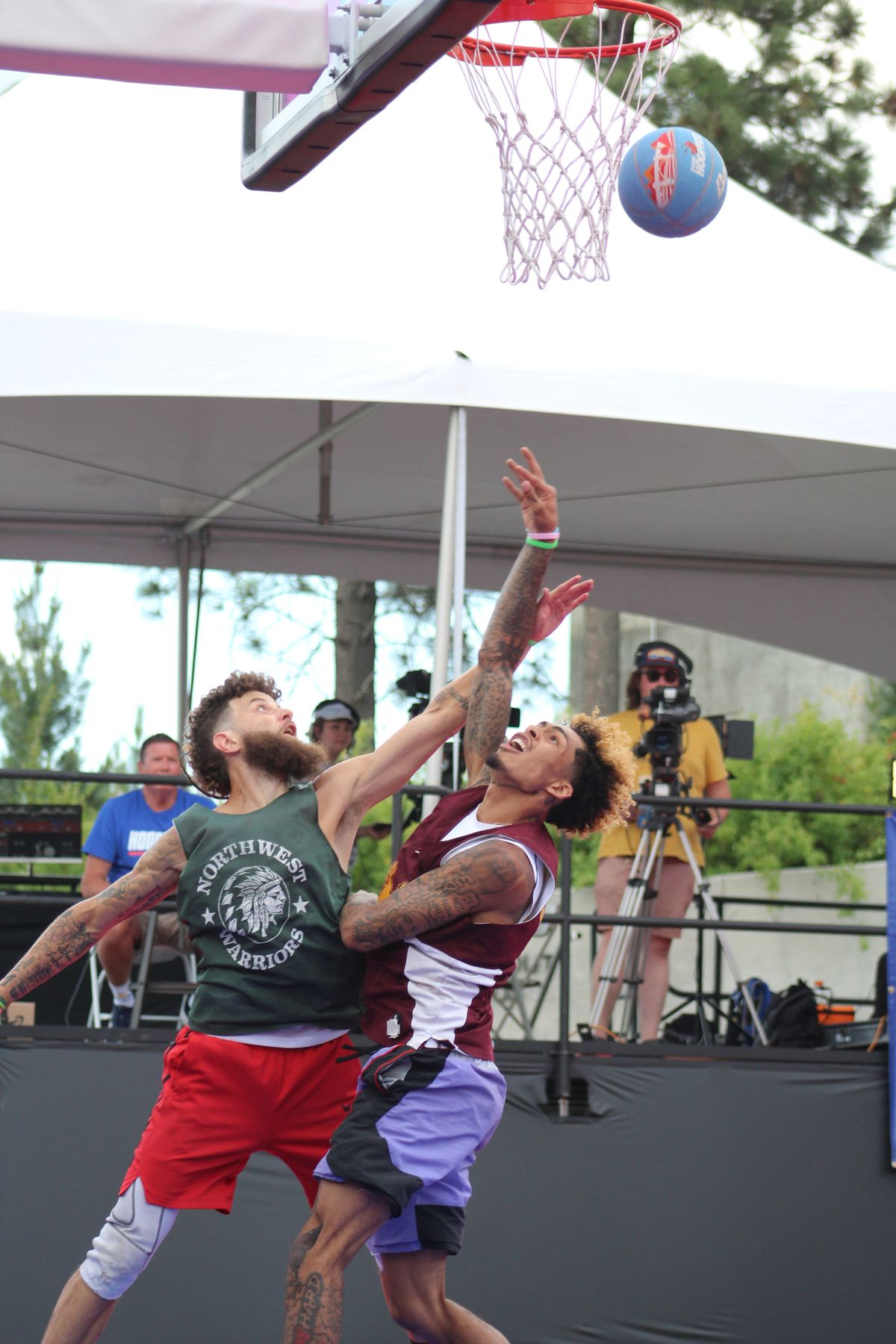 Might as well make it five in a row.
Hub Northwest won its fifth-consecutive title on Sunday at Hoopfest in the 6-foot-and-over elite division inside of the U.S. Pavilion by beating Big & Juicy 20-18, just as it did in 2022.
That achievement ties an elite Hoopfest record with BAMM and TBA, who both won five in a row in coed elite and women's elite respectively.
They won the championship with two of their players not scoring a point, but that is a common theme for Hub Northwest, who features four former college players.
Parker Kelly (Eastern Washington) finished with 12 points, while Marc Axton (EWU) added eight. Mike Hart (Gonzaga) and Robert Lippman (Northwest Nazarene University) scored zero.
In the semifinal game, Kelly and Axton were the only players to score as well.
There's more to basketball than scoring. Hart was named MVP of the game without any points, surely a Hoopfest first.
"A zero point, MVP is a strange deal," Hart said.
"So, I appreciate it, it feels good. But I don't know, Parker and Axton are usually always MVPs because they get all the buckets. I mean, we couldn't do what we do if they didn't make shots like they do."
Hart had a plethora of offensive rebounds and assists, helping his Hub Northwest teammates to multiple second chance opportunities.
"That's my game, that's actually what I like to do," Hart said.
Hart could be known as the master of behind the back passes. Unofficially, he completed 10 behind-the-back passes, with no turnovers.
"My teammates think I do too many of them but yes, that is a normal thing," Hart said. "For me nowadays, my game has transitioned to a behind-the-back pass, I don't know why but it has."
Hart hustled to snare the final offensive rebound, before shuffling a pass to Kelly, who knocked down the game-winning 2-pointer.
"I would rather throw a behind-the-back pass as we get offensive rebounds and score any day and so it's just what's fun for me and that's what I do to work," he said.
Big & Juicy caused Hub Northwest problems with their physicality.
The first two points were scored on Hart, as former Lewis and Clark basketball player Dominick Oliveri backed him down twice for an inside finish.
There was more of that as the game went on, as Big & Juicy bullied their way into the paint and either went through Hub Northwest or elevated over them with a jumper.
Oliveri was the only holdover from the 2022 iteration of Big & Juicy, but Hart said the 2023 version was the tougher opponent and matchup.
"I love that they had a good team last year, and they came back even better this year," Hart said.
"That's what makes it fun, right? It's the competitive nature of us. And we want these elite teams to come every year better and better and better and challenge us because that's what drives you as a competitor to go against the best and compete."
Men's 6-foot-and-under
Sweet, sweet revenge.
A year after losing to Preston Wynne and BE BALL FOR LIFE in the men's under-6-foot division, NW Warriors Elite and Aaron Antoine defeated Wynne and his team Amotkan 20-16 to take home the title.
Antoine finished with 10 points, using a quick first step to beat his defenders.
The shifty playmaker said Amotkan was forcing them off the 2-point line, knowing their efficient shooting.
Usually 2-pointers are their lifeblood, but they took what the defense was offering and executed that game plan to perfection.
"We put the ball on the ground, got to the rack, and we kicked it out when we needed to," Antoine said.
NW Warriors Elite took advantage of the aggressive play on the perimeter and turned it into tough finishes at the basket.
Half of their points came from behind the arc, but even those numbers are low compared to their usual game plan, Antoine said.
Ahbrae Harvey added six points and Dustin McConnell had four.
Ross Nakamura had only one bucket, but it turns out his shot was the final dagger that secured the championship to send the crowd into a frenzy.
Last year, NW Warriors Elite lost 20-18, so Antoine said they were just happy to get back out on the court and battle all the way back for another shot.
Antoine was named MVP of the championship game but said it wasn't about him, but about the collective performance from his teammates.
"I couldn't have done it without my team," he said.
"Every single person I trust. I sub out, I trust that the next guy's going to go in and do whatever he needs to do. We play together a lot and it pretty much shows."
McConnell and Nakamura played at Whitworth and all four have played for the Lilac City Legends, a semipro team in Spokane.
"I've played with Ross for a long time, I didn't play at Whitworth, but we all play a lot of 3-on-3 tournaments, we play a lot together," Antoine said.
Their style of play is a little hectic, but it is organized and is by design. They emphasize defense and frustrate opposing offenses.
"It all just worked this year," Antoine said.
Antoine's expects NW Warriors Elite to be back in 2024 to defend their crown.
Women's elite
It was more of the same for Stacy Clinesmith who won her sixth title by beating True Monstars in the first elite title of the day.
The Tomato StreetBallers, with Clinesmith's teammates Kiara Kudron, Erika Bean and Laurie Koehn, have won two titles in a row.
Coed elite
Family Ties, with players Austin Bolt, Alyssa Jimenez, Alex Jimenez and Salvador Jimenez, took advantage of being the most talented coed team at Hoopfest by beating Local Twenty Nine to win its championship.
---