Wrapped in Love: Heritage Infant Memorial Quilting Club brings a touch of beauty to devastating moment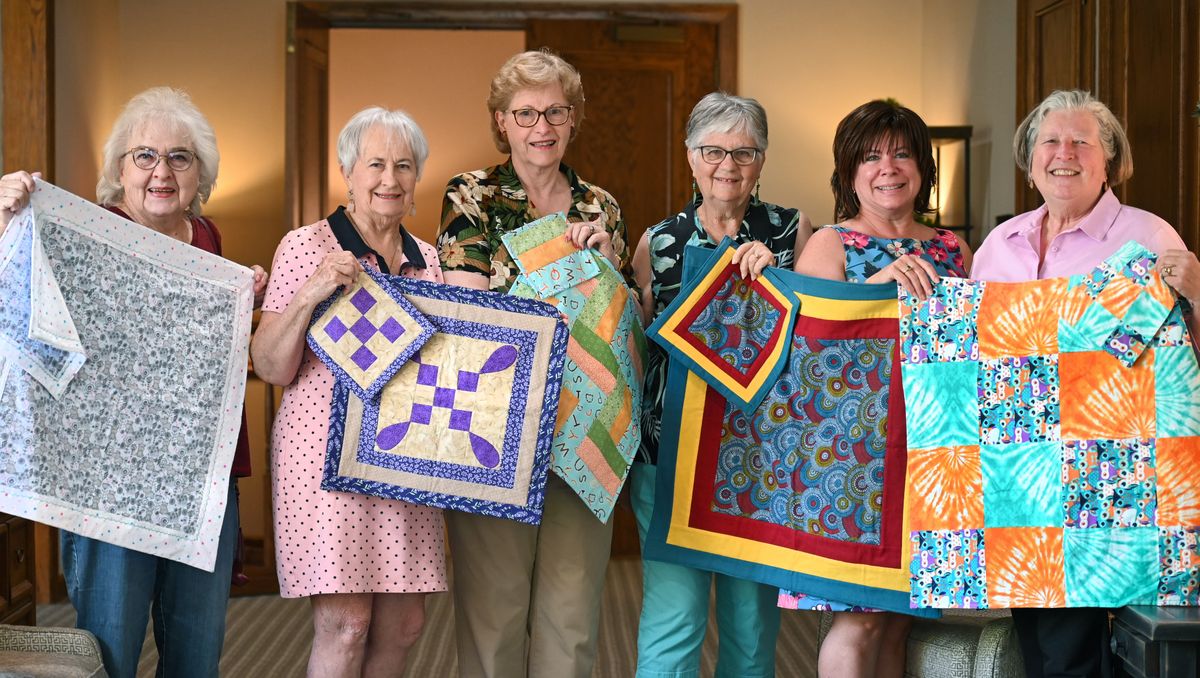 The loss of a child is something no family is prepared for. Making decisions about funerals and memorials can feel impossible in the face of such grief.
In Spokane, Heritage Funeral and Cremation provides the majority of infant and children's services.
"We offer services at no charge for children up to age six," said Heritage location manager Jen Melberg.
The services don't include casket, urn, or burial plot but do cover cremation, viewing and memorial service. They also offer deep discounts for services for children aged 7 to 17.
Funeral director Annette Drennen came to Heritage in 2020 and looked for a way to offer comfort to devastated families.
"When babies come into our care, they often arrive in hospital receiving blankets," she said.
The standard blue-and pink-striped blankets seemed unsubstantial and impersonal to her.
"I'm a quilter," she said. "Last year, I started a quilt program at Heritage and a Facebook group, and then I told every person I saw about it."
She wanted to offer parents the option to choose a handmade quilt to wrap their infant or child in for the viewing, burial, or cremation.
"Sometimes moms hold their babies for the first time here," Drennen said. "I thought we can make it easier."
Quilts provided by the Infant Memorial Quilting Club come in three sizes and include a matching keepsake quilt block.
"The quilts stay with the babies; the quilt squares go home with the parents," she said.
Drennen also initiated new options for families to see their child at the funeral home.
"We got a crib, a bassinette, a rocking chair, a Moses basket and a toddler bed," she said. "Often when they see the child in the crib, they will ask to hold them."
The quilting community in Spokane responded. Many joined the monthly quilt group that meets at Heritage, and other individuals and groups quilt elsewhere and bring their blankets to the funeral home.
Quilters from Emmanuel Presbyterian Church recently delivered several quilts.
Lorelee Bauer smoothed a tiny quilt made by their group.
"Some are hand-stitched, some are machine stitched," she said. "I love that we found a use for small pieces of fabric. For me, doing this work in community is very different than doing it in my home. We try to have all of our group touch the fabric."
Joyce Miller agreed.
"This is one of the times that it takes a village."
The women are aware of the little ones their quilts may someday enfold.
"There are tears when we are sewing," Sue Burford said.
When Drennen meets with grieving parents, she explains the quilting program. If they're interested, she asks them about their child. Did you have a name picked out? A nursery color or theme?
Then she brings an appropriate selection of quilts for the parent to choose from.
Since October, when the program launched, 85 quilts have been donated and 25 have been selected by families. Drennen keeps a scrapbook of quilt photos denoting when an item was donated and when it was chosen.
The quilters looked at the recent donations, admiring hand-tied quilts and sighing over teddy bear prints. The coverings come in all colors and patterns, including one with whimsical baby hippos.
It's heartbreaking to contemplate the need for such a program, but the statistics are stark.
Melberg said in 2022, Heritage donated $224,843 worth of services for 104 children under 6.
"We currently see about five families a week," she said.
She's witnessed the impact of the quilt program.
"We have moms come in with stillborns who say no one has acknowledged their loss."
She said other moms are overwhelmed when they see the quilts because they're so touched that someone loved their baby enough to sew for them.
Drennen expressed appreciation for the quilters in Spokane who've taken on this project as a way of showing compassion to hurting families.
"This is sometimes the first chance for parents to hold their babies, but it's always the last chance," said Drennen. "We are showing grieving families love when they most need it."
Contact Cindy Hval at dchval@juno.com
---