News > Travel
What it's really like to take a European night train
Sat., March 4, 2023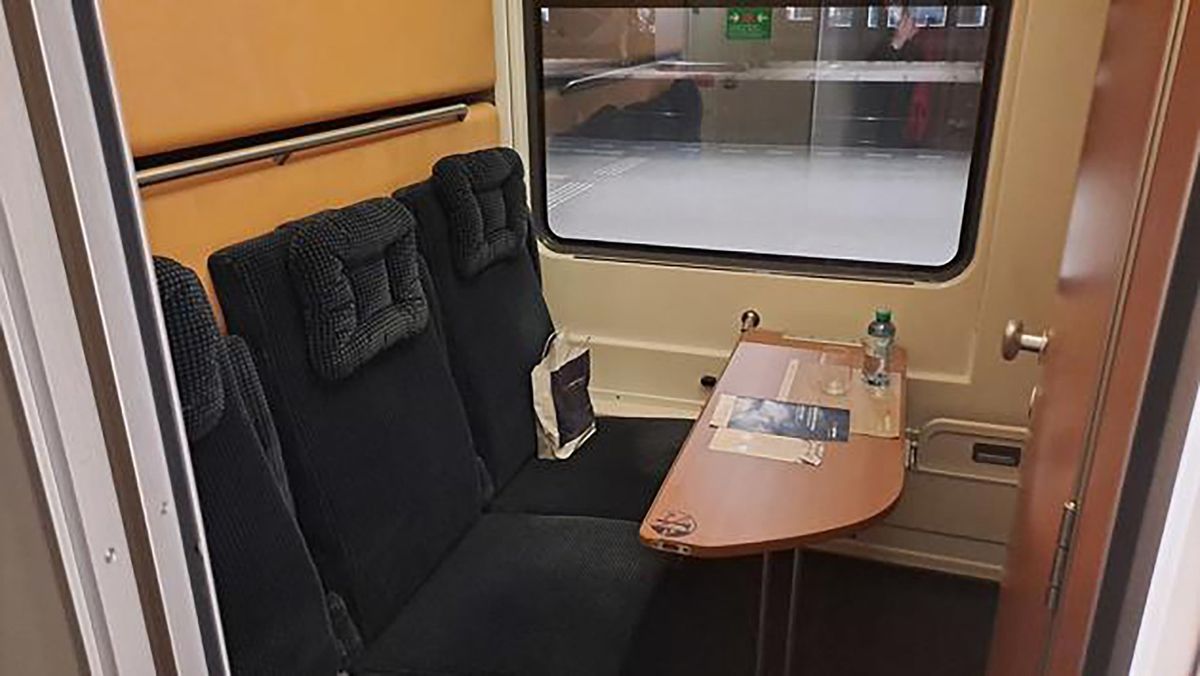 A compartment on the Amsterdam to Vienna overnight train. (Scott Hartbeck/Tribune News Service)
Over the past few years, much has been made about the renaissance of the European night train. A while back, I gave sleeper trains' newfound head of steam a shout-out in a broader story on the healthy status of European rail back in early 2020 – right before the travel world was turned upside down by the pandemic.
Overnight train services in Europe – once commonplace and very famous indeed thanks partly to services like the legendary Orient Express – had become all but extinct by the mid-2010s. Then, just when it looked like night trains were down for the count, a remarkable thing happened: a rising desire for greener travel options coincided with plucky Austrian national rail operator OBB's reinvigoration of its Nightjet line to set the stage for a comeback.
Before the pandemic, seemingly every month brought an announcement from OBB about a new Nightjet service or news about an upstart competitor intending to ride in their tailwinds.
Reading about it is one thing; experiencing it for yourself is quite another.
So as I began to plan the itinerary for a recent trip around Europe using a Eurail pass, I knew the journey had to include at least one sleeper train. I chose to take the OBB Nightjet from Amsterdam to Vienna, and for all the details on what it's really like to take a European night train these days, read on.
Predeparture practicalities
Before we hop on board, let's talk about why you or a client would take a European night train in the first place. First and foremost, while sleeper trains might have seen their popularity wane over the years, they never lost their association with adventure and romance. I mean, come on, just saying something like "I wish I could stay for another drink darling, but I'm catching the night train to Paris" is about as wanderlust-y as it gets.
So, you've got the allure of the experience and the simple fact of ticking it off the travel bucket list going for it, but there are also some real practicalities at play here, too. Namely, the savings that sleeper trains offer travelers in both money and time–which is just as precious of a commodity as cash. On the money side of things, the price of a night train is likely to be considerably less than that of a city-center hotel in Europe and when it comes to your valuable time, since it whisks you across the continent through the night, you won't be spending any of your prime sightseeing hours hustling between cities.
Think of it as paying for a hotel room that moves you to the next stop on your trip in the middle of the night.
The second thing you need to know is that while the whole train is going from Point A to Point B overnight, not all the aforementioned "moving hotel rooms" inside the train are created equal. Depending on your or your client's budget and/or comfort level, you'll have the option to just simply sit in standard seats, have a bed in a "dorm style" couchette compartment with other travelers (or reserve an entire compartment for your traveling party), or stay in a private sleeping car. I chose the latter and since I was traveling with a Eurail pass, I received a healthy discount on the price of the the ticket.
Before boarding
The train was scheduled to depart at 7:30 p.m., so my wife and I arrived at Amsterdam Centraal Station an hour or so ahead of time. It's not mandatory to be there that early, but since one of the perks of the first-class Eurail pass we were traveling with is free access to the lounge, we decided to hang out there and relax for a bit before the overnight train. Highly recommend it, there's just something special about a lounge.
The compartment
As this was a once-in-a-lifetime type of experience for us, my wife and I had sprung for the deluxe version of the aforementioned sleeping car that is equipped with its own private bathroom – complete with a shower (all sleeping cars have sinks, but only a select number have bathrooms and showers). The compartment had three seats (which would be turned into beds later on) and plenty of storage space. When we arrived there was a small goodie bag waiting for us with earplugs, slippers and a souvenir pen inside along with a breakfast menu and order form. Soon after, the attendant delivered a small bottle of sparkling wine.
Setting off
As the wheels on the train slowly began to turn, we popped open our sparkling wine and were practically giddy as we watched Dutch cities go by in the dark. Eventually, those Dutch cities turned into German ones and I made my way down the hallway to buy a drink from the attendant. Along the way, I passed by the standard seats and I was struck by the camaraderie among the passengers. Groups of friends (or perhaps new acquaintances) were seemingly all laughing and sharing smiles as they settled in for the journey ahead.
Going to sleep
Now, there's no need to beat around the bush here: This is not luxurious travel, but it is comfortable. A few hours into the journey, the sleeping car attendant knocked on our door and turned our compartment from seats into bunk beds. I climbed to the top and tried to catch some sleep. Maybe it was the gentle rocking of the train, perhaps it was the adrenaline of finally realizing a travel dream, but it took me longer than usual to get to sleep, but perhaps your experience will be different.
Rise and shine
In the morning, as the light started filtering into our compartment, we were served a breakfast of meats, bread and cheeses with a hot beverage. Any weariness from the night before was washed away when in between bites I gazed out the window to see the morning sunlight dancing off the Danube and the magnificent Melk Abbey in the distance. Soon, we were pulling into Vienna, some 13 hours and 700 miles after we left Amsterdam.
The bottom line
If high thread counts are a bigger priority for you than memorable experiences then perhaps a standard European night train is not for you. But, if you're seeking travel stories and a different way to hop across Europe, then the night train just might end up being the highlight of your entire trip.
Talk to your travel adviser or visit OBB's website to get the ball rolling on your European night train adventure.
Local journalism is essential.
Give directly to The Spokesman-Review's Northwest Passages community forums series -- which helps to offset the costs of several reporter and editor positions at the newspaper -- by using the easy options below. Gifts processed in this system are not tax deductible, but are predominately used to help meet the local financial requirements needed to receive national matching-grant funds.
Subscribe now to get breaking news alerts in your email inbox
Get breaking news delivered to your inbox as it happens.
---