Sports > WSU basketball
Washington State women capture first Pac-12 tournament championship with win over UCLA
March 5, 2023 Updated Sat., March 11, 2023 at 3:26 p.m.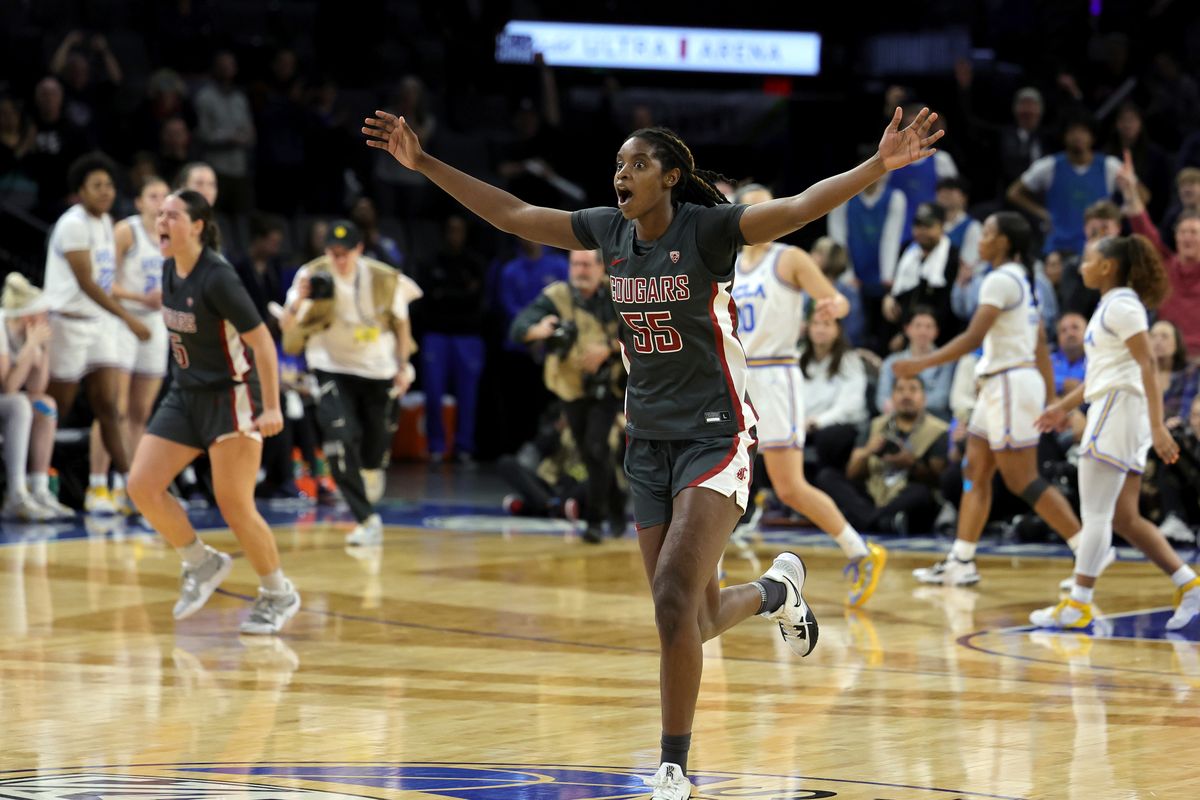 Washington State's Bella Murekatete celebrates the Cougars' 65-61 victory over the UCLA Bruins to win the championship game of the Pac-12 Conference women's basketball tournament at Michelob Ultra Arena on Sunday in Las Vegas. (Getty Images)
They completed a magical run through the Pac-12 tournament and achieved legendary status, cementing their place as one of the greatest teams in Washington State school history.
The Cougar women's basketball team captured its first Pac-12 tourney title, outlasting UCLA in a nail-biting, 65-61 triumph Sunday afternoon at Michelob Ultra Arena in Las Vegas.
"It sounds sweet, that title for us," coach Kamie Ethridge said. "I would've never thought we could do it. I didn't even think, when I took the job, that this was possible in this kind of league and with these kinds of coaches and the athletes that we're going up against.
"It's just a testament to 'anything's possible.' If you get the right people in place that believe and work and are committed to each other, you can accomplish amazing things together."
Seventh-seeded WSU (23-10) was making its first appearance in the tournament final. The Cinderella Cougars upset No. 2 seed Utah – the third-ranked team in the country – held off third-seeded Colorado and used a spirited effort to slip past No. 5 seed UCLA and become the lowest-seeded team to win the tournament.
They also became the first WSU program to hoist a conference-championship trophy since the 2002 football team. The Cougars hadn't claimed a conference title in basketball since the men's team seized the crown in 1941. Sunday's win marked WSU's first Pac-12 title in any women's team sport.
"We've earned this moment," senior forward Ula Motuga said. "We've earned every single thing that has happened to us in the past week here."
The Cougars had already guaranteed themselves a spot in the NCAA tournament field for the third consecutive season, but the landmark victory Sunday will surely improve WSU's seeding at the Big Dance.
For much of its history, the program had been considered irrelevant among its power-conference peers. But that all started to change when Ethridge took the reins. Within three seasons, she had built an NCAA tournament contender, a competitive program in one of the nation's top conferences. In Year 5 of her tenure, the team reached new heights, achieving a feat that was once thought impossible.
"It's not the easiest thing in Pullman, but you get the right people and they are committed – look at us now," Ethridge said.
Key to the rebuild, of course, was the recruitment and development of star players like junior guard Charlisse Leger-Walker and senior center Bella Murekatete. The two shined all week in Vegas.
"If you're coming to WSU, it's because you believe in your coaches," Murekatete said. "You believe in what you can improve and you love the team you're going to.
"What we've been able to do is a testament to that. Our coaches have really brought us all together, created a vision for us and with enough buy-in from all the right players, it obviously led to a lot of success."
Leger-Walker, a three-time All-Pac-12 performer, was named tournament MVP after scoring a game-high 23 points in the final. The sharpshooter from New Zealand averaged 19 points, 4.8 rebounds and 3 assists while shooting 45.6% from the field during the tourney.
"Team-wise, leadership, work ethic, commitment to the program – she was a star from the moment she got here," Ethridge said.
Leger-Walker was at her best in the title. She shot 7 of 11 from the field, 5 of 7 from 3-point range, and contributed seven rebounds and three assists. Leger-Walker came through with clutch plays in a back-and-forth affair against the Bruins (25-9).
She carried the team through a tough stretch in the third quarter. In the fourth, she put WSU ahead by seven points with about 2 minutes left, completing a traditional three-point play with a difficult layup through traffic. Leger-Walker forced a game-clinching steal with 5 seconds remaining.
"She's so good in every single spot, every aspect of the game," Murekatete said of Leger-Walker. "She just motivates you to get better."
Murekatete, an all-conference honorable mention , looked like a first-team performer, especially down the stretch. She controlled the paint in the fourth quarter, scoring eight of her 21 points, and added two blocks to help WSU preserve a narrow lead throughout the final 10 minutes. Murekatete finished 8 of 11 from the field.
"In the fourth quarter, I really had to step it up and actually rise to the challenge because I knew we only had 10 minutes in this thing if we wanted to make it another 'first' (for the program)," Murekatete said.
The 6-foot-3 Rwanda native averaged 16.3 points and shot 60% at the tourney.
True freshman guard Astera Tuhina contributed six points, six assists and blocked a 3-point attempt from UCLA standout Charisma Osborne with 9 seconds left and the Cougars ahead by three points.
Sophomore guard Tara Wallack added eight rebounds and three assists as WSU used sharp passing to free up shooters during an efficient showing. The Cougars recorded 17 assists on 22 field goals. They finished the game shooting 53.7% from the field and went 7 of 11 from beyond the arc.
Pac-12 Network / Youtube
UCLA shot 36.7% from the floor and 26.3% from distance.
WSU's defense had an exceptional tournament, limiting its four opponents to an average of 54.3 points per game.
The teams traded the lead nine times in the first half. WSU trailed by as many as seven points early in the second quarter but finished the period on a 16-5 run to take a 32-28 lead into halftime.
The Bruins opened the third with an 8-0 spurt, but Leger-Walker canned two 3s in a 2-minute stretch to flip the momentum back to WSU's side. The Cougars didn't trail over the last 13 minutes.
"That was the (mindset) going into the third and fourth quarters, 'Believe in yourselves, believe that we can stick in this and grind it out,' " Leger-Walker said.
WSU's lead grew to eight points with 3:24 remaining after a Leger-Walker layup. UCLA closed to within two points in the final minute, but WSU's defense tightened up late and the Cougars held on for another milestone in an unforgettable season that will easily go down as one of the best in school history.
Leger-Walker tossed the ball in the air and the Cougars shared tears and embraces at midcourt before cutting down the nets.
"I never would have thought we'd be doing that," Leger-Walker said. "That moment felt so surreal to get up there, cut down the net, actually soak in that we're champs. It's just been such a process. … It means so much to so many people."
The Cougars now await the NCAA tournament selection show March 12. Entering Sunday's game, ESPN's bracketology had the Cougars as a No. 7 seed. After the historic win, WSU should bump up a spot or two. The Cougars will be looking for their first NCAA Tournament win when the Big Dance begins March 17.
Local journalism is essential.
Give directly to The Spokesman-Review's Northwest Passages community forums series -- which helps to offset the costs of several reporter and editor positions at the newspaper -- by using the easy options below. Gifts processed in this system are not tax deductible, but are predominately used to help meet the local financial requirements needed to receive national matching-grant funds.
Subscribe to the sports newsletter
Get the day's top sports headlines and breaking news delivered to your inbox by subscribing here.
---