A&E > Entertainment
'You will be found': 'Dear Evan Hansen' brings plenty of emotion to Spokane
March 9, 2023 Updated Tue., March 14, 2023 at 6:58 p.m.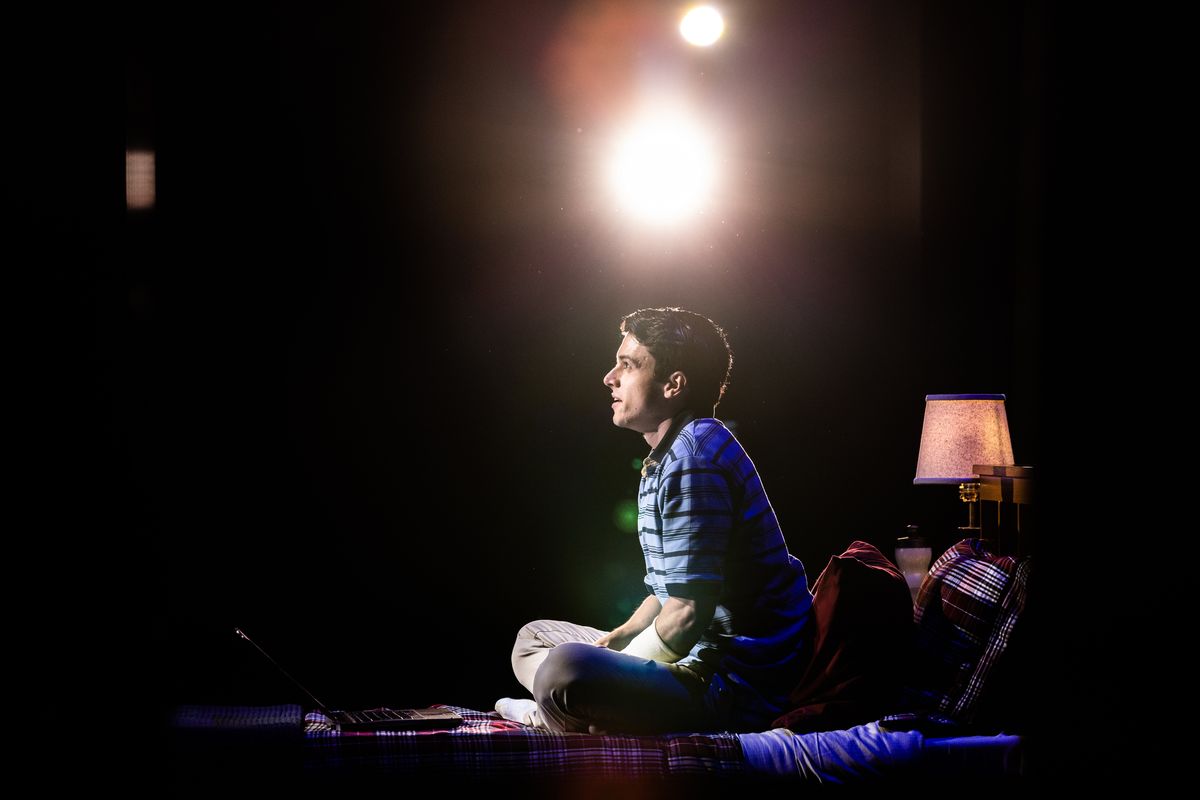 Anthony Norman stars as Evan Hansen in the touring company of "Dear Evan Hansen," which comes to the First Interstate Center for the Arts in Spokane March 14-19. (Evan Zimmerman)
Bring tissues.
So advises actor Lili Thomas, who plays grieving mother Cynthia Murphy in the national tour of "Dear Evan Hansen," which opens Tuesday for a six-day run at the First Interstate Center for the Arts.
"Everybody knows there's some big devastating event. Everybody knows there's something going on that's really heavy," Thomas said. "But I also tell people 'It's not like you're going to go have a really dark day at the theater, because the comic relief in this show is just so meticulously wonderful that it never lets you get there.' You'll be given something that's really heavy and really dark, but then you'll be pulled out of it and given permission to laugh. You're able to have this experience of feeling all the emotions in all the stages of life and grief and happiness. It's doesn't really let you sit into one so far that you can't shake it after."
The musical, which won six Tony Awards in 2017, including for best musical, centers on a depressed high school misfit named Evan Hansen. After a classmate, Connor Murphy, dies by suicide, Connor's parents mistakenly believe that Evan and Connor were best friends. Evan doesn't correct their error, enjoying being the center of attention. Soon the lie spins out of control until it, inevitably, comes crashing down around him.
With its exploration of grief, mental health, parenting, social media, and the troubled lives of teenagers in America, "Dear Evan Hansen" is a tough ask of audiences.
We're asked to care about a depressed teenage boy who inserts himself into a tragedy he has no place in. We're asked to feel for a family that struggles with the heart-wrenching pain that follows a teenager's suicide. It requires us to think about hard questions, and have uncomfortable conversations without easy answers.
Yet "Dear Evan Hansen" offers so much more than a bummer of an evening. With music by Benj Pasek and Justin Paul ("Dogfight," "La La Land"), "Dear Evan Hansen" soars with big feels, biting commentary and what the Daily Beast called "swings of tone between comedy and terrible tragedy."
For Thomas, a mother herself, the show serves as a "valuable vehicle for having healthy conversations," she said. Her own children were fans of the show even before she joined the cast, and even before she'd allowed them to see it.
"Making the decision to let my third-grader see this play was huge for me, and what I realized is that he was exposed to a lot of these themes at school," Thomas said. "It was a way for me to be an active parent and get ahead of these themes to succumb to making that shift with the times of how technology is weaving into children's lives earlier and earlier. I was able to say, 'I'm actually going to be a part of this and not be afraid of it.' It can spark wonderful conversations, it can sport difficult conversations."
But "Dear Evan Hansen" is not without its flaws or its detractors. The film version was widely panned, and served to illustrate a central problem: Evan Hansen is a lying and not-very-likable protagonist. And especially now in the post-pandemic era, when the mental health of teenagers is a front-burner topic, the show's depiction of mental health issues to some can feel a little off-putting.
For Thomas, however, the show stands up to this added scrutiny.
"I think especially post-pandemic the show really took on a more nuanced meaning and shows why those uncomfortable scenes of the show are actually extremely relevant to everybody's life," Thomas said. "There are eight characters in the show and we often say that the ninth character is social media. It's a show about connection. There is not one person who has gone through this pandemic who did not feel alone or have difficulty connecting at some point, and who did not have to rely on technology or social media to do some of that. …
"Right now, it's even more important because the parenting generation can really understand the power of the internet in that way from first-hand experience and not just what they've seen through their children."
There isn't one person, she added, who will come to the show and not find a connection with one of the characters, she said. She speaks from experience. It was the show's portrayal of motherhood that drew her in initially.
She saw the original Broadway production, she said, "And I remember thinking to myself, 'Oh my gosh, I can't believe they're writing mothers like this.' Just complex and realistic, written with real feelings of guilt that all parents have, and not presented as just the overbearing matronly villain of the show."
She had taken a break from acting a decade ago after her own children were born. "I remember being re-inspired all over again by seeing this show," she said, "and coming back to the theater a couple years later, and to quote one of my lines from the show, 'It's kismet' that I've made my way back to the industry in this role. It's been such a ride and so fulfilling in so many ways, especially coming at the material as the mother of two."
Local journalism is essential.
Give directly to The Spokesman-Review's Northwest Passages community forums series -- which helps to offset the costs of several reporter and editor positions at the newspaper -- by using the easy options below. Gifts processed in this system are not tax deductible, but are predominately used to help meet the local financial requirements needed to receive national matching-grant funds.
Subscribe to the Spokane7 email newsletter
Get the day's top entertainment headlines delivered to your inbox every morning.
---