A&E > Entertainment
Stream on Demand: 'Extrapolations' on Apple TV+ fields an impressive cast
Thu., March 16, 2023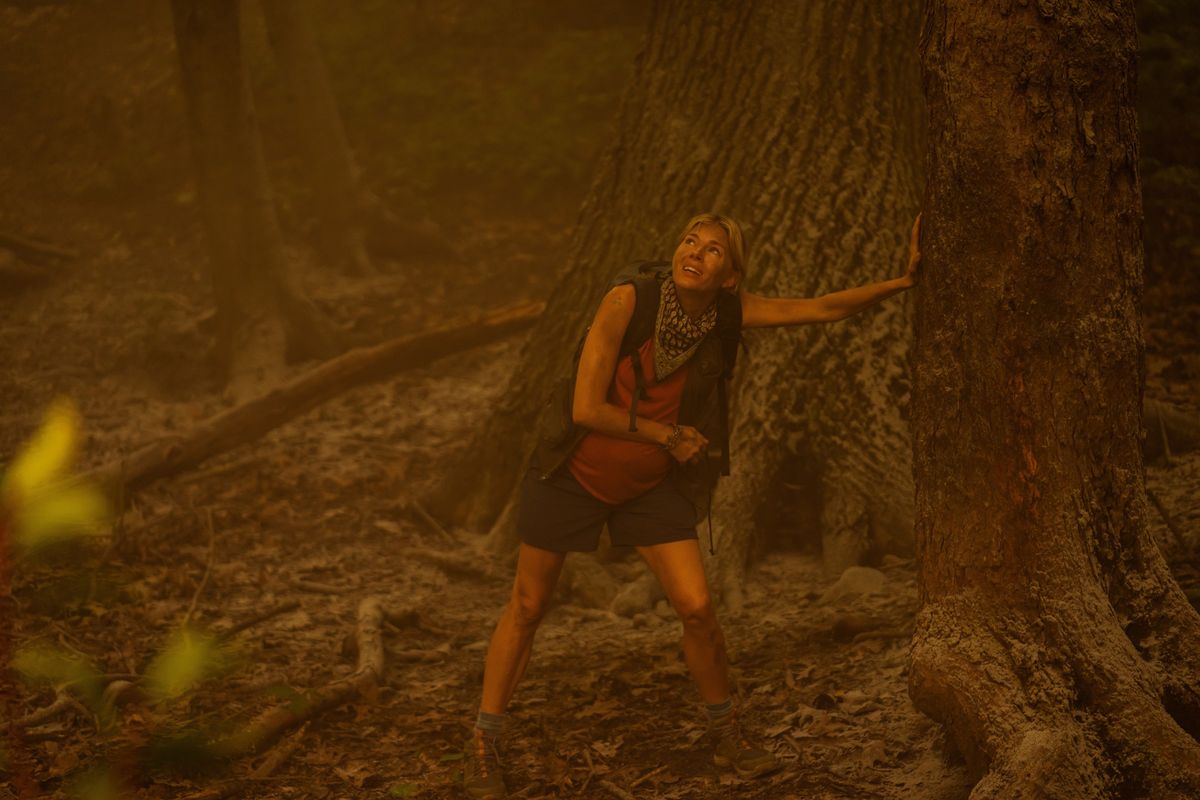 Sienna Miller in "Extrapolations," a new Apple TV+ series that centers on the climate crisis. (Zach Dilgard/Apple TV+)
What's new for home viewing on Video on Demand and Netflix, Hulu, Disney+, HBO Max, Amazon Prime, and other streaming services.
Top streams for the week
"Extrapolations" (TV-MA) tackles the issue of climate change with stories set in the near and not-so-near future as humankind responds to rising temperatures and rising sea levels. The limited series is from creator/writer Scott Z. Burns, who so accurately anticipated the COVID crisis, and it speculates on a variety of issues and conflicts with an anthology format that spans decades. Sienna Miller, Kit Harington, and Daveed Diggs star with an impressive guest cast that includes such stars as Edward Norton, Matthew Rhys, Marion Cotillard, Forest Whitaker, and Meryl Streep. Three episodes available, new episodes on Fridays. (Apple TV+)
"Swarm: Season 1" (2023, TV-MA, with subtitles), from "Atlanta" creators Janine Nabers and Donald Glover, is a darkly comic thriller that follows the wild journey of obsessed fan (Dominique Fishback) who stalks the world's biggest pop star on a cross-country journey and leaves a trail of bodies behind. Malia Obama is part of the writing team and Glover directs the debut episode. All episodes streaming. (Prime Video)
The limited series "A Spy Among Friends" (TV-MA) dramatizes the true story (with some dramatic license) of British intelligence agent Nicholas Elliott (Damian Lewis) and his long friendship with Kim Philby (Guy Pearce), the most notorious Russian double agent in British history. All episodes streaming. (MGM+)
Brendan Fraser won the Academy Award for his portrayal of man who becomes cripplingly obese in his grief in "The Whale" (2022, R), which follows a week in his life as he attempts to reconnect with his angry, estranged daughter (Sadie Sink). Darren Aronofsky directs and costar Hong Chau earned an Oscar nomination. The screenplay was adapted by Moscow, Idaho-native Samuel D. Hunter, from his play. (VOD and DVD)
"Boston Strangler" (2023, R) follows reporters Loretta McLaughlin (Keira Knightley), who broke the story to the public, and Jean Cole (Carrie Coon) as they battle the sexism of 1960s journalism to report on the notorious serial killer. Alessandro Nivola and Chris Cooper costar. (Hulu)
The animated adventure comedy "Puss in Boots: The Last Wish" (2022, PG) sends the swashbuckling feline (voiced by Antonio Banderas), down to the last of his nine lives, through forest filled with fairy tale characters gone bad. (Peacock)
"The Magician's Elephant" (2023, PG), which streams a week after a limited theatrical release, is an animated adventure fantasy about an orphaned boy (voice of Noah Jupe) who goes on an impossible quest to free a magical elephant. Adapted from the children's book by Kate DiCamillo. (Netflix)
Amazon Prime Video
A reunion at an all-girls high school becomes a survival odyssey when a tidal wave hits in the comedy "Class of '07: Season 1" (2023, TV-MA) starring Emily Browning and Megan Smart.
"Mrs. Harris Goes to Paris" (2022, PG) stars Lesley Manville as a plucky cleaning lady in 1950s London who travels to France to buy a Dior dress.
Disney+
A teenage Asian American student challenges the high school basketball star in "Chang Can Dunk" (2023, PG).
Apple TV+
The wait is over: the third season of the two-time Emmy winning comedy "Ted Lasso" (TV-MA) begins this week.
Sean Axmaker is a Seattle film critic and writer. His reviews of streaming movies and TV can be found at https://streamondemandathome.com.
Local journalism is essential.
Give directly to The Spokesman-Review's Northwest Passages community forums series -- which helps to offset the costs of several reporter and editor positions at the newspaper -- by using the easy options below. Gifts processed in this system are not tax deductible, but are predominately used to help meet the local financial requirements needed to receive national matching-grant funds.
Subscribe to the Spokane7 email newsletter
Get the day's top entertainment headlines delivered to your inbox every morning.
---