News > Washington
How a grieving Charlisse Leger-Walker found strength in her WSU teammates to help the Cougars make it to the NCAA
Fri., March 17, 2023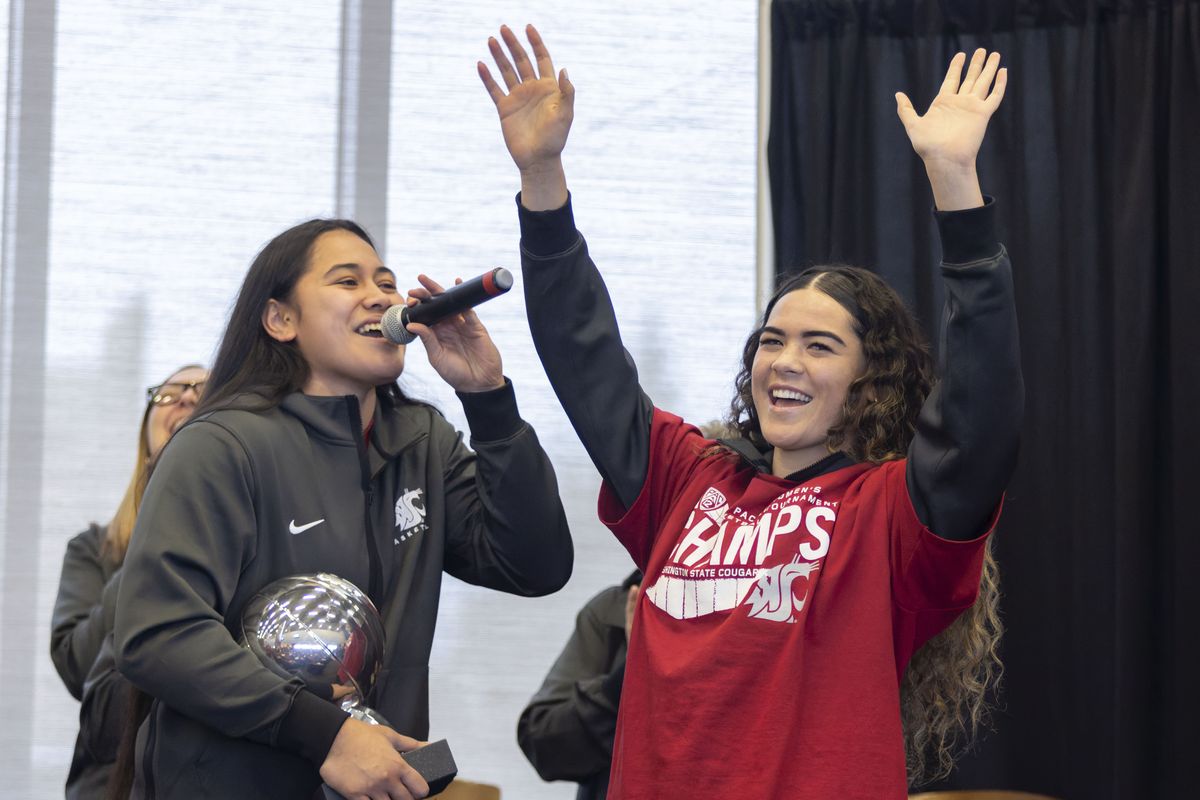 Washington State guard Charlisse Leger-Walker, right, is introduced by teammate Ula Motuga during an NCAA tournament selection watch party on Sunday at Gesa Field in Pullman. (GEOFF CRIMMINS)
When the weight of her world grew too heavy, Charlisse Leger-Walker turned to her Washington State University teammates.
The legend-in-progress – "Legend-Walker," if you will – has carried the Cougar women's basketball team on her back throughout a historic season, particularly during a recent thrilling run to the Pac-12 Conference Tournament title.
Lately, though, her teammates and coaches have returned the favor.
She shouldered major anxiety back in November and December when her grandmother, Mere Smith, fell ill with terminal cancer. After she returned from an emotional trip to New Zealand to visit her "nana," Leger-Walker was on a team road trip in Oregon when the heartbreak of the death of a loved one became so real and so sudden.
But her team had her back through it all.
"The biggest thing for me was how supportive everyone was," Leger-Walker said four days after she and her teammates earned an automatic berth into the NCAA Tournament. "(Cougar senior) Ula (Motuga) was the first to speak up in the locker room after the Oregon game, and she and everyone were crying. She said how much they loved me and to take as much time as I want, and there was nothing bigger than family. They knew I needed to grieve and be with family."
Leger-Walker returned to the team after missing four games in all (the Cougars lost all four), and the lowest of lows in her young life turned to the highest of highs a month later. The 21-year-old scored a tournament-record 76 points in four games in the Pac-12 Tournament and was named the tournament's Most Outstanding Player.
"It was all such a whirlwind," said Leger-Walker, who enters the NCAA Tournament with averages of 18.1 points and 4.2 assists per game. "All the interviews I've been doing these last few days really brings back up those emotions. It's been really, really fun.
"The excitement in the (practice) gym is still there, and I think it's for the best to keep momentum going forward," she said. "You can't be complacent going into the tournament."
It was the school's first Pac-12 women's basketball title, which gave the Cougars an automatic berth in what is now a third-straight appearance in the NCAA Tournament, which begins this week.
"We all are just so excited and kind of on a little high of what we've really done," she continued. "We came back to Pullman and everywhere we go we hear, 'Oh my gosh, congratulations!' It's been crazy."
But none of what she gained makes up for what she lost this winter.
"My nana has been looking over me, and my whole family has had my back," she told the media after the Pac-12 championship game. "I've had a ton of messages coming in saying she's proud of me, and I know she is. But this one was definitely for her and for my family back home."
Back home for Leger-Walker is Waikato, a region in the upper north island of New Zealand. She is part of the Maori, Indigenous Polynesian people of New Zealand. She lived in a small town named Hamilton, about an hour from Auckland.
"Back home it's family first," Leger-Walker said. "I'm always grateful for the support I have around me, and the majority of it comes from my family. That's common in New Zealand especially."
She said Smith was a sibling of 10, and Leger-Walker's father's mother was a sibling of 14.
"The family we have is huge, and they all are so invested in what I'm doing here and me off the court," she said. "I have massive families on both sides. And I'm so close with all of my cousins, first cousins, second cousins, third cousins – it's crazy, there are so many of them.
"That's why I have such a strong sense of family."
Leger-Walker's mother is Leanne Walker, who represented New Zealand on the basketball court in the 2000 and 2004 Olympics. Leanne and her husband, Eliu Leger-Walker, have three talented daughters.
Krystal is the oldest and was the first to come to the United States to play college basketball at Northern Colorado of the Big Sky Conference. Her coach was Kamie Ethridge, who led the Bears to the NCAA Tournament and was subsequently hired by Washington State.
Krystal played one more season at UNC at the same time Charlisse was shopping for a college of her own. Eventually, Krystal decided to transfer to WSU, and that prompted Charlisse to pick WSU over Columbia and join Ethridge as a Cougar freshman in fall 2020.
The COVID-19 pandemic altered the plans. Instead of playing alongside her sister in the abbreviated 2020-21 season alone, Krystal received an extra senior year and was back as a Cougar in 2021-22.
The first season they were together, WSU started 7-2 and received its first national ranking. They ended the season in the NCAA Tournament and repeated a year ago.
Krystal now is in Australia playing for the JCU Townsville Fire in the WNBL.
The absence of her sister in Pullman meant it was time for Charlisse to step up as a team leader for the Cougars.
The 2022-23 season began well for WSU, with a 10-2 record, although a career-high 40-point performance for Charlisse was not enough in a loss to rival Washington on Dec. 11.
While she was in New Zealand in late December, Leger-Walker missed losing games against Utah and Colorado. Then she returned and scored 26 in a win over the Huskies.
The Cougars beat Oregon State in Corvallis on Friday, Jan. 13, but that night will be remembered for much more than the game.
A week or so before that, the family decided that instead of having more surgery, Smith could return to her home where she would be more comfortable. Most of all, she would be surrounded by family and friends, and Leger-Walker said some 100 people would be there for nightly prayer circles called "Karakia," a Maori word for prayer. On the 13th after the OSU game, Leger-Walker was able watch and listen remotely.
"You could see on the camera she was singing the songs, and that she was really happy. It was a perfect moment for her, at her house where she wanted to be, and surrounded by so many people. I think she was holding on for that final moment."
At one point, Leanne put her phone to her nana's ear so Charlisse could say her final goodbyes. "I told her I loved her." About 20 minutes later, Smith died.
Although her coaches and hotel roommate were aware of the loss, Leger-Walker didn't say anything to the rest of the team.
"There was no point," she said. "If I did, they would just worry about me, and that's not something I wanted the team to deal with."
On Jan. 15, Leger-Walker had 17 points, seven rebounds and six assists as WSU edged Oregon 85-84. It snapped an eight-game losing streak to the Ducks and was WSU's first road win over a ranked opponent in 25 years.
"After that game I completely broke down. It was funny – nobody knew why I was crying so hard, and they thought it was because we won. They thought it was happy tears, and in a way, it was and wasn't."
After the game, she left for New Zealand again, but this time she endured canceled flights and had to stay in Australia an extra day. When she finally got to the island, she faced a four-hour drive. By then the family had delayed Smith's funeral a day so Leger-Walker could be there.
While Charlisse was away, she missed Cougar losses against USC (Jan. 20) and UCLA (Jan. 22), and WSU slipped to 13-6. In the next 10 games after she returned, Leger-Walker had just one game of more than 17 points, and in two she scored in the single digits. Washington State won six of those games and entered the league tournament with a 19-10 record overall as the No. 7 seed after a 9-9 league campaign.
That's when the Cougars caught fire and would register four victories in five days to win the title. They'll enter the NCAA Tournament with a 23-10 record.
Leger-Walker opened the league tourney with 23 points in a win over No. 10 seed California, then scored 15 in a quarterfinal upset of No. 2 Utah. She had another 15 in a semifinal win over No. 3 Colorado, making the Cougars the lowest-seeded team to ever advance to the Pac-12 Tournament Championship Game.
But they weren't finished, and Leger-Walker scored 23 points while Bella Murekatete added 21 when WSU beat No. 5 seed and 19th-ranked UCLA 65-61 in the title tilt.
It was the culmination – but certainly not the end – of the most emotionally draining basketball season of her life. Leger-Walker is certain the WSU community helped get her through it all – and will continue to "have my back," as she said countless times.
"The relationships I've developed over these last three years have really helped me and been instrumental," she said. "I have great roommates and teammates on the team, and the coaches are very understanding.
"We are a family and we say it a lot, but it's so true here."
Local journalism is essential.
Give directly to The Spokesman-Review's Northwest Passages community forums series -- which helps to offset the costs of several reporter and editor positions at the newspaper -- by using the easy options below. Gifts processed in this system are not tax deductible, but are predominately used to help meet the local financial requirements needed to receive national matching-grant funds.
Subscribe now to get breaking news alerts in your email inbox
Get breaking news delivered to your inbox as it happens.
---