Sports > Seattle Mariners
Earlier than expected, Julio Rodriguez back in spring-training camp with Mariners
March 19, 2023 Updated Sun., March 19, 2023 at 7:50 p.m.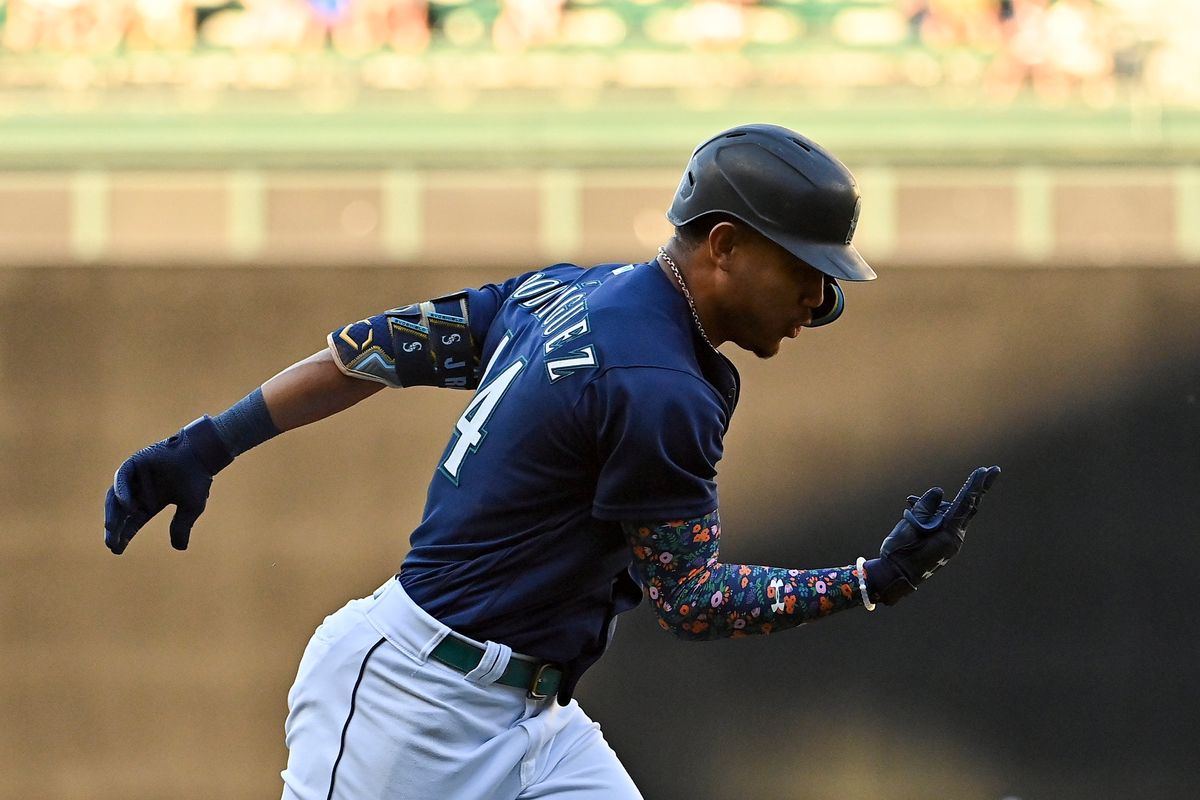 Julio Rodriguez of the Seattle Mariners celebrates his solo home run in the first inning against the Texas Rangers at T-Mobile Park on Tuesday, July 26, 2022, in Seattle. (Tribune News Service)
GOODYEAR, Ariz. – The return to the reality that is the Mariners' spring-training complex and preparing for the upcoming season was welcomed, albeit a little premature for Julio Rodriguez.
He didn't expect to be back until late next week after his loaded squad from the Dominican Republic brought home or at least played for the championship in the World Baseball Classic.
Instead, the DR never made it out of pool play in Miami, losing games to Venezuela and Puerto Rico, which eliminated them from advancing Wednesday at loanDepot Park in Miami.
"We didn't get the results that we wanted," he said.
On Friday afternoon, he was back with his teammates much to the delight of fans who were on the practice fields to watch workouts.
The screams of "Julio! Julio!" from so many young fans, and a few adults, permeated throughout the complex.
Rodriguez participated in a full workout Friday, spending a long time in the batting cages with Teoscar Hernandez and hitting coach Jarret DeHart, putting in his normal hitting routine.
He was back in the starting lineup at the top of the batting order Saturday night against the Cleveland Guardians at Goodyear Ballpark. Facing tough right-hander Zach Plesac, Rodriguez popped out in his first plate appearance but delivered a crisp line-drive single to right in his second trip to the plate.
Even though the Dominican Republic's finish was considered a disappointment, Rodriguez still found the entire experience enjoyable.
"It was amazing," he said. "It was just amazing to see all those flags over there. I will never forget that experience and my family, I'm pretty sure that they'll never forget it."
Given the popularity of baseball and the stars that participated for the Dominican Republic, Puerto Rico and Venezuela, it was a celebration of baseball and a different vibe from the Major League Baseball playoffs.
"It's just a different fan base," he said. "It's like the people that I grew up with in the Dominican Republic and it's all they know. It's just different."
A year ago, he was a precocious prospect playing his way on the Mariners opening-day roster. Now he's a budding superstar. Rodriguez was one of the biggest and most recognizable names and faces in that baseball celebration, which is an accomplishment given the number of All-Stars on his team and the other teams in that pool play.
"That was pretty cool that like a lot of the people from my country they acknowledged me like one of the main baseball players over there," he said.
Rodriguez had five hits in four games, including a double with three RBIs. He worked one walk and struck out nine times. In the field, he made a miscue on a sinking liner from Francisco Lindor that resulted in an inside-the-park homer, but he came back to make a beautiful diving grab in center on a line drive into the gap off the bat of Javy Baez.
"I was definitely hyped after the catch," he said. "I felt like I made a mistake before that. Being able to get myself back together and being there for the team is what I wanted."
Rodriguez admitted he couldn't keep to his typical daily routine while in Miami. He tried but there wasn't the same structure of a Mariners workout and the normal spring-training routine.
"It's a tournament, so it's a little harder to kind of do that," he said. "That was kind of part of it."
Jumping into a highly competitive mode this early was something new for him.
"It felt like our body was in spring training but our minds were just racing," he said. "But it was still fun."
Rodriguez doesn't feel like he has to adjust anything or do any extra work in the final 10 days before the team departs Arizona.
"I feel good," he said. "I feel like I'm back on track and like kind of in the flow of things here. My body feels good and my legs feel good. I think I'm ready to go."
But …
"I definitely want to get some more at-bats to get ready for the season," he said.
As for playing in the World Baseball Classic again, Rodriguez smiled and replied: "Most likely."
Local journalism is essential.
Give directly to The Spokesman-Review's Northwest Passages community forums series -- which helps to offset the costs of several reporter and editor positions at the newspaper -- by using the easy options below. Gifts processed in this system are not tax deductible, but are predominately used to help meet the local financial requirements needed to receive national matching-grant funds.
Subscribe to the sports newsletter
Get the day's top sports headlines and breaking news delivered to your inbox by subscribing here.
---