News > Nation/World
Death toll in chocolate factory explosion rises to 5
March 26, 2023 Updated Sun., March 26, 2023 at 8:40 p.m.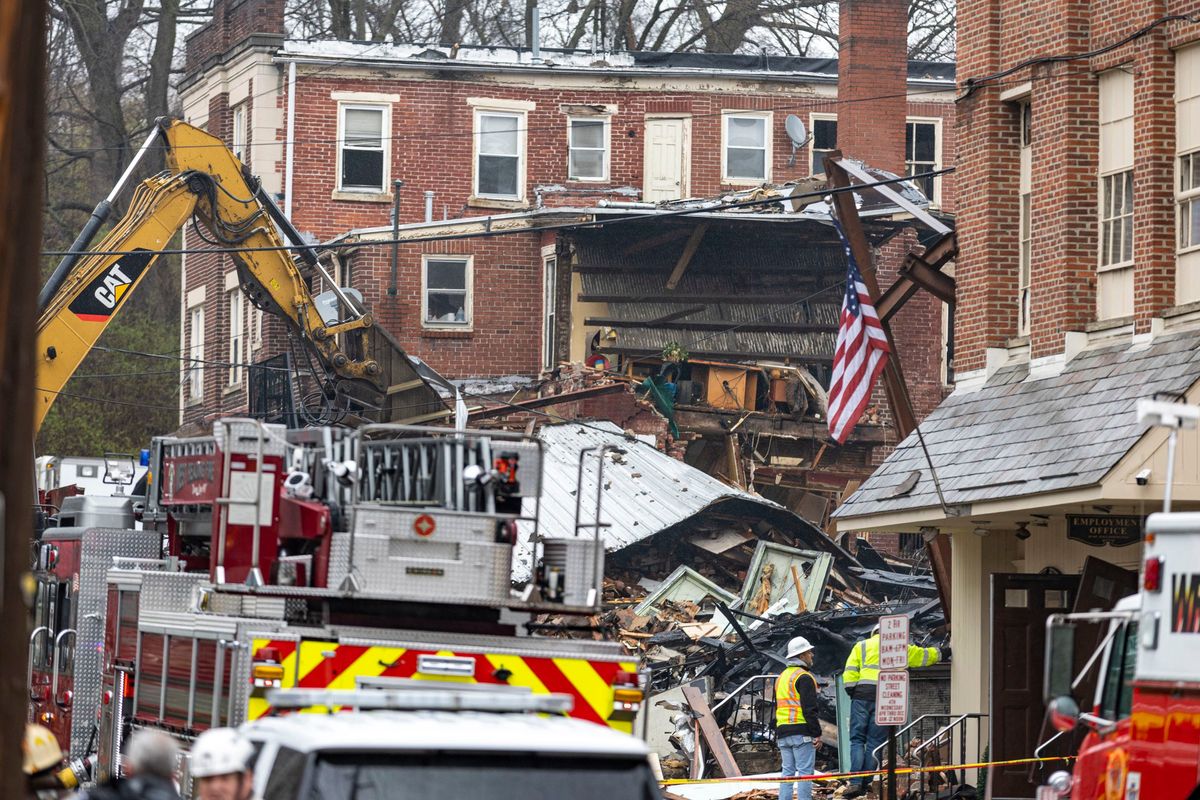 An explosion at the West Reading R.M. Palmer Co. killed at least 5 in Pennsylvania on Friday. Rescue workers, firefighters and police were searching Saturday for people who are still missing. (Tyger Williams/The Philadelphia Inquirer/TNS)
WEST READING, Pa. — Almost 48 hours after an explosion at the R.M. Palmer chocolate factory in Berks County killed five people, all Frankie Gonzalez and his family could do on Sunday was pray.
Pray that his sister Diana Cedeno was found in the wreckage. Pray that the families of those confirmed dead could find some solace. Pray for those who survived.
Congregants at Sacred Heart Roman Catholic Parish at the edge of West Reading echoed Gonzalez's prayers.
"West Reading is a small town and everyone is wondering what they could do to help," said Natalie Parisi, 55, after service.
According to West Reading Council President Ryan Lineaweaver, two people remained unaccounted for going into Sunday evening.
As rescue efforts continued, officials announced the creation of the West Reading Disaster Relief Fund Sunday. The Berks County Community Foundation and the United Way of Berks County will help distribute the funds to organizations assisting families who lost loved ones in the explosion or those who lost work as a result of the blast. Any remaining funds will go to honoring those who died, said Tammy White with United Way of Berks County.
"People want to help, they want to provide contributions," said White, adding contributions could be made online or by mailing them to the Berks County Community Foundation.
For now, rescue workers from local fire departments, EMS agencies, police departments and the state's search and rescue task force continue to tirelessly unearth debris at the explosion site. West Reading Mayor Samantha Kaag said rescue workers had to be pulled from their 12- and 16-hour shifts, with many desperate to keep going, aware they were racing the clock.
Citing the "violence of the explosion," West Reading Fire Chief Chad Moyer said Saturday the chances of finding survivors would diminish as time progressed.
Rescue teams tweaked their search methods as time passed, moving from heat-imaging devices and drones to heavy machinery to methodically remove debris Sunday.
As the hours passed, families grew increasingly desolate. Gonzalez spent Saturday afternoon atop a hillside where he could see rescue teams at work. He fiddled with a pair of binoculars he'd bought in hopes of catching a glimpse of his sister. She worked in packaging at the factory and hadn't been heard from since Friday. He returned to the hillside Sunday where he saw a body bag removed from the scene but was unclear if it was his sister.
Another man sought Mayor Samantha Kaag at West Reading Borough Hall Saturday night, begging for an update. She consoled him, offered her cell phone, but had nothing new to report at the time.
"We've had people reaching out, unfortunately at this point, we just haven't had information to give," Kaag said Sunday.
With West Reading about 0.6 of a square mile and a population of about 4,500 people, the town can't help but be tight-knit, said residents.
The town is small enough that most people either know someone who lived near the blast or someone who worked at the company, which was founded in 1948.
According to Palmer's website, the company employs 850 people in its facilities. Palmer's chocolate eggs, miniature peanut butter cups, and Yoo-hoo mini bars are on off at major stores like CVS and Walmart. Palmer operated two buildings at the explosion site, one was completely destroyed in the blast. A building next to the Palmer factory had apartments. Local authorities said that the apartments sustained some damage but were otherwise structurally sound.
As of Sunday morning, local authorities still could not say how many employees were working at Palmer at the time of the explosion. But West Reading Police Chief Wayne Holben said they were certain no passersby were unaccounted for.
The status of survivors was also not entirely clear Sunday. Eight patients were taken to Reading Hospital after the blast, according to a spokesperson. Of those, one was transferred to Lehigh Valley Hospital, two have been admitted in fair condition, and the others have been discharged. A search dog helped locate a survivor in the rubble overnight Friday. Their condition was not immediately known.
Conflicting information released by the Pennsylvania Emergency Management Agency (PEMA) only added to the chaos. PEMA initially reported five people had died in the explosion, which had to be revised. Initially, PEMA listed gas as a possible cause for the explosion, which Mayor Kaag said was too early to do.
Palmer had initially said that it was trying to reach employees and members of their families but that all forms of communication were out of commission.
"Our focus remains supporting our employees and their families and our thoughts and prayers are with all those impacted," said a Palmer statement Sunday, which was read by Kaag.
Local journalism is essential.
Give directly to The Spokesman-Review's Northwest Passages community forums series -- which helps to offset the costs of several reporter and editor positions at the newspaper -- by using the easy options below. Gifts processed in this system are not tax deductible, but are predominately used to help meet the local financial requirements needed to receive national matching-grant funds.
Subscribe now to get breaking news alerts in your email inbox
Get breaking news delivered to your inbox as it happens.
---