News > Nation/World
Taiwan's president heads to U.S., bracing for China's retaliation
March 29, 2023 Updated Wed., March 29, 2023 at 11:23 a.m.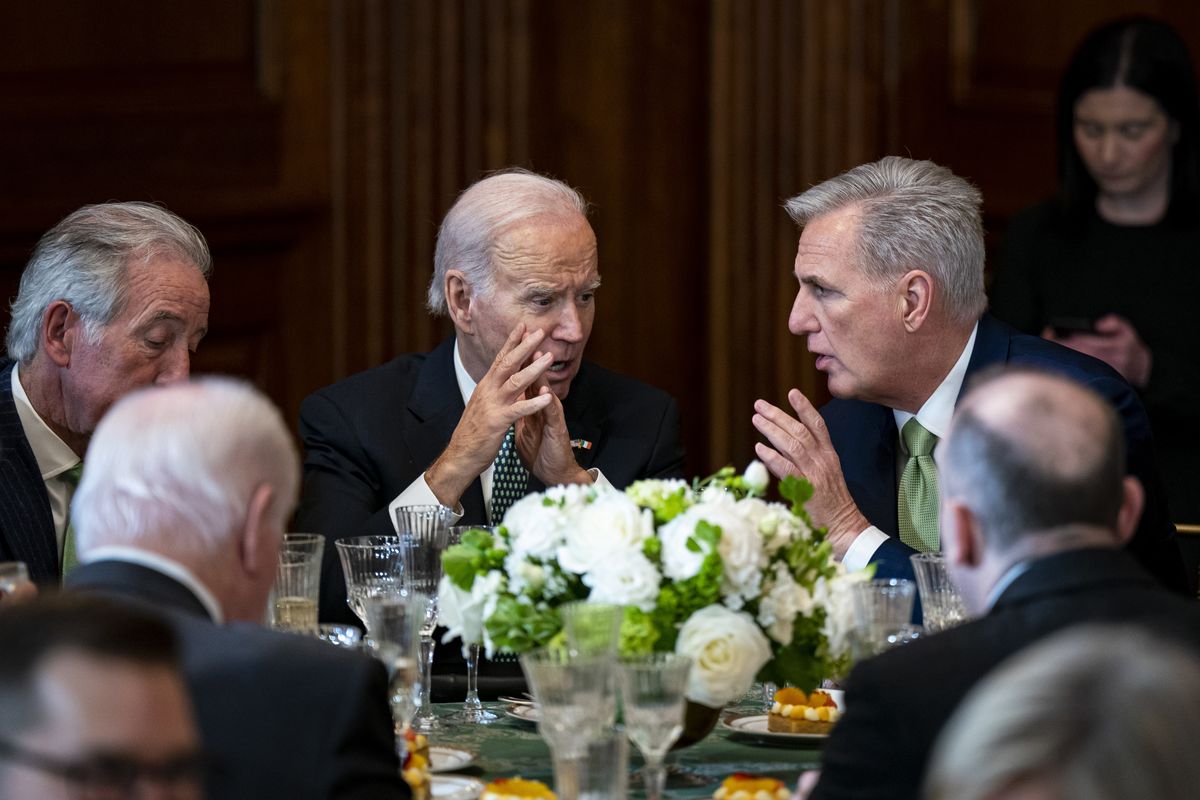 President Joe Biden speaks with House Speaker Kevin McCarthy (R-Calif.) at the Capitol, in Washington on March 17, 2023. McCarthy is expected to meet with Taiwan's President Tsai Ing-wen in Los Angeles next week.   (Al Drago/The New York Times)
TAIPEI, Taiwan — As President Tsai Ing-wen of Taiwan heads to the United States, she is laying out a diplomatic agenda calibrated to strengthen ties with the West and assert her island's autonomy, while trying to avoid moves that might ignite a crisis with China.
Tsai is stopping in the United States before continuing on to Central America, a trip aimed at raising Taiwan's profile internationally amid intensifying pressure from Beijing, which claims the self-governing island as its territory and has sought to isolate it globally. Tsai wants to promote Taiwan's position as a thriving democracy in Asia and shore up its security and economic ties with the United States, the island's most important partner.
"External pressure will not hinder our determination to advance toward the world," Tsai said before taking off on a flight to New York on Wednesday. "We are calm and self-confident, and will not yield or provoke."
She is expected to meet Kevin McCarthy, the speaker of the House of Representatives, next week in Los Angeles, in what would be the highest-level in-person meeting for a leader of Taiwan in the United States since Beijing established relations with Washington in 1979.
Tsai's 10-day tour — which includes formal visits to Guatemala and Belize, two of the 13 remaining states that maintain diplomatic relations with Taiwan — is also about projecting strength at home. Tsai, who will step down next year, wants to bolster confidence in her Democratic Progressive Party, or DPP, before presidential elections in January.
"She wants to show that the DPP has delivered a very strong Taiwan-U.S. relationship, and therefore contributed to Taiwan's security," said Bonnie S. Glaser, the director of the Asia Program at the German Marshall Fund of the United States. "She also wants to show that even though Taiwan may be losing some of its diplomatic allies, the partners that it has are very strongly in support of Taiwan and its security."
Her travels, especially the planned meeting with McCarthy, could draw a vehement response from China. China's leader, Xi Jinping, sees U.S. support for Taiwan as meddling in a domestic issue. Beijing has protested moves by the United States to strengthen support of Taiwan, including President Joe Biden's signing of a military spending bill that authorized up to $10 billion in aid for Taiwan over the next five years.
Beijing could try to punish Taiwan over Tsai's trip by holding large-scale military exercises around the island, reprising its response from last summer, after the previous House speaker, Nancy Pelosi, visited Taipei. China fired missiles into the waters off Taiwan's coast, four of which went high over the island, and conducted exercises close to its shores.
Last weekend, Beijing lured Honduras to abandon diplomatic ties with Taipei in what many saw as preemptive punishment for her trip.
Trips by leaders of Taiwan to the United States have been fraught affairs since Washington broke off diplomatic ties with the island and shifted recognition to the People's Republic of China. U.S. and Taiwan officials have described Tsai's stops — the first is set in New York on Thursday — as transits rather than official visits, a practice reflecting the unofficial relationship.
How China may seek to punish Taiwan for Tsai's tour depends in part on the details, such as whom she meets and whether her events are public. So far, she appears to be taking a low-key approach. In New York, Tsai is expected to speak at a closed-door event for the Hudson Institute, a think tank that is highly critical of the Chinese Communist Party. Mike Pompeo, a former secretary of state in the Trump administration, is a distinguished fellow at the institute.
China is particularly sensitive about her potential meeting with McCarthy, who is second in line to succeed the president, after the vice president. On Wednesday, a spokesperson of China's Taiwan Affairs Office made clear that Beijing sees Tsai's U.S. stops as more than mere transits and said her meeting with McCarthy would be a provocation requiring a response.
"We firmly oppose this and will definitely take measures to resolutely fight back," said Zhu Fenglian, the Chinese spokesperson.
(STORY CAN END HERE. OPTIONAL MATERIAL FOLLOWS.)
With relations between Beijing and Washington already strained by increasing rivalry for geopolitical and technological dominance, China may feel that it has little to lose by lashing out, as it did when Pelosi visited. In the months after Pelosi's visit in August, Beijing kept up a heavy military presence in the Taiwan Strait.
Taiwan has indicated that it has taken into account the risk of a military response from China. Days before she left, Tsai visited troops in the city of Chiayi. A deputy defense minister, Po Horng-huei, said Taiwan had contingency plans for potential moves by Beijing's military during Tsai's travels.
Beijing has reasons to avoid a pugnacious response. China has been trying to focus on reviving its economy and rebuilding relations with its international partners, and it may not want to escalate tensions at a time when it is already under pressure for its alignment with Russia despite Moscow's war on Ukraine.
"Beijing seems to be trying to reach out to various governments in Europe, Southeast Asia and Australia while also seeking to boost its economy," said Ian Chong, a political scientist at the National University of Singapore. "Overreacting would not help bolster these relationships and foster cooperation."
In recent weeks, the People's Liberation Army has dialed down its activity in the Taiwan Strait, even when large overseas delegations from the Czech Republic, Britain and Germany visited the island, visits that would normally have set off a response, according to Ben Lewis, an independent defense analyst based in Washington, who tracks Chinese military activity around Taiwan.
An excessive retaliation over Tsai's trip could also backfire by angering Taiwanese voters and push them to support Tsai's party in the presidential election.
Beijing has sought to contrast its criticism of Tsai with the warm welcome it has extended to her party's rival, the Kuomintang, or Nationalist Party, which wants to prove to voters that it can ease tensions with China. Ma Ying-jeou, the former president of Taiwan, is on a 12-day unofficial visit to China, a trip that Chinese state media have described in flattering terms.
Tsai's meeting with McCarthy could be a rare instance in which each side in the triangular relationship among China, Taiwan and the United States finds some vindication, said Kharis Templeman, a political scientist at the Hoover Institution's Project on Taiwan in the Indo-Pacific.
McCarthy had previously suggested he would visit Taiwan, an idea that raised concerns about giving China an excuse to increase its military activities. By holding the meeting on U.S. territory, Tsai may have given Beijing room for a more moderate response, allowing Washington to avoid worsening tensions with China.
Beijing could also see Tsai's move to avoid a Taiwan visit by the speaker as a sign that China's high-pressure campaign during Pelosi's trip worked. But, Templeman said, "Taiwan will also see this as a win — they are getting a public meeting in the U.S. with the top-ranked member of Congress."
This article originally appeared in The New York Times.
Local journalism is essential.
Give directly to The Spokesman-Review's Northwest Passages community forums series -- which helps to offset the costs of several reporter and editor positions at the newspaper -- by using the easy options below. Gifts processed in this system are not tax deductible, but are predominately used to help meet the local financial requirements needed to receive national matching-grant funds.
Subscribe now to get breaking news alerts in your email inbox
Get breaking news delivered to your inbox as it happens.
---