Sports > High school sports
Brady Hill takes scenic route from Mt. Spokane to Colorado Rockies spring training
Thu., March 30, 2023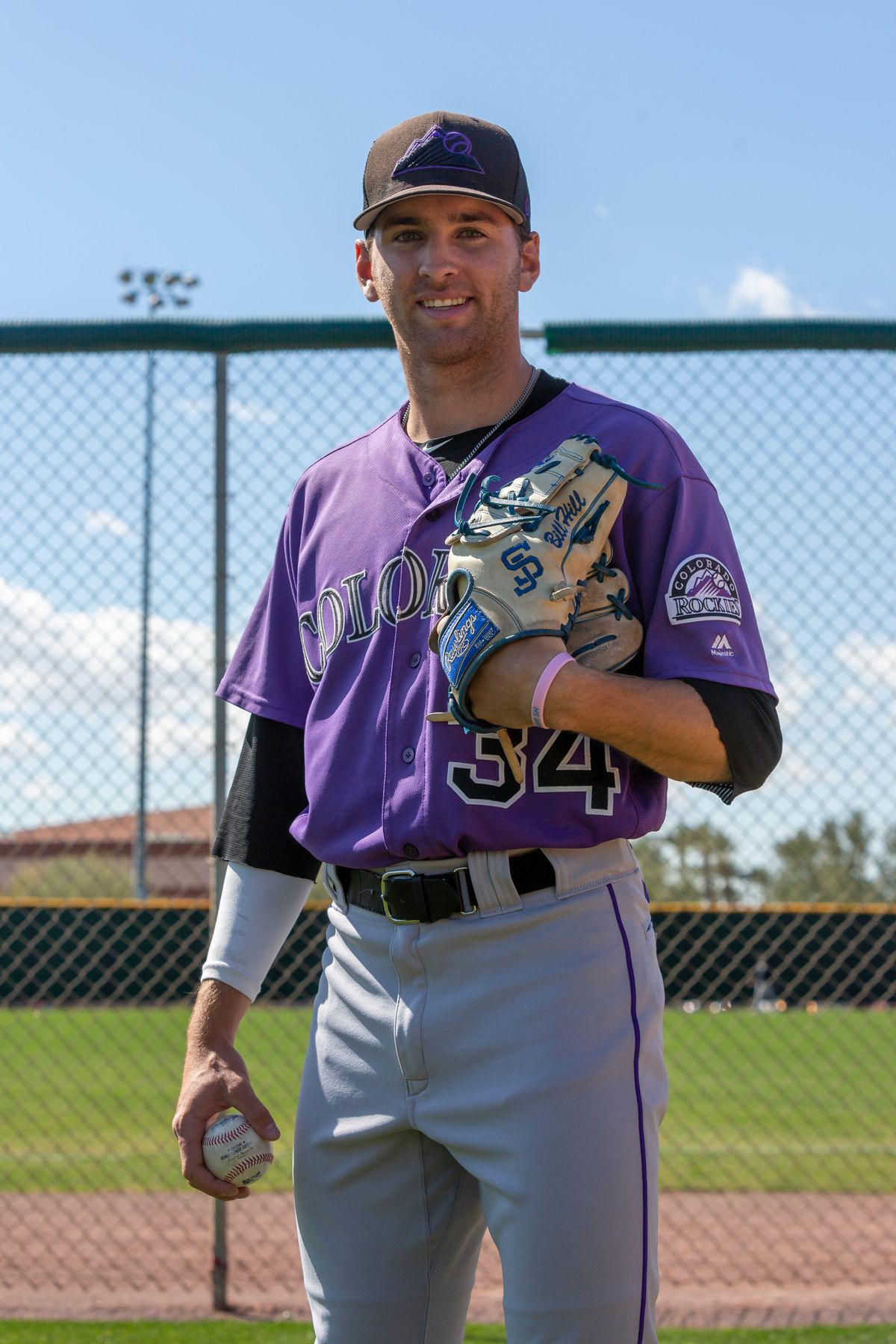 Brady Hill, a pitcher in Colorado's organization from Mt. Spokane High, poses March 24 in Scottsdale, Arizona. (Cheryl Nichols/For The Spokesman-Review)Buy a print of this photo
Scottsdale, Arizona, is a long way from Mt. Spokane High School – literally and figuratively – for Brady Hill.
Let's start with the weather.
"It's so much better than the cold weather (in Spokane)," Hill said. "The weather's been kind of crummy recently, but it's trying to get hot again and it feels great out here."
Hill, 22, is in Scottsdale at the Colorado Rockies' spring training facility at Salt River Fields getting ready for the upcoming minor league baseball season.
His path from Mt. Spokane to the Rockies' organization has taken a series of twists and turns, but he likes where the journey has taken him – a journey that may soon bring him back to Spokane.
Hill was selected by the Rockies in the 15th round of last summer's MLB draft out of San Jose State and he made one appearance for Colorado's Rookie League team last summer.
The organization hasn't announced minor league assignments, but Hill is probably ticketed for the Rockies' Low-A affiliate in Fresno, California, to start the season. As a college draftee, if things go well for the right-hander, he could move up a rung on the ladder to the Spokane Indians sooner rather than later.
"I'll hopefully get to Spokane here at some point and play for the hometown Indians," he said. "I'm just excited to have this opportunity."
What would that feel like for him to pull on the Indians uniform?
"You know, it would be amazing," Hill said. "Obviously, I've been going to games (at Avista Stadium) my whole life. It'd be fantastic – full circle. I just hope to have that opportunity someday."
Hill was a three-year varsity player for coach Alex Schuerman at Mt. Spokane. As a junior, he hit .453 and led the Wildcats in steals, doubles and runs scored. He was named captain as a senior and earned MVP honors in the Greater Spokane League after hitting .400 and leading the league with 24 stolen bases.
Hill was also a four-year letter winner in football and two-year team captain.
"We had a great run in high school," Hill said. "We were some crazy number, like 54-3 or something over our three years in the regular season."
Success at state was tougher to accomplish.
"Having the Tri-Cities (high schools) on our side (of the state) is a very, very tough thing to have," Hill said. "But we did some great things and kind of looking at all the guys that are still playing college baseball from my high school team and the guys coming up, it's pretty incredible what we've kind of done around Spokane."
Hill was selected by the Rockies in the 39th round of the 2019 draft but opted to play down the road in Pullman for Washington State.
He played outfield and hit .302 his freshman season in 2020 but was limited to 15 games due to the pandemic. He hit .229 in 19 games as a sophomore and realized he wanted to pitch – something the Cougars didn't want.
"Knowing I wanted to pitch, and getting drafted out of high school by the Rockies as a pitcher, I knew I needed to pitch," Hill said.
Hill transferred to San Jose State, under the direction of pitching coach Seth Moir, and the Spartans made Hill their closer.
In 2022, Hill led the Mountain West in saves with 10, and he struck out 28 over 26 innings.
"(Moir) coached me up a ton and I'm thankful to have him in my life," Hill said. "He actually helped me kind of love pitching. I've always loved hitting, always loved playing the outfield, but he helped me in that way and kind of transitioned me to the pitcher side."
Hill didn't have the proverbial "light bulb moment" on becoming a pitcher full time – it was more or less already in his heart.
"I kind of knew my future was pitching – kind of my whole life," he said. "I kind of knew that was my ticket at some point."
He said the fact most scouts who talked to him leading into the draft looked at him as a pitcher helped reinforce the idea.
"At that point, I just kind of embraced it," Hill said.
Hill is still "fastball dominant," according to his self-scouting assessment, and he's working on developing his slider and introducing a change-up.
"When you initially talk about those conversion guys, it can be a little worrisome," Rockies player development director Chris Forbes said.
"But (Hill) has a feel to pitch and he's got an unbelievably fresh arm on top all that because he was only used in those scenarios of closing."
Forbes called Hill, listed at 6-foot, 180 pounds, "maybe our best athlete."
"I mean, he can dunk. He can do all these things that he doesn't ever talk about because he's such a good kid," Forbes said. "He's quiet, but he can do a lot of things. It's pretty exciting to see him develop and watch him just truly become a pitcher.
"The adjustments he makes on the mound are quicker because of the athleticism and his intelligence."
Hill got a small taste of professional baseball last year, but he's enjoying every aspect of training camp this spring.
"Coming from a small town in Spokane, it's been really exciting to meet people from all over the country," he said. "I've been super fortunate, super blessed to have the opportunity that I've had and all the all the coaches that have helped me along the way."
Pulling on the purple Rockies spring training uniform was a "surreal experience" for Hill.
"Growing up my whole life, I've always wanted to be a professional baseball player," he said.
Local journalism is essential.
Give directly to The Spokesman-Review's Northwest Passages community forums series -- which helps to offset the costs of several reporter and editor positions at the newspaper -- by using the easy options below. Gifts processed in this system are not tax deductible, but are predominately used to help meet the local financial requirements needed to receive national matching-grant funds.
Subscribe to the sports newsletter
Get the day's top sports headlines and breaking news delivered to your inbox by subscribing here.
---