News > Spokane
Getting There: Speed limit to drop near some Spokane parks for summer, year-round on stretch of Belt Street
Mon., May 15, 2023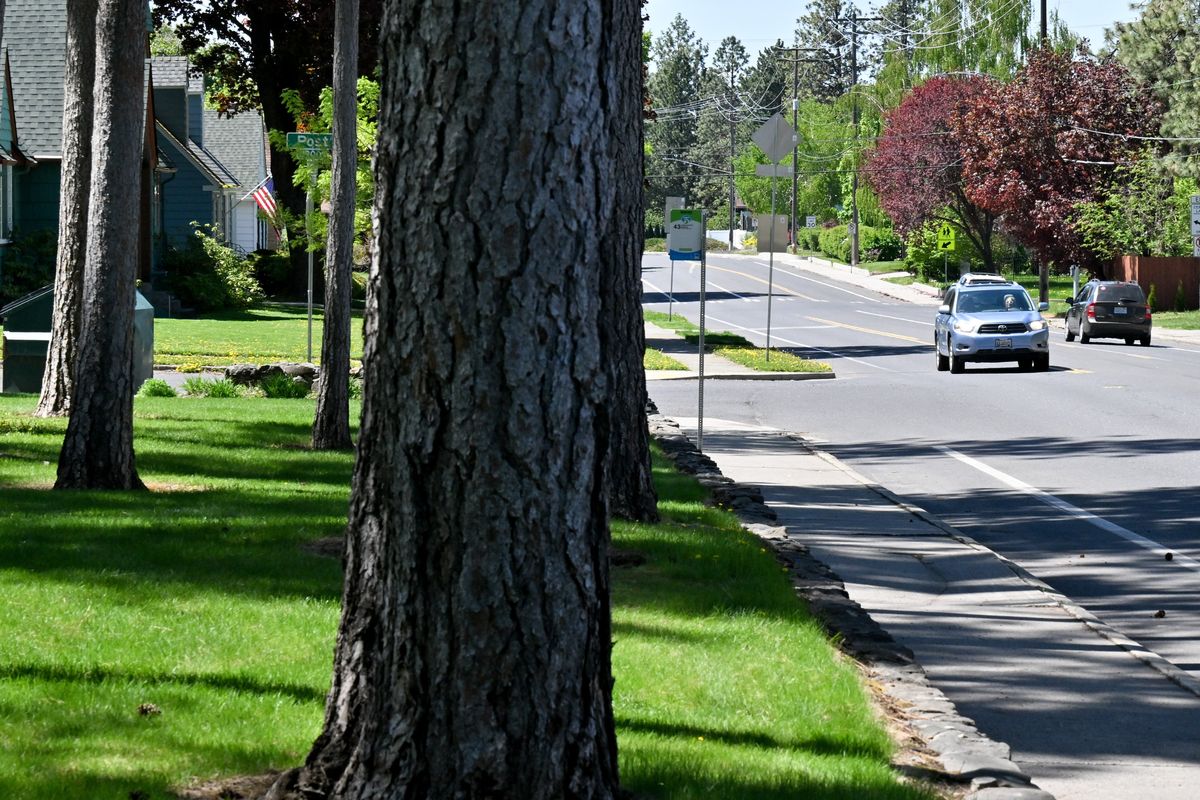 Motorists pass Comstock Park on Friday in Spokane. (Tyler Tjomsland/The Spokesman-Review)Buy a print of this photo
Speed limits will be lowered to 20 mph for the summer on a number of major streets bordering some Spokane parks, and year-round on one city street, with the hope of improving pedestrian safety.
The Spokane City Council voted unanimously last week to lower the speed limit year-round from 30 mph to 20 mph on Belt Street from Wellesley Avenue in the north to Rockwell Avenue to the south. That stretch of road passes by a library, pool and school facilities, and drivers have caused a number of injuries to pedestrians in that area, including a fatal collision in 2020.
The City Council simultaneously approved speed limit reductions while school is out on arterials around A.M. Cannon, Chief Garry, Comstock, Hays, Lincoln and Mission parks. Other seasonal speed limit reductions are likely on the way, said Councilwoman Lori Kinnear.
Seasonal speed limit reductions happen most years, though year-round reductions around these and several other parks were implemented for two years in response to the start of the COVID-19 pandemic.
Some council members, including Kinnear, have long advocated for making the reductions permanent, though doing so would require a costly traffic analysis.
"It doesn't matter if you're waving a flag, people will not stop," she said. "It doesn't matter if you have two baby carriages and a couple cute dogs, they will not stop. And a pedestrian is no match for a car."
However, long-term changes are likely coming, she noted. The City Council last year began eyeing the installation of a dozen or more speeding cameras around parks and hospitals, adding to the eight already in operation around some local schools.
A traffic study will accompany preliminary analysis of where to install those cameras, potentially allowing the city to permanently lower the speed limits where they are placed, Kinnear said.
The somewhat controversial speeding cameras may be necessary for enforcement of lower speeds, she added. A study during the two-year pilot program found that signage was not enough to slow down speeding drivers.
"At least at some of the parks, people just ignored the speed limit," Council President Breean Beggs said at a Nov. 28 meeting of the city's Public Infrastructure, Environment and Sustainability committee.
Kinnear noted in an interview that the city doesn't currently have dedicated traffic officers.
"Chief (Craig) Meidl will tell you that every officer is a traffic officer, but when they're busy going from incident to incident, they're not going to stop for someone going 30 in a 20 zone," Kinnear said. "Having cameras is the next step in getting people to slow down."
At the end of last year, Beggs estimated that the new cameras could be installed as early as this September. However, he wrote in a text Friday that the exact timeline isn't certain.
Kinnear noted that the city has been showing an increased interest in pedestrian and cyclist safety, and credited the directors of the city's planning, streets and public works departments for listening to community concerns.
"People are coming out of COVID with bad driving habits, and people are getting hurt," she said. "And something has to be done."
Work to watch for
Pedestrian improvements at Bemiss Elementary School have reduced Nevada Street to one lane in either direction at Joseph Avenue, closed the center turn line on Crestline Street onto Courtland Avenue and closed Liberty Avenue between Crestline and Stone streets.
When completed, the $800,000 project will have marked crosswalks and pedestrian crossing safety devices near the school. A new sidewalk is also being built along Liberty Avenue.
Crews will be performing residential grind and overlay work this week on Bismark Avenue from G to A streets in Northwest Spokane.
Crack sealing is taking place on Cedar Street from 14th to 21st avenues in the Cliff/Cannon neighborhood.
Asphalt work in the county will put flaggers at Thorpe Road, from Grove Road to the city limits; Cheney-Spokane Road from Gardner to Sherman roads; and Washington Road from Gardner to Short roads beginning Monday.
Crack sealing will cause lane restrictions on Old State Route 195 from Prairie View to Powers roads; Prairie View Road from Morrison Road to the Waverly city limits; and Rock Lane Road from the Whitman County line to Cheney-Plaza Road.
Installation of a culvert will cause lane closures on Koth Road at Hauser Lake Road on Monday and Tuesday.
Local journalism is essential.
Give directly to The Spokesman-Review's Northwest Passages community forums series -- which helps to offset the costs of several reporter and editor positions at the newspaper -- by using the easy options below. Gifts processed in this system are not tax deductible, but are predominately used to help meet the local financial requirements needed to receive national matching-grant funds.
Subscribe now to get breaking news alerts in your email inbox
Get breaking news delivered to your inbox as it happens.
---