News > Nation/World
In Montana, a TikTok ban could be a 'kick in the face'
May 18, 2023 Updated Fri., May 19, 2023 at 5:25 p.m.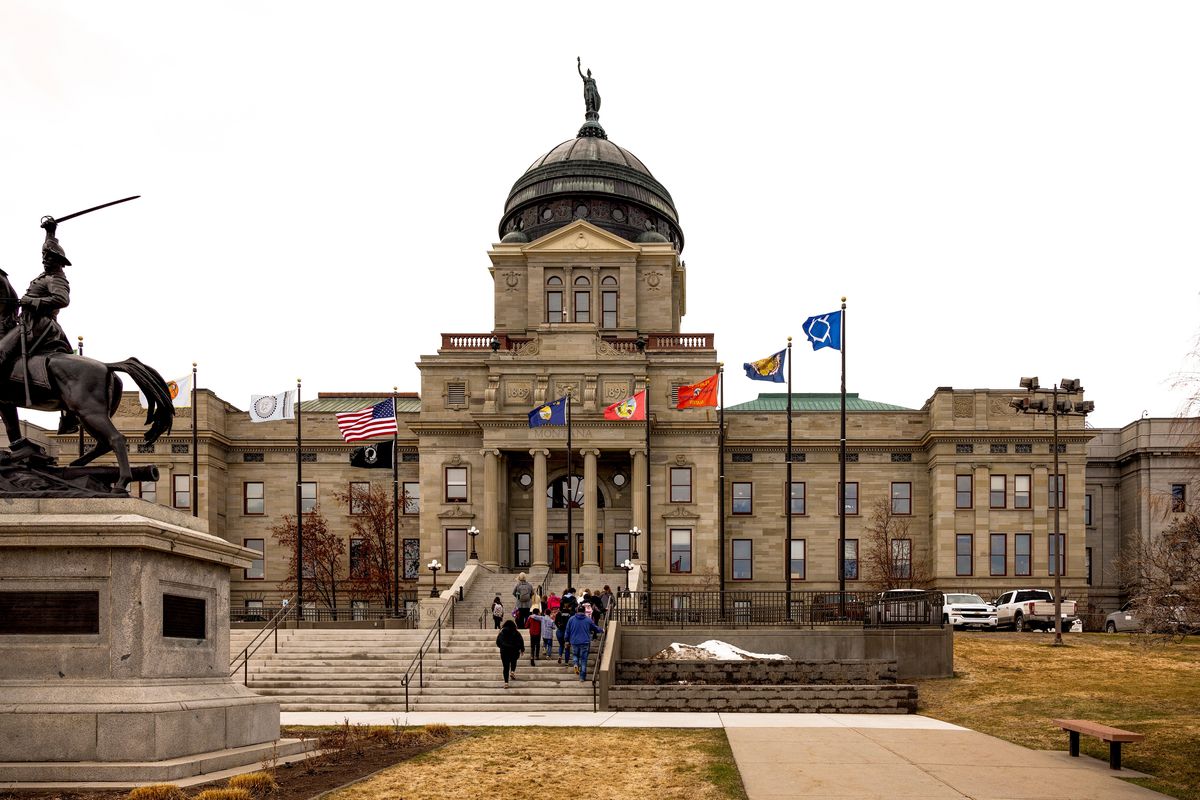 FILE – The Montana State Capitol in Helena, Mont., on April 24, 2023. A court battle over First Amendment rights appeared to be brewing in Montana on Thursday, May 18, 2023, in response to the state banning TikTok from operating there as of Jan. 1, the first prohibition of its kind in the nation. (Rebecca Stumpf/The New York Times) (REBECCA STUMPF)
HELENA, Montana – Christian Poole, 20, has deemed himself "the unofficial ambassador for the state of Montana."
On TikTok, his favorite social media platform, he posts lighthearted videos about the peculiarities of his home state. His nearly 420,000 followers reward him with hearts and laughing-face emojis.
But when Montana Gov. Greg Gianforte signed a bill on Wednesday making his state the first in the nation to ban the site, Poole, along with hundreds of thousands of users, was left trying to make sense of the unlikely collision between TikTok's mostly young users and international geopolitics.
Recent videos posted by Poole, of Bozeman, cover topics like cows, which outnumber people in Montana, and spring showers, which often bring frozen pellets called graupel, not rain. He says he posts for fun, not money, and his objective on the app is simple: "I want to make people laugh."
Poole expected the ban to face numerous legal challenges, he said, so he was "not losing sleep" over it.
He was also skeptical that it would be enforced, and he questioned the justification for it from the governor, a Republican, who in a statement called the bill "the most decisive action of any state to protect Montanans' private data and sensitive personal information from being harvested by the Chinese Communist Party."
"Nothing happens here. Nothing," Poole said on Thursday. He added, "There's no key players in global politics or even global interactions between the United States and China that live here in Montana."
The law, if upheld, won't go into effect until the beginning of next year.
"It would be removing all this hard work that I've done over the last four years," Poole said. "It would be a real kick in the face for me."
Many young TikTok fans were more puzzled than outraged.
"I don't understand how they are going to enforce it," said Abi Edgar, 19, who works at the Big Dipper ice cream shop in downtown Helena. She says she watches TikTok – scrolling through K-pop videos, maybe, or news reports – for hours at a time. "I'm confused why they are banning it," she said.
Ellen McLean, another 19-year old working at the same shop, was equally put off by the decision.
"It keeps you busy when you are bored," she said of TikTok. "It's more lighthearted than other apps, and people don't care what they post."
She added that it was good for tourism in Montana. "It's a really good place to promote Yellowstone and Glacier and Big Sky."
Not all of the site's fans are in their teens and 20s. Jeff Spurlin, 70, runs a crepe and coffee shop in Helena. His younger co-workers introduced him to TikTok, he said, and he now looks at it daily for cooking videos, fitness tips and fun facts.
He saw the ban, passed in a Legislature dominated by Republicans, as a reflection of the state's recent lurch to the right.
"In Montana's current political climate, it doesn't surprise me," he said. "It's beyond conservative, and extremely far right. It's scary conservative."
While some federal officials have worried that TikTok, which is owned by the Chinese company ByteDance, could share sensitive user data with the government in Beijing, Spurlin said he found it odd that Montana would lead national efforts to ban it.
He speculated that concerns about Beijing's espionage may have been exacerbated in February, when a Chinese spy balloon passed over the state, drawing national attention.
"The threat from China is real," Spurlin said, "but it also brings on some paranoia."
TikTok, once known as a place to share silly videos and trendy dance moves, has become an increasingly important public forum in recent years. It is used as a platform to discuss politics, as a search engine and as a source of news – and, sometimes, as a place to spread misinformation.
In Montana, users are fond of hashtags like #bigskycountry, #lastbestplace and #406, the state's area code. They share videos of city scenes – book shops in Missoula, bars and cafes in Billings – alongside expansive views of sparkling lakes, snowcapped mountains, river valleys and rolling hills.
Some have worried that the app is too addictive, because of an algorithm that curates each user's experiences based on how they interact with the videos they see.
"I do worry about social media use for my children," said Lisa Kelley, 42, a mother of two in Helena. "While there are benefits in terms of creativity and connection, kids are using it way too much, and I think it's important to have reasonable parental monitoring and privacy controls in place."
Critics of the ban say that prohibiting TikTok in a single state would be technologically complicated, and difficult to enforce.
"I think that if the state wants to stop people from using TikTok, they're going to have to show a little bit more teeth than they've done thus far," said Paul Kim, 22, of Missoula. He speculated that state lawmakers might use the ban – and the legal challenges that are sure to follow – as a preview, to see how similar legislative attempts might play out across the country.
Kim, an organizer and activist who also works for the American Civil Liberties Union but was not speaking on behalf of the organization, said that the TikTok algorithm had helped him connect with other people who shared his interests.
He uses TikTok to watch videos, he said, not to post them. But he has appeared on the platform anyway: Last month, a widely circulated video showed Kim being arrested in Helena after he had demonstrated in support of his House representative, Zooey Zephyr. Zephyr, a Democrat, was barred from the House floor after she made impassioned arguments against a measure to prohibit hormone treatments and surgical care for transgender minors. (The bill was later signed into law.)
Kim, who enjoys researching the history of the Chinese experience in Montana, said the TikTok ban was also in line with a recurring theme in state politics: Politicians in both parties have been playing up geopolitical concerns about Beijing.
By day's end, it was clear that ban or no ban, TikTok was inescapable.
"I was talking about escalators with an employee," Spurlin said on Thursday. "And he said, 'There's a Costco in California with an escalator.' And I said, 'How do you know that?' He said, 'I saw it on TikTok.' "
This article originally appeared in The New York Times.
Local journalism is essential.
Give directly to The Spokesman-Review's Northwest Passages community forums series -- which helps to offset the costs of several reporter and editor positions at the newspaper -- by using the easy options below. Gifts processed in this system are not tax deductible, but are predominately used to help meet the local financial requirements needed to receive national matching-grant funds.
Subscribe now to get breaking news alerts in your email inbox
Get breaking news delivered to your inbox as it happens.
---