A&E > Entertainment
Spokane rapper T.S The Solution striving to make a difference in the studio and in the community
Thu., May 18, 2023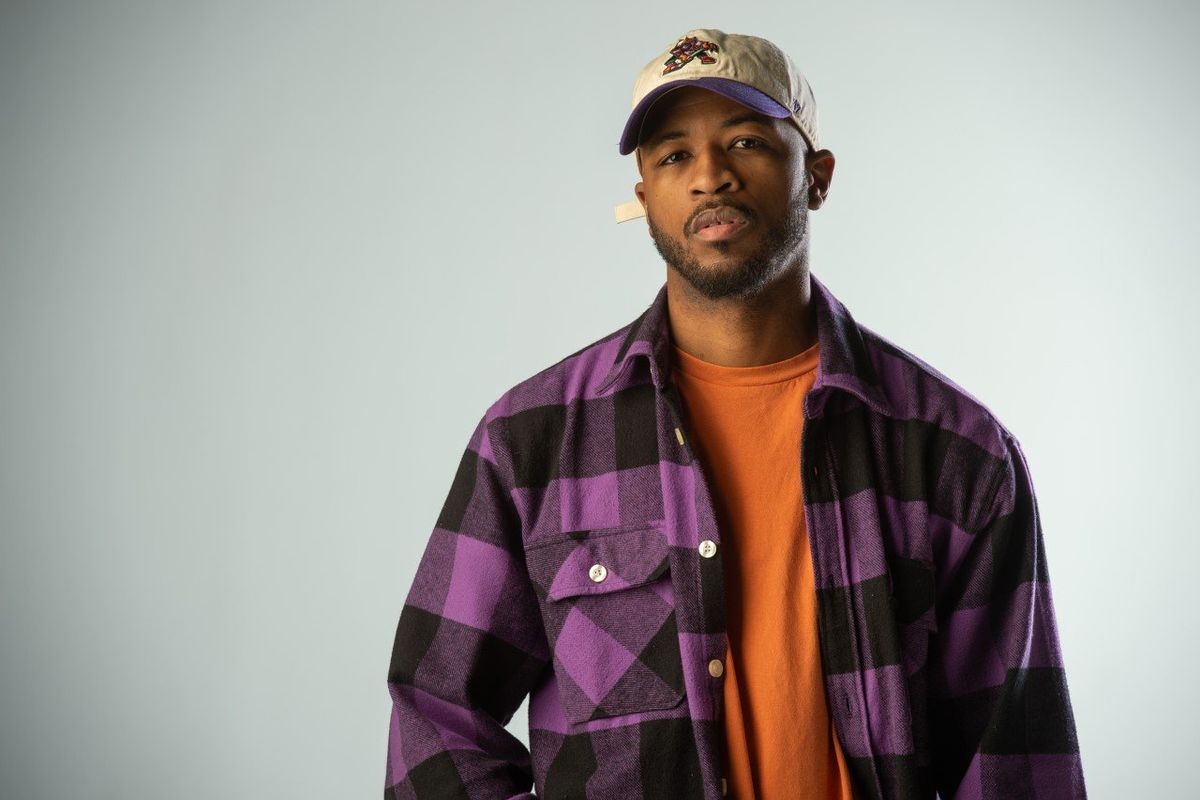 Spokane-based hip-hop artist T.S The Solution will perform music from his new album, "Purple in Spokane 2," on Friday at the Lucky You Lounge. (Courtesy photo)
"Got the city on my jacket/Got me sitting at the table." – T.S The Solution's "Safety"
Devonte Pearson, aka T.S The Solution, is good to his words. The West Central rapper really reps his city. Pearson sports his jacket with "Spokane" emblazoned on his back, thanks to local outerwear outlet City Chapters, (www.citychapters.com)
"That's our friend Bobby Hodges' clothing brand," Pearson said. "I like his clothes and I love my city."
Pearson, 31, is a clever hip-hop artist with some adventurous and atmospheric rhythms who has embraced his adopted town.
Born in Long Beach, California and raised in Western Washington, Pearson moved to Spokane six years ago to study audio engineering at Spokane Falls Community College.
"Falls has the only audio program on this side of the mountain," Pearson said. "It made sense for me to come here."
Spokane is hardly a hip-hop hub, but that's fine with Pearson, who not only works on his own music but is producing fledgling local artists at his studio, Panoramic Dreams.
"We mentor recording artists and help develop their music," Pearson said. "We're providing information that's not readily available."
But the primary focus for Pearson is his own material. Tracks from the forthcoming "Purple in Spokane 2," the follow-up to the 2015 release, "Purple in Spokane," will be showcased Friday at the Lucky You Lounge.
"I'm here to tell my story with these new songs," Pearson said.
Many of Pearson's messages are positive and about expending energy to realize a dream. "Gotta wake and work the magic/Made it habit then I made it happen" from "I Am," one of the upbeat couplets that emanate from the fresh material.
"You have to go out there and work," Pearson said. "You can't relax."
The married father of 10-year-old twins doesn't have much time to chill. "I don't want to sit back anyway," Pearson said. "When I'm not working on music, I try to make an impact in the community."
Pearson is on the board of Kendall Yards' nonprofit learning center, Spark Central. "I've talked there about audio production, software and how to make a mix tape," Pearson said. "I'm making an impact there. What I love about this city is that you can make a difference. It's not like Seattle."
Spokane is not the melting pot that is Seattle. "That's true and it was a culture shock for us initially," Pearson said. "I grew up with diversity. In Seattle there's Asians, Latinos and African Americans. I rarely see myself here"
Part of the adjustment for Pearson was how he has been perceived. "I had to gain people's trust," Pearson said. "I had to adapt. I showed people I'm not a stereotype. I'm not walking down the street with my pants halfway down and cussing people out. I don't just want to live in the community but I sincerely want to help the community."
The lead voice in local hip-hop is getting his props but he remains humble. Pearson notes that the reason he's T.S, without a period after the letter 'S' since he's not the solution. However, Pearson is trying to solve problems and that has not gone without notice.
One of Pearson's biggest fans is Spark Central Program Director Wilson Faust. "Devonte's service on Spark Central's Board of Directors has made an incredible impact on our creative community," Faust said. "In addition to bringing his talent as a performer to our Salons and fundraising events, Devonte has worked with our staff to show youth that they have the ability to be part of the music business. He worked with us to develop our Camp Mixtape summer programs where youth work together to create and publish an album of original songs and is connecting Spark with other musicians and creative professionals to expose youth to adjacent skills such as photography, videography, and fashion design. He has a passion for elevating the voices and talents of the kids we serve and plays a crucial role in leading our organization into new ways of breaking barriers to creativity, innovation and imagination."
Pearson has put down some roots in West Central and is optimistic about Spokane becoming a thriving artist scene. "I see a strong music and arts foundation here," Pearson said. "I believe it's only going to get better. The best part of Spokane is that it's growing but it's not oversaturated. Spokane still has room to grow and the same goes for the hip hop community."
Pearson, who grew up on the work of such hip-hop icons as Tupac, Eminem, and Ludacris, is scoring gigs at Gonzaga and Eastern Washington University. "It's no surprise since hip-hop is huge at colleges," Pearson said. "I don't know of any other local hip-hop artists getting gigs at universities. They know I take my craft seriously."
Cordae, who headlined Gonzaga's spring concert in February at the Knitting Factory, selected Pearson as the opener. Pearson was the support act for Earthgang at the Knitting Factory last autumn.
"It's been going well for me here," Pearson said.
So Pearson is going to stick around since he's inspired and happy in West Central. "I love living in a fairly quiet neighborhood," Pearson said. "Out West in Seattle it's go, go, go. I love it here since we don't really face traffic and I can stretch out and create. I have it all here and it's cool because it's home."
Local journalism is essential.
Give directly to The Spokesman-Review's Northwest Passages community forums series -- which helps to offset the costs of several reporter and editor positions at the newspaper -- by using the easy options below. Gifts processed in this system are not tax deductible, but are predominately used to help meet the local financial requirements needed to receive national matching-grant funds.
Subscribe to the Spokane7 email newsletter
Get the day's top entertainment headlines delivered to your inbox every morning.
---