After nearly 100 years, a library book was returned
May 24, 2023 Updated Wed., May 24, 2023 at 4:52 p.m.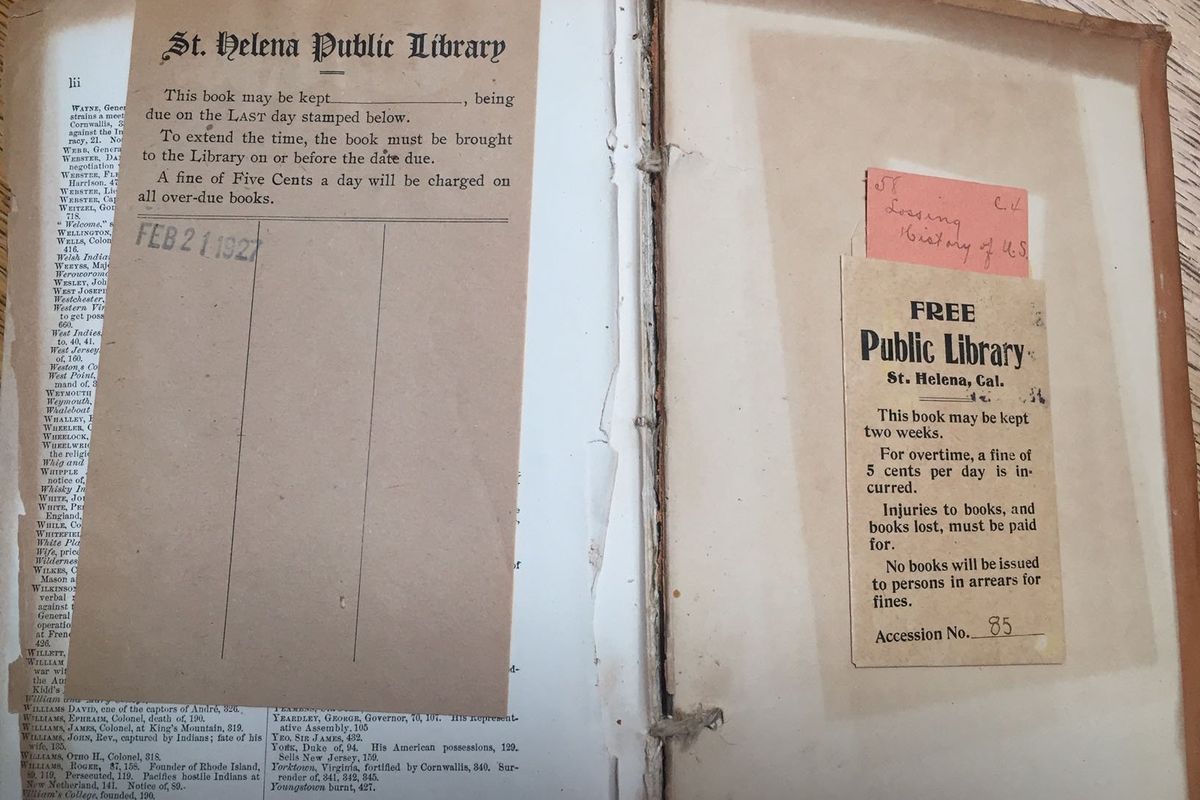 Checked out in 1927, "A Family History of the United States" was returned this month to the St. Helena Public Library. (Courtesy of St. Helena Public Library)
Jim Perry returned the fraying library book he found while cleaning his Napa, California, home unceremoniously, thinking it would just be fun for the library staff to look at.
"This is an old book that's been in our family for five generations," Perry recalled saying at the front desk of the St. Helena Public Library this month.
He handed over the book then briskly walked out, not leaving his name or contact information.
But the book, "A Family History of the United States" by historian Benson Lossing, which Perry said he believes his grandfather-in-law checked out nearly 100 years ago, might have actually been part of the library's original collection. It is the only one of its kind that the St. Helena Public Library knows of, dating to its early days as a subscription library, lending books for patrons to take home for a monthly fee.
"This is the oldest one I've ever seen, definitely," said Chris Kreiden, the library's director. "I mean we've had things (checked out for) two or three years, maybe five, but never anything quite this long."
For Kreiden and her staff, the book's return on May 10 was the start of an unexpected journey – one that brought the book's story to news feeds across the country and finally, weeks later, led them to Perry, the stranger who dropped off the library's oldest new addition.
A few weeks ago, Perry decided to sort through the clutter in his home, including old boxes that had been sitting unopened for years.
"I'm 75 years old but very healthy," he said. "But I don't want to leave my kids with piles of stuff from yesteryear."
For more than three decades, Perry had lived with his wife, Sandra, in St. Helena, where her family had lived since the 1840s. After she died in 2015, he decided to pack up and move to Napa, not far to the south, about two years later. Boxes of old books that had been passed down in the family came with him.
As he was unpacking them this month, he placed many on shelves in his home. But he noticed the history book once belonged to the library and decided to return it.
It had been checked out in 1927, around the time his wife's grandfather, John McCormick, might have wanted the book to start teaching his two young daughters about American history, Perry said. Shortly after inspecting the book, he drove to St. Helena to drop it off.
"I didn't know how special it was," Perry said.
Later that day, a library staffer left the book on Kreiden's desk. When she walked into her office to take a look, Kreiden could immediately tell it was older than most books she'd seen.
It was worn. The edges of the pages were fragile and brown. The binding, which looked like leather, wasn't attached to some of the pages.
The book, she said, was "falling apart."
Kreiden gingerly picked it up and opened it. On the last page, there was a faded black stamp of the due date for the book's return: Feb. 21, 1927. An envelope on the back cover said the book could "be kept for two weeks." The overdue fee was five cents per day.
The book also had two accession numbers, which were used to identify the library's books at the time of its founding.
The numbers probably mean that the book was part of the library's original collection, when it offered a free reading room but charged 25 cents a month for those who wanted to take books home.
The second number could've been assigned to the book when the city took over the library in 1892 and was updating its inventory, Kreiden said.
After finding the book on her desk, she said, she asked her staff about who returned it, wanting to question the person about all the places the book had been. But they didn't know who the man was.
Still, Kreiden knew it was a good story – the epic return of a book that had been checked out nearly a century ago. So she called a reporter at the St. Helena Star, thinking it would be a fun mystery for readers.
She was right. Soon, the story was picked up by local TV stations. Then, outlets across the country covered it.
That was how the book, in a sense, found its way back to Perry again.
One night last week, he had settled into bed in a hotel room in Minnesota, where he was attending a family member's wedding, to watch the local news on his iPad. To his surprise, a segment about the book came on.
The station reported that if the St. Helena Public Library still charged late fees, the borrower would've owed more than $1,700.
Perry later joked with a family member that he was "in trouble," but he said he would call the library anyway to learn more about what he thought was just an old, overdue book. He reached Kreiden on Tuesday morning.
She explained the book's history, telling him it had probably been part of the library's original collection, as well as a part of the inventory at another former location – the Carnegie Building, which was built in 1908.
Hearing the tales from Kreiden made Perry grateful that he had returned the rare book.
"That was very rewarding," he said. "I didn't expect it to be worth much."
The book has since been placed in a display case near the library's entrance, beside pictures of the reading room and the Carnegie Building. It is turned to the back cover, showing the return-date stamp.
Soon, the book may be put in an archival box or given to the local historical society for further preservation, Kreiden said.
But for now, it stands as an extraordinary example of a time-honored reminder.
"It's never too late to return your library book," Kreiden said.
Local journalism is essential.
Give directly to The Spokesman-Review's Northwest Passages community forums series -- which helps to offset the costs of several reporter and editor positions at the newspaper -- by using the easy options below. Gifts processed in this system are not tax deductible, but are predominately used to help meet the local financial requirements needed to receive national matching-grant funds.
Subscribe now to get breaking news alerts in your email inbox
Get breaking news delivered to your inbox as it happens.
---