Teen sentenced to 2.5 years for 'reckless' Reardan shooting that cost 15-year-old friend his life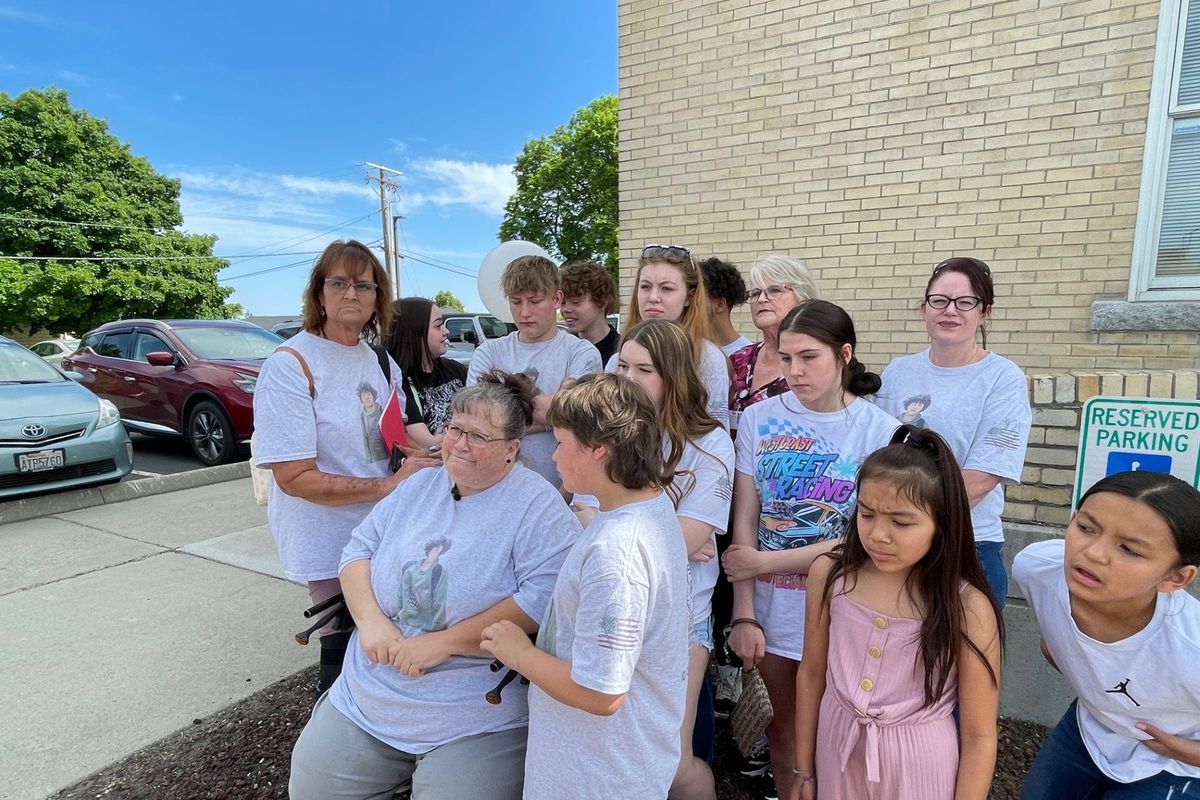 A 17-year-old was sentenced Tuesday to 2½ years in juvenile detention for the accidental shooting death of his 15-year-old friend earlier this year in Reardan.
Koedi White pleaded guilty to first-degree manslaughter and unlawful possession of a firearm for the death of Shadrach Hall-Turner.
Many in the packed courtroom, which had more than 50 people, wore white T-shirts that said, "It's hard to forget Shadrach who gave us so much to remember," on the back. His birth date was below the words, and a photo of the teen was on the front of the shirt.
The charges stem from the late afternoon of Feb. 22, when White, Hall-Turner and three other teen boys were hanging out and playing video games in the basement of a home at 150 W. Summit Ave., according to court documents.
The boys were also smoking marijuana, according to Lincoln County Prosecuting Attorney Adam Walser. Walser said White brought a handgun, which he took from under his grandmother's bed, and "showed off" the gun to his friends.
White and Hall-Turner pointed the gun at one another and, at one point, the two teens threw the loaded gun back and forth, Walser said. The gun fired while in White's possession, striking Hall-Turner, who died at the scene.
White was initially charged as an adult but Walser and White's attorney, Grant Riva, recommended moving the case to juvenile court, which greatly reduced White's sentencing range.
Walser said the midpoint of White's sentencing range in adult court would have been 7½ years in prison. In juvenile court, the sentence range was 15 to 36 weeks for the manslaughter charge and up to one month for the firearm charge.
The prosecution and defense reached a plea agreement for 124 to 130 weeks, or roughly 2½ years. Judge Jeffrey Barkdull accepted the agreement.
"I recognize what the victims have said, but I don't want to put a 17-year-old boy, who's still a child, in adult prison for seven years," Barkdull said. "I just don't want to do that. That would destroy the rest of his life."
Barkdull said many people bear responsibility for the teen's death.
Walser called White's actions "gross recklessness," while saying placing White in an adult prison from 18 to roughly 24 years of age would not facilitate rehabilitation.
"It's a recipe to bring him back to society very likely a broken man," he said.
"It is a horrible, terrible incident, but by transferring Koedi White to an adult facility, the state is of the opinion that we may very well be setting the path to ruin yet another life," he added.
Hall-Turner's family expressed the pain they've endured losing their loved one, calling White's choices "senseless," "reckless" and "negligent." They also blamed the other boys involved and their parents, while asking for a longer sentence than 2½ years.
Mary Hoyt-Sims, Hall-Turner's aunt, said Hall-Turner was intelligent and an amazing athlete, but will never be able to graduate high school, get married, have children or play college football.
"He did not deserve to be dragged up from the basement to die in a snow pile on the side of the road," Hoyt-Sims said.
Sue O'Brien, another aunt, said Feb. 22 was a "day of choices" and was not an accident.
"Koedi has to live with his choices for the rest of his life," she said. "Unfortunately, so does my family. Nothing will ever bring back Shadrach."
Tina Hall, Hall-Turner's grandmother, said her grandson's death has not only caused a great deal of anger and sadness but affected the physical health of herself and her husband, Hall-Turner's grandfather.
"The choices you boys made that snow day were reckless and negligent," Hall said. "Each of you should have consequences for your choices. Shadrach paid the ultimate consequence with his life."
White, whose head was bowed during many of the victim impact statements, apologized through tears to the family, calling Hall-Turner his best friend.
"The amount of grief and remorse I will feel for the rest of my life is indescribable," White said.
He said Hall-Turner could fill a room with laughter, and that he wished he could take back his actions.
"With all my heart, I am truly sorry," White said.
---