Coeur d'Alene City Councilman Gookin challenged by far-right newcomer Albritton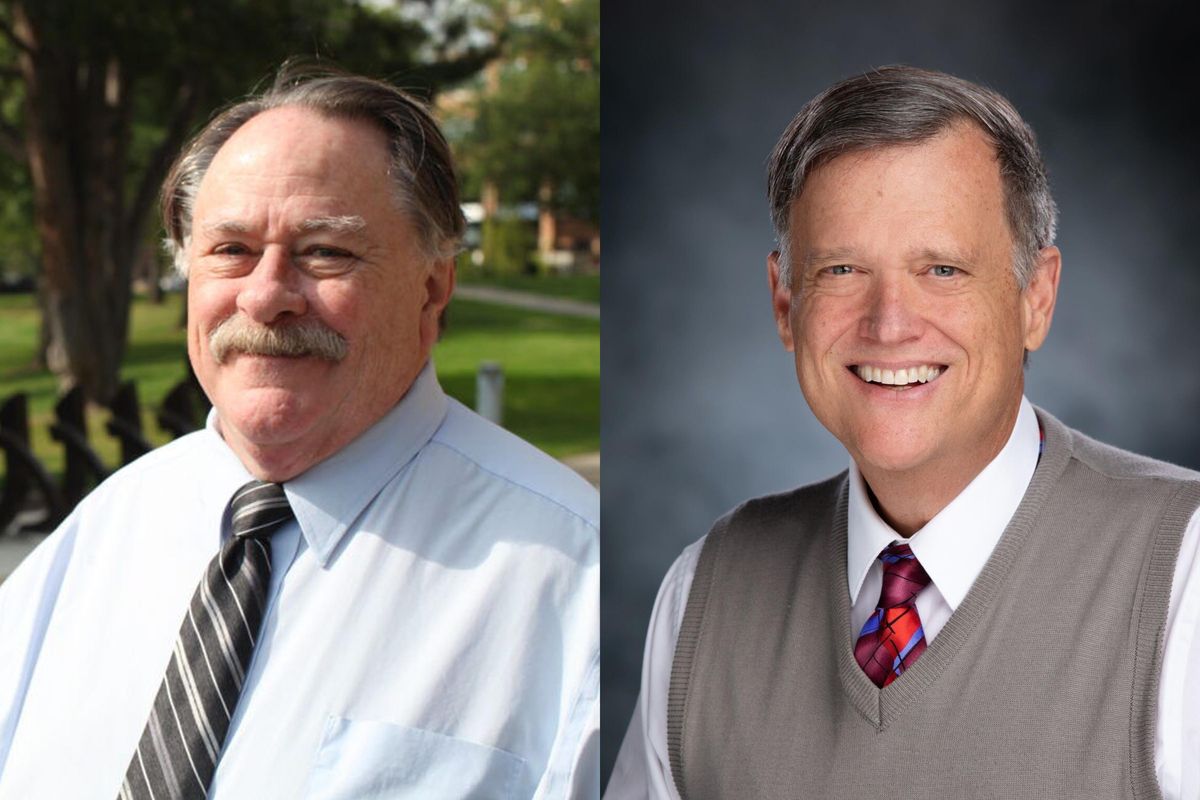 Long-time Coeur d'Alene City Councilman Dan Gookin says a lot is at stake in Tuesday's election.
Gookin, who has served on the council for four terms, once promised to only serve for two terms. However, Gookin said he's running again because he's fearful that if far-right hyperpartisan candidates get enough seats on the council, they could make the nonpartisan body dysfunctional.
He faces Clark Albritton in the race. Albritton, who did not respond to requests for an interview, has been endorsed by the Kootenai County Republican Central Committee.
Gookin pointed to what happened to the North Idaho College Board of Trustees after far-right candidates gained a majority on the board, leading to several hiring and firing controversies and lawsuits. The college has been sanctioned and is currently at risk of losing its accreditation, mostly because of the actions of the board.
Gookin points to the KCRCC as the primary driver of the far-right push and said the candidates they are endorsing in his and other races are not qualified to serve.
"We knew that the KCRCC would be aggressively seeking to install their chosen candidate," he said. "That's what motivated me to run. I don't want to see that angry partisan vitriol on the city council."
Gookin identifies himself as a conservative. He said he believes the city has mostly been running well, giving his opponent little of substance to complain about.
"There's no issues with the city, so they have to make stuff up," he said. "They're talking about porn in the library, which has never been proven. The city is very well-run. The opposition has to manufacture crises."
Gookin has created an unlikely partnership with fellow council incumbent Christie Wood to campaign together. The two don't always agree on issues and once had a public feud during which Gookin called Wood, a longtime member of the Coeur d'Alene Police Department, Sergeant Cupcake.
Gookin said the partnership makes sense, because they do agree on some issues and both have been on the receiving end of animosity from the KCRCC.
"They hate us," Gookin said. "They hate us primarily for calling out NIC."
Gookin said Wood is fiercely independent.
"When she was first elected, we were not on the same page," he said.
Still, Gookin said they both have the ability to disagree with each other while being civil.
"There's some dysfunction in city hall, and together we've worked to fix it," he said. "We ended up being on the same page a lot. We've got a lot of good things done for the city."
One recent issue the two agreed on was their opposition to the annexation of land for the controversial Coeur Terre development, which would put up to 2,800 living units on 440 acres. Gookin said he and Wood thought the proposed project was too dense and had poor connectivity to the main streets around it.
"I thought they were putting in too many houses," he said.
However, the majority of the council voted to annex the land into the city limits and rezone it from county agriculture suburban to city residential and commercial, laying the groundwork for the future development. Gookin said that though he doesn't agree with the decision, he accepts it.
"We're not going to sit there and throw rocks and have temper tantrums," he said.
Gookin said affordable housing is an issue in the city, and building more high-end homes doesn't address the problem. People who work in service jobs soon won't be able to afford to live inside the city limits, and there is no public transportation to get them to work, Gookin said.
"We have gentrified so poorly here in the city," he said.
Gookin said he's proud of his track record on the council, including fighting to keep open public comment times during the meetings.
"I've always stood up for the public," he said. "I want to hear from the public."
According to his LinkedIn profile, Albritton currently works for Liberty Lake-based Insight as a Microsoft account manager and used to live in the San Francisco Bay area. His profile also lists a bachelor's degree in business administration and management from the University of Phoenix.
According to police reports, Albritton was arrested on suspicion of domestic violence battery in 2003 for choking his wife during an argument. Officers reported that they saw numerous scratch marks on Albritton's arms, and that his wife reported that she had scratched him in an attempt to get him to stop choking her.
In a candidate questionnaire, Albritton said he pleaded guilty and the charge was dismissed after he completed an anger management program. In the same questionnaire, he admits to a DUI arrest in 2006.
A statement from his wife, Joanna, is posted on Albritton's campaign website. In it, she refers to the assault as a "heated argument" that hasn't been repeated.
"I encouraged my husband to run for the city council seat because he will bring back the kindness, respect and empathy that we so obviously need," her statement reads.
On his campaign website, Albritton posted a statement on why he was running for city council.
"Coeur d'Alene is a wonderful place to live but dark clouds are looming on the horizon," he wrote. "Radical ideologies are taking grip, inserting tyrannical control wherever possible as global agendas are being implemented without local voice or scrutiny. Our city council is the place where our local community must be the number one influence. I seek to represent the voice of our local community where your influence comes first."
Albritton also states that he wants to "defend Coeur d'Alene."
"A brief review of the outcome in American cities managed by globalist liberal policies should alarm anyone," he wrote. "Don't let them do this to Coeur d'Alene without a fight. We must protect Coeur d'Alene from going the way of cities people have come here to escape."
In 2018, Albritton was photographed carrying an AR-15 rifle outside Coeur d'Alene High School in a counterprotest against students at the school who were staging a walkout over recent school shootings and the lack of gun control legislation. Several who participated in the counterprotest were carrying pro-Second Amendment signs.
---