Northwest Passages author Jonathan Evison's 'Again and Again' called 'writing magic'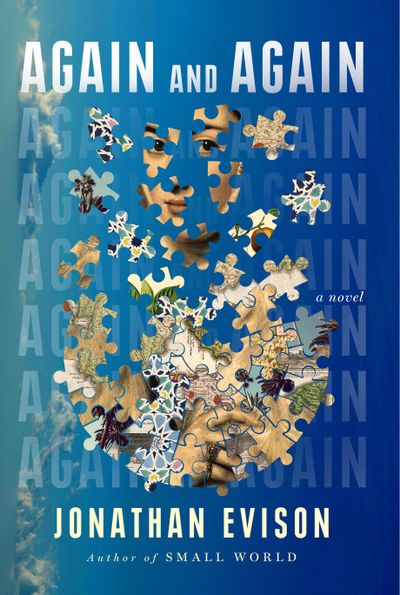 Watch the conversation live at 7 p.m. at spokesman.com/northwest-passages/events/jonathan-evison-again-and-again.
"Again and Again," the new novel from New York Times-bestselling author Jonathan Evison, is being called a "touching fantastical tale" and a book that "touches the heart." Bainbridge Island resident Evison will take the Northwest Passages stage Tuesday to discuss the book's themes of isolation and human connection.
Evison will be joining Spokane readers at Gonzaga University at 7 p.m. to discuss the story of Eugene Miles, a surly, 105-year-old resident of an assisted living facility who claims he's lived multiple reincarnations over hundreds of years. Evison is also expected to discuss becoming a target for the modern book-banning movement after authoring the seventh-most banned book in America, 2018's "Lawn Boy," according to the American Library Association.
"Again and Again" was named one of the most anticipated books of 2023 by Literary Hub and a must-read fall book by The Seattle Times, and it made The Los Angeles Times' Top 10 reading list for November.
Despite the premise, Evison manages to create a novel that can connect to readers of all ages as Eugene passes on his wisdom, gathered over many lifetimes, to Angel, a young nurse.
"Evison (Lawn Boy) crafts a touching fantastical tale of a lonely elderly man's past reincarnations," Publishers Weekly wrote in its review of "Again and Again."
Eugene's belief that he was reincarnated is fiercely contested by the Desert Greens mental health staff taking care of the man. But Angel takes interest in the stories weaved by Eugene about his past lives.
"Though the ending feels unresolved, Evison evokes genuine emotions from the connection between cheery Angel and sour Eugene, and he keeps readers wondering whether Eugene is a misunderstood hero or an unreliable narrator. This touches the heart," Publishers Weekly wrote.
In this story, which Kirkus Reviews described as emotionally complex but structurally cumbersome, the reader goes through Eugene's many lives, all of which he's said to have lived as an "emotional orphan."
"Again and Again" carries a distinct bittersweet flavor to its pages, as a dying Eugene tries to help Angel through his own complicated relationships.
Many moments in the book are all too relatable. At the beginning of the novel, Eugene has locked himself away in his room before having his thick emotional barrier opened by Angel's friendly attitude.
With COVID-19 quarantine still fresh in memory, "Again and Again" carries a premise that connects for many readers – a special priority for acclaimed author Evison.
"When I was a young novelist, before I'd published any books and had, like, eight unpublished books, it was all my worldview. Now I've published nine novels, and with each one, I realize how much more of a partnership it is and how the reader is the best tool I have on my belt," Evison told the Seattle Times.
Evison – whose book "The Revised Fundamentals of Caregiving" was turned into a film starring Paul Rudd and Selena Gomez in 2016 – considers "Again and Again" a commentary on the human condition, as the story focuses around a man who, despite his long life, is unfulfilled. Eugene is a man who's spent the last 1,000 years looking for the love of his life, one he met in a previous lifetime and who he believes has been reincarnated alongside him throughout the years.
But he's never caught up to her. Eugene only finds happiness, whatever form of it he can claim, when he begins to work to help Angel, despite their drastically different conditions.
"The joy of watching Evison braid together multiple stories from Eugene's lives (and the 105 years of this existence) is akin to witnessing a master carpet weaver work out a fantastically intricate rug. Look closely enough, and you'll see the understitch in every storyteller's pattern: the desire to be admired and loved for the beautiful thing you've made," The Los Angeles Times wrote in its review. "I would gladly have spent many more pages with the magical tapestry of 'Again and Again.'
"
Many readers would agree , with "Again and Again" achieving a four-star rating on Goodreads.
"In 'Again and Again,' Evison performs writing magic; despite its implausibility, I committed myself fully to Eugene's 1,100-odd years of life, immersed in tales of adventure and passion that are almost too good to be true," the Los Angeles Times wrote.
---