Solo Hines rushes for four TDs, Whitworth beats Chapman 42-28 in first round of DIII playoffs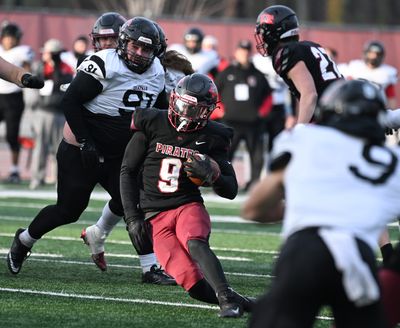 On the heels of an emotional win last weekend over Linfield to take the Northwest Conference, the Pirates showed Saturday that they have bigger ambitions this season.
Whitworth (10-0) comfortably defeated Chapman (6-4) in the Pine Bowl 42-28 to maintain its unblemished record and advance to the second round of the NCAA Division III playoffs.
Led by a career-best four touchdowns from senior running back Solo Hines, the Pirates overcame a back-and-forth first half to take down Chapman for the second time this season.
"I saw a very good football game," Whitworth coach Rod Sandberg said in a press conference after the game. "Two football teams that have a lot of pride, and they're very, very well-coached. I saw a lot of heart from the Whitworth Pirates, just finding a way, especially in that third quarter that was very, very decisive. Proud of these guys, love these guys."
Sandberg and Chapman coach Bob Owens felt they both had a different team from the September 17 matchup that saw Whitworth escape with a 24-17 win in Orange, California.
Starting the year 0-3 and losing its first and second-string quarterbacks to injuries, Chapman eventually handed the reins to junior quarterback Luke Peterman, who helped lead a season turnaround and a Southern California Intercollegiate Athletics Conference championship. The Panthers were carrying a six-game winning streak into the Pine Bowl.
Hines put the Pirates on the board first, taking the snap and running it in from 1 yard out on Whitworth's opening drive. Hines would go on to score on the same play call two more times in the half.
"It's kind of hard to defend because if you go outside, I cut inside, and if you go inside, I cut outside," Hines said. "It's something that we've practiced all week and we just got to the game and perfected it today."
In the first thirty minutes, graduate transfer quarterback Austin Ewing repeatedly looked for senior receiver Evan Liggett, who racked up seven catches on eight targets for 119 yards before the halftime whistle blew. Ewing also had an efficient night, completing 28 of 36 passes for 414 yards.
But Peterman and senior running back Gio Ursino kept the Panthers in it, each collecting a rushing touchdown in the first half. Peterman finished with 19 of 27 completions for 236 yards and two touchdowns. Ursino had 73 rushing yards on 14 carries.
Whitworth took a 21-14 lead into the half.
Despite forcing no turnovers in the game, the Whitworth defense came out strong in the second half, holding Chapman scoreless in the third quarter.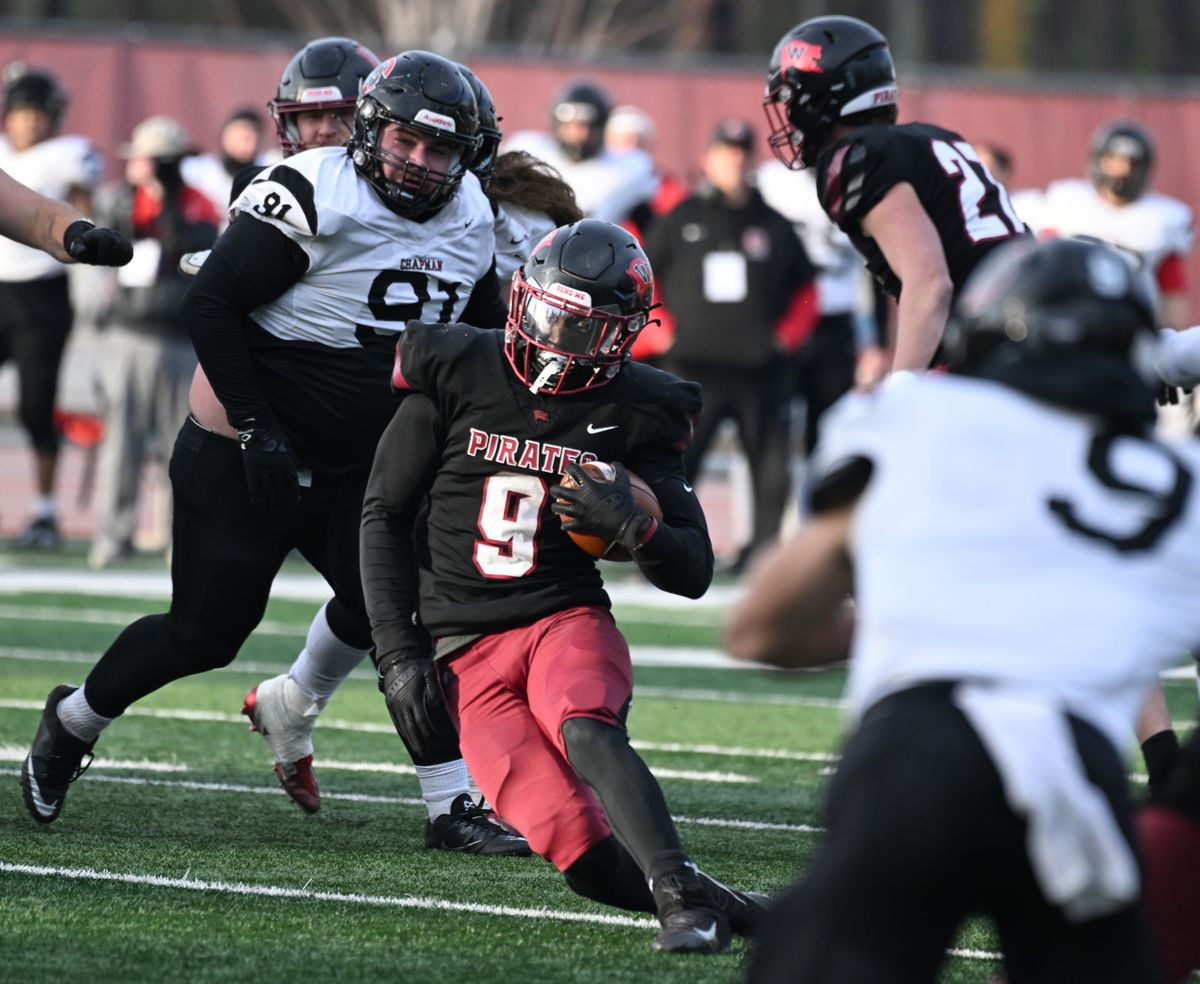 "The first half, it just kind of felt like everybody was giddy, some guys were trying to do maybe a little bit too much more than they needed to," said junior linebacker Caleb Shawen. "We came out at halftime and we all kind of just knew this is a statement right here. This quarter is a statement. We all came out cool, calm and collected, confident, trusted everybody, and we all did our job and it showed."
Shawen, a Mead graduate, had a career-high 12 tackles on the day, leading the team.
"Today was electric…. It's never been this loud (in the Pine Bowl)," Shawen said. "Being from here, it's super cool to come to a school close to home and then I get to look up in the stands, see my buddies, see my family and also just everybody else from classes."
To open the fourth quarter, Hines showed why he is a conference track and field champion, taking a short pass from Ewing and exploding 66 yards down the sideline for a touchdown. The score gave the Pirates a 35-14 lead.
"Solo has so much energy and enthusiasm, he brings that to our team, he plays that way and he just lights us up," Sandberg said.
Sophomore running back Luis Salgado also had an all-around day, racking up 99 rushing yards to go with two touchdowns – one rushing and one receiving.
The Pirates' 42 points on Saturday was the most given up by Chapman on the season.
"I thought they were a better team," Owens said. "They got things done, they executed the way they should have and we did not do all the things that we are capable of, but you can't take that from them."
Whitworth will travel to Waverly, Iowa next weekend to face off against Wartburg College (11-0) in the second round of the postseason. Wartburg, coming off a 49-14 drubbing of Illinois College in the first round, is ranked third in the AFCA Division III coaches poll. Whitworth, prior to Saturday's win, was ranked 18th.
"To get to the next round, every round you go, you're facing a better opponent," Sandberg said. "I think what we told the guys after the game is let's embrace the opportunity. We get to practice on Thanksgiving Day – that is really, really special, and we don't want to miss that and not enjoy that opportunity.
"We got another week to be together and we love being together, love playing football and we get another week."
---